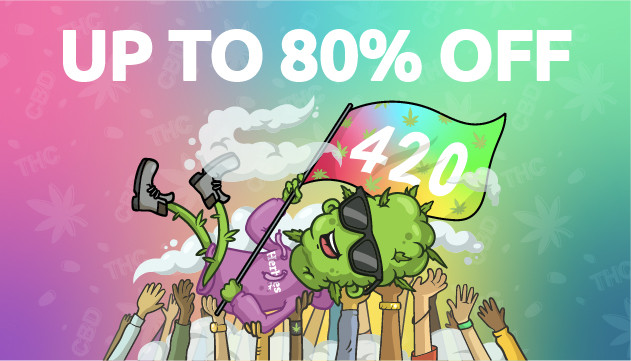 Pot lovers unite – it's that time of year again! And what better way to celebrate International Weed Day than a good deal on cannabis seeds? This is your chance to lay the foundations for your biggest harvest to date – our 4/20 Sale with up to 80% off our hottest strains!
We know you're going to be too busy honoring the traditions on 4/20 itself, so we're giving you a whole week to shop seeds with discounts. You have from 00:00 April 18 to 00:00 April 25 (PST) to buy some of our best cannabis seeds with up to 80% off, but remember: the bigger the discount, the sooner seeds will be out of stock. You can always check the full list of available discounted strains on our special 4/20 Sale page.
Here are some of the best steals of our Weed Day Week:
Grandmommy Purple (Herbies Seeds): 35% Off
One of our first strains and an instant hit, Grandmommy Purple has already gained an army of fans thanks to its sky-scraping 33% THC content and strong Indica effects suitable for both recreation and medication. These grape-flavored buds make you feel happy and relaxed to the core – exactly what's needed to aid with insomnia, anxiety, and stress.
Mimosa x Orange Punch (Barney's Farm): 25% Off
An Indica-leaning hybrid with balanced effects, Mimosa x Orange Punch is made for weed connoisseurs who want it all at once. This strain is known for its 30% THC level and a long-lasting happy effect that keeps you clear-headed. A bonus that can't be disregarded is its stunning flavor of mixed citrus with a prominent tangerine note.
Dessert Mix (Herbies Seeds): 35% Off
Getting a mix pack of seeds is a great deal even on a regular day, but on Weed Day Week, it's something you can't miss! Our Dessert Mix includes all of our sweetest-tasting strains: the relaxing 21-26% THC Mango Mousse, uplifting 25% THC Banana Pudding, and psychedelic 33% THC Apple Betty. All of these cultivars are terpene-production champions that guarantee complex and long-lasting effects.
Monster Bruce Banner Auto (Monster Genetics): 25% Off
At 25% THC and slightly Sativa-leaning genetics, Monster Bruce Banner Auto is a potent autoflowering cultivar and a breeding masterpiece that has a powerful kick and bestows heavenly tranquility in one mix. You won't need more than a couple of tokes for this rollercoaster of a high, and best of all, it's accompanied by an equally intriguing mix of sweet and diesel-like flavors.
Black Cherry Punch (Pyramid Seeds): 25% Off
A true show-stopper of a strain, Black Cherry Punch produces stunning dark purple buds that almost feel like a crime to chop down. You have to do it to experience its even more impressive effects though; cerebral and energizing, Black Cherry Punch gives you a clear focus with a dash of pure euphoria. Besides its 25% THC, this sweet-tasting strain produces about 1% CBD to take the edge off and ease anxiety or stress.
3, 2, 1… 4/20!
This is just a quick peek into what strains we've got on sale for our favorite holiday. Go check out our full 4/20 Sale collection, and remember, the stock is limited, so don't let other growers get the best stuff before you!
Just like always, free seeds added to your order are on us, as well as other Herbies deals, which will remain active during the 4/20 Sale.
Happy Weed Day, everybody!
Herbies Head Shop expressly refuses to support the use, production, or supply of illegal substances. For more details read our Legal Disclaimer.