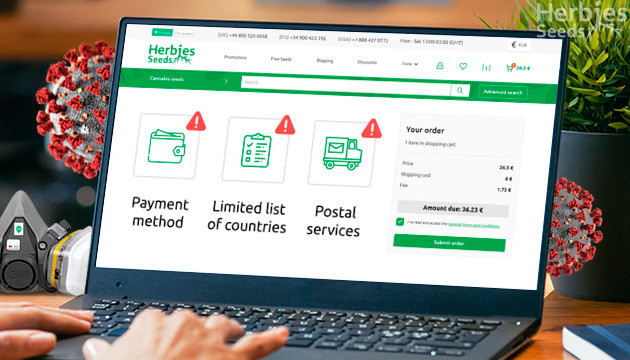 In response to the global pandemic, Herbies is adjusting the way it accepts payments, ships orders, and more. All COVID-19-related updates will be listed on this page, which will be revised as necessary in case further changes take place.
Cash Payments in Envelopes Temporarily Not Accepted
Due to the COVID-19 pandemic and unstable work of postal services, Herbies will temporarily stop accepting cash in envelopes. Please follow Herbies' news for updates on the situation – we will let you know as soon as cash payments in envelopes are available again. Meanwhile, there are other payment options available at Herbies, including cash on delivery. Check them out if you'd like to make an order now.
The List Of Countries We Ship To
Following the initial COVID-19-related reduction of the number of countries Spanish postal services ship to, Herbies is finally able to make more countries eligible for international shipping. The up-to-date list of countries and regions we ship to is as follows.
Angola
Argentina
Australia
Austria
Bangladesh
Belgium
Bosnia And Herzegovina
Brazil
Bulgaria
Canada
Chile
China
Colombia
Costa Rica
Croatia
Cuba
Cyprus
Czech Republic
Denmark
Dominican Republic
Equatorial Guinea
Estonia
Falkland Islands (Islas Malvinas)
Faroe Islands
Finland
France d'outre-mer
France
Georgia
Germany
Ghana
Greece (Islands of Greece)
Greece
Guam
Hong Kong
Iceland
India
Indonesia
Ireland
Israel
Italy (Insular Italy)
Italy
Japan
Kazakstan
Kenya
Korea, South
Kyrgyzstan
Latvia
Lesotho
Liechtenstein
Lithuania
Luxembourg
Macedonia
Malawi
Malaysia
Malta
Marshall Islands
Mexico
Moldova
Montenegro
Morocco
Netherlands
New Zealand
Norfolk Island
Norway
Pakistan
Paraguay
Peru
Poland
Portugal (Autonomous Regions of Portugal)
Portugal (Província ultramarina)
Portugal
Romania
Rwanda
Senegal
Serbia
Singapore
Slovakia
Slovenia
South Africa
Spain (Balearic Islands)
Spain (Canary Islands)
Spain (Plazas de soberanía)
Spain
Sri Lanka
Sudan
Sweden
Switzerland
Taiwan
Tunisia
United Kingdom (Jersey, Guernsey, Isle of Man)
United Kingdom
United States
Uruguay
Vatican City
Vietnam
Zimbabwe
Please follow our updates - the situation is changing rapidly and more countries may soon re-enter the list.
New Customer Support Hours
You can address your questions and inquiries to Herbies' Customer Support 24/7. Our operators will be glad to answer any questions you might have regarding your order status, payment, and shipping.
If you were planning to make a purchase from Herbies, now might be the best time. Need an idea for the next strain to grow? Wondering what's the next big sensation on the cannabis seeds' market? Then check out our collection of the hottest new strains!
New Cannabis Seeds
VIEW ALL
Meanwhile, we are monitoring the situation closely – as soon as we have more information, you will be the first to know. As for now, always remember to stay safe and take care of your health.
Herbies Head Shop expressly refuses to support the use, production, or supply of illegal substances. For more details read our Legal Disclaimer.