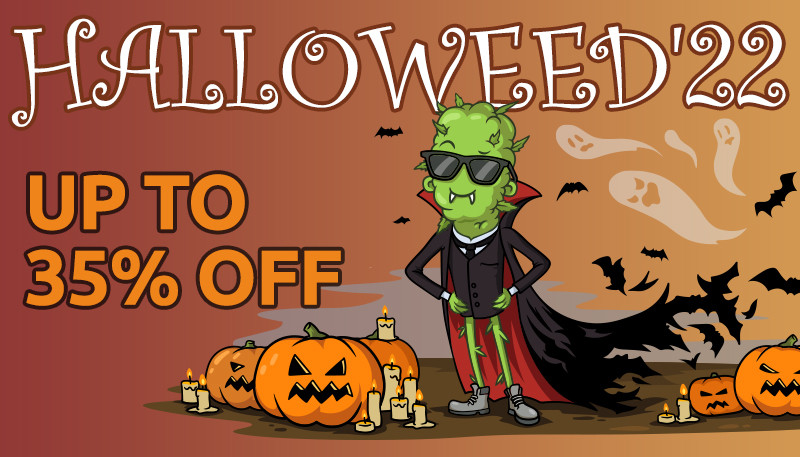 Halloween is right around the corner, and to celebrate the spooky season, we're displaying our wacky weird side. As stoners, the opportunities are much greater! Rather than go trick-or-treating, why not trick-or-treat yourself and get some dank without breaking the bank?
We know you love a discount – that's why we're launching a spooky good offer from 00:00 October 28th (PDT) to 00:00 November 1st (PDT). During this time, you can save up to 35% on some of our premium cannabis strains.
But the fun doesn't stop there! While this offer lasts, you can also get 1 extra free Orange Buddy Auto seed with any order using our promo code ORANGEPARTY. Enter it at checkout to enjoy your bonus.
Read on to find out what strains are on sale!
Godzilla Cookies Auto
This weed was named after everyone's favorite King of the Monsters for a reason; bold and breathtaking, it will absolutely destroy you with its 27% THC content. Enjoy the best of both worlds with balanced mind and body effects that will leave you asking for more.
Runtz Punch
Not for the faint of heart, this bud packs a helluva punch with 29% (!) THC. Runtz Punch produces bucketloads of super-potent buds that balance deep body relaxation with a mind-electrifying creative rush. What better way to calm a sugar high?
Gelato Auto
Melt away in happiness with the frightfully delicious and powerful Gelato Auto! Thanks to its 26% THC, you're only a couple of creamy tokes away from taking the edge off any social anxiety and unleashing your creativity.
Sativa Mix
Spice up your smoking sessions with our special Sativa Mix, which combines diverse genetics, energizing effects, and high THC levels ranging from 22 to 27%. Explore the tropical paradise of Yuzu Fantazy, take in the chocolate and coffee aroma of Choco Thai, and explore your social side with Orange Buddy!
This Halloween offer stacks with all existing promos and discounts at Herbies, so you can combine them for maximum savings.
Wishing you a fun and happy Halloween!
Herbies Head Shop expressly refuses to support the use, production, or supply of illegal substances. For more details read our Legal Disclaimer.