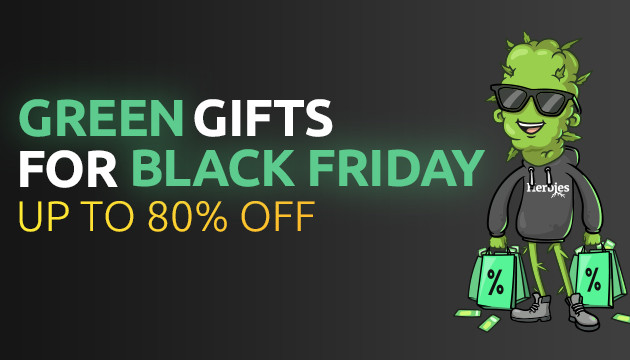 Black Friday is almost upon us, and we're all preparing for the holiday rush. This year, our deals are better than they've ever been. We're offering huge savings on dozens of top-quality cannabis seeds – if you want to go green this Black Friday, there's no better place to do it than Herbies!
From 00:00 November 23rd to 00:00 November 30th (PST), everything listed in our Black Friday Sale will be discounted by up to 80%. We'll have deep price tag slashes on strains from our own seedbank, Herbies Seeds, as well as on some other companies including Barney's Farm, Original Sensible Seeds and Pyramid Seeds.
During Black Friday sale days, we'll also have a special offer on the table. Grandmommy Purple, one of the strongest strains on the market, will be available in double packs at half the original price. Herbies' Black Friday Packs vary in size – you can get 2, 6, 10, or 20 seeds – but the discount remains the same at 50% off!
As always, this deal stacks with all other active promos and bonuses. If you want to get a head start on the savings, you'll find some of the discounted strains below.
Grandmommy Purple (Herbies Seeds)
Everyone loves their nan, but this nan is truly the best! Our proud invention, Grandmommy Purple is one of the most powerful new strains on the market with astonishing THC levels of up to 33%.
Strong full-body sedation, an enhanced entourage effect, lovely sweet aromas, and impressive yields – Grandmommy Purple has it all. Just make sure you don't have to do anything for the next few hours because you'll become one with the couch for a while.
Glookies (Barney's Farm)
Witness the power of Indica from this beast of a strain, created by carefully blending two U.S.-born cannabis superstars – Gorilla Glue and Thin Mint Girl Scout Cookies. The THC content in this weed clocks in at 25%, which is more than enough to get you high as a kite for hours.
Potency aside, it's the yields that turn Glookies into something worthy of any grower's respect. When given proper care, it will reward you with 700-800 g/m² (2.3-2.6 oz/ft²) of premium bud indoors and 3 kilos (6.6 lb) per plant outdoors. That's a game-changer in our book!
Godzilla Cookies Auto (Herbies Seeds)
To quote a great line from the Gojira movie, "When mankind falls into conflict with nature, monsters are born." Here at Herbies, a monster was born out of love with nature. We're talking about Godzilla Cookies Auto, the strain that will trample you with its strong euphoric and relaxing effects.
With 27% THC, this weed is one of the most potent entries in our catalog, and those indoor growers who master this autoflower will get up to 600 g/m² (2 oz/ft²). Is there any other creature that can stand a chance against it?
Bruce Banner #3 (Original Sensible Seeds)
Bruce Banner #3 is a cross between two incredibly potent cannabis strains – Colorado Ghost OG and Strawberry Diesel. The end result is a strain of weed with a mighty punch of 28% THC and monster-sized yields.
That's not to mention how Bruce Banner #3 leans to the Indica side, which means you're in for strong body relaxation coupled with a burst of happiness and euphoria. This, right here, is the anger management treatment Dr. Banner should've tried first.
Girl Scout Cookies (Garden of Green)
A classic you just can't go wrong with, Girl Scout Cookies produces powerful effects that start with a feeling of mental warmth but which is only a prequel to a relaxing body high. With THC levels testing at 28%, GSC is what you need to get glued to the couch and enjoy the evening in a totally chill way.
This version of the popular strain, brought to you by Garden of Green, also delivers respectable yields of 450 g/m² (~1.5 oz/m²) in just 55 days after you flip her to 12/12. Flavorful and zesty, it's a smoke that's worth every penny and every second of the wait.
Get In Early on Our Black Friday Offer
These are just some of the strains that we'll be selling at a discount on Black Friday at Herbies. If you want to know what other seeds will go on sale, check out this page, but act quickly – this offer lasts while items are in stock!
Herbies Head Shop expressly refuses to support the use, production, or supply of illegal substances. For more details read our Legal Disclaimer.