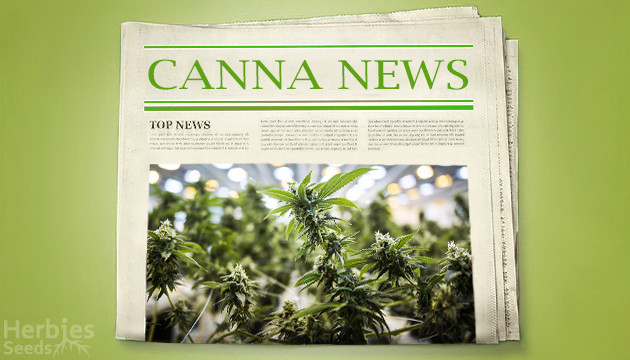 In this week's edition of Latest Cannabis News, we have some interesting stories for you. On the agenda is an exciting line of cannabis products, and two studies about the benefits of cannabis.
ReCreate: Low-THC Cannabis Is The Future
Forbes conducted an interview with the Stanley Brothers about their new project called ReCreate. Whether you're into tinctures or chocolates, low-THC products, they say, are easy to dose and promise great improvements to everyday life. Their mission is to show that the whole cannabis plant can be paired with amino acids, turmeric, functional mushrooms, and more to create a 'life-enhancing rather than mind-altering' experience. By controlling your dose, THC can be reimagined as an everyday supplement for new and veteran consumers alike. The Stanley Brothers sing the praises of "The Entourage Effect" that occurs when THC, CBD, and other substances are combined, for an amplified benefit when it comes to general wellness. You can check out the whole interview here.
Medical Cannabis Strains
Medical Seeds
More Marijuana, Fewer Migraines
A new study published in the journal Brain Sciences shows that cannabis use may be beneficial for the long-term treatment of migraines, reports the Colorado Springs Indy. 145 patients between the ages of 34 and 54 were surveyed about their use of medical cannabis as a long-term migraine treatment. A whopping 61% of participants claimed that the frequency of their monthly migraines was reduced by half. As for patients who suffered recurring migraines, they also reported a general improvement of symptoms like less impairment and improved sleep. This is relieving news for migraine sufferers who would like to reduce their use of prescription medications for the condition. You can find the study here. Herbies has also posted on the topic of low-THC strains before, check it out.
Proof That THC Relieves Chronic Pain
And to finish things off this week, we have more research about cannabis. The NoCamels Team reports on a new clinical study published by Israeli researchers, which concluded that controlled, inhaled doses of THC can relieve chronic pain. The "double‐blind, placebo‐controlled study" was conducted with 25 patients in Haifa. The researchers claim that this is the "first scientific confirmation" that cannabis is effective in the relief of chronic pain. They used low amounts of THC and found that microdosing contributed to pain relief while avoiding the psychoactive side effects of weed, enabling patients to retain the quality of life and daily functioning without significant impairment. In order to administer the THC to the patients, the researchers used a medical device called Syqe, an inhaler intended for selectively dosing pharmaceutical-grade medicinal plants. With the Syqe device, they were able to deliver "significantly low and precise doses of THC" in order to produce the pain-relieving effects they recorded.
High CBD Seeds
Open collection
The Miracles Of Marijuana
The overall takeaway this week is that the most well-known cannabinoid present in marijuana, THC, has amazing health benefits. Whether you suffer from chronic pain or migraines, weed can deliver immense relief. How has cannabis helped you overcome pain or other ailments? Let us know in the comments.
Herbies Head Shop expressly refuses to support the use, production, or supply of illegal substances. For more details read our Legal Disclaimer.