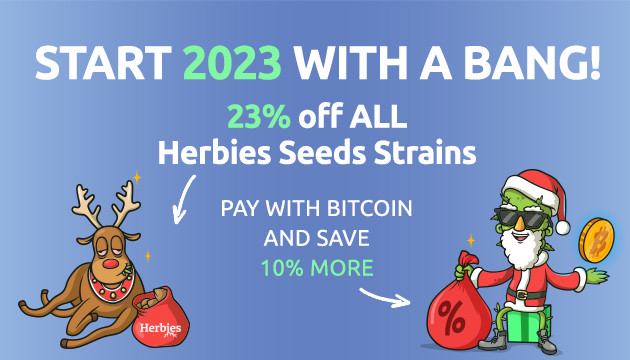 2023 is knocking at the door, and what it holds in store for everyone is a mystery. To keep our hopes high and spirits unbreakable, we growers are stocking up on supplies and planning our sweet harvests ahead. Join Herbies' New Year sale to get ready for 2023 in style – and on a budget!
From 00:00 December 30th to 00:00 January 6th (PST), we'll be offering a flat 23% discount on ALL marijuana strains from our in-house seedbank, Herbies Seeds. Plus, you can get an extra 10% off your order if you pay with Bitcoin.
Those with a sweet tooth are in for a special offer: use promo code NEWYEARGIFT at checkout whenever you buy any product from Delicious Seeds to get a free Delicious Seeds Christmas Pack with any order amount of over $ 53.95. The number of codes is limited, so make sure you grab your bargain while you can!
Herbies' New Year sale discounts stack with other active promos and bonuses, so feel free to combine them to save even more on the final sale of the year. Here are just some of the gems that you can get with a discount during this offer:
Critical XXL
A new and refined version of Critical genetics with a touch of Skunk and Afghani will help you get a fresh start in the new year. With 24-27% THC, Critical XXL is a perfect nighttime smoke that provides the relaxation and euphoria you need in 2023. Although this Indica hybrid doesn't grow too big, be sure to choose a large pot to max out her growth – in return, she'll reward you with up to 1600 grams of frost-covered bud outdoors and up to 600 g/m² indoors after just 50-55 days of flowering.
Heavy Kickers Mix
Your limits are sure to be tested by Godzilla Glue #4, Mimosa Shot, and Grandmommy Purple – some of the most potent marijuana strains from our catalog in one pack. This trinity will carry you to heavenly highs thanks to their 29-33% THC. Each of these strains has unique flavors and aromas and will make you happy in different ways, from deep relaxation to mood-elevating euphoria. With Herbies' Heavy Kickers Mix, you're in for abundant harvests of up to 1600 g/plant outdoors and up to 800 g/m² indoors, so your jars will stay full throughout 2023!
Za-Za OG
An exquisite blend of Blue Dream, Hindu Kush, and Californian genetics, Za-Za OG is what you need to have a happy and blessed new year. With 26% THC, the high delivers a boost of euphoria that elevates the mood and can melt any stress or anxiety away. What's more, this strain is no slouch in the growing department either, pumping out up to 1800 grams of resinous bud per plant outdoors and up to 800 g/m² indoors – all it takes is just about two months of flowering!
Gelato Auto
This automatic version of the strapping Indica hybrid is exceptionally dank. It kicks off with a bright splash of sweet and savory flavors that will delight all the finest terpene amateurs. Fueled by 26% THC, the high is very uplifting and can melt any stress or anxiety away – just be careful not to take one scoop too many! The yields won't let you down either – Gelato Auto delivers up to 200 g/plant outdoors and thrives in indoor gardens, where it brings up to 600 g/m² after just 60-65 days from seed.
CBD Lemon Auto
One of our proudest achievements, CBD Lemon Auto is a great way to medicate and have fun in the process. The perfectly balanced THC-to-CBD ratio (17% of each) is responsible for its therapeutic, relaxing effects that provide an intense feeling of well-being. This strain produces 500-600 g/m² indoors, which is very impressive for an auto. Add in a strong lemony aroma with notes of fruit, and you'll get a powerful medicine that's just waiting to be popped!
This has been quite a year, but you made it very special for us at Herbies, and we want to thank you for being part of our journey. Wishing you a happy New Year, and see you in 2023!
Herbies Head Shop expressly refuses to support the use, production, or supply of illegal substances. For more details read our Legal Disclaimer.