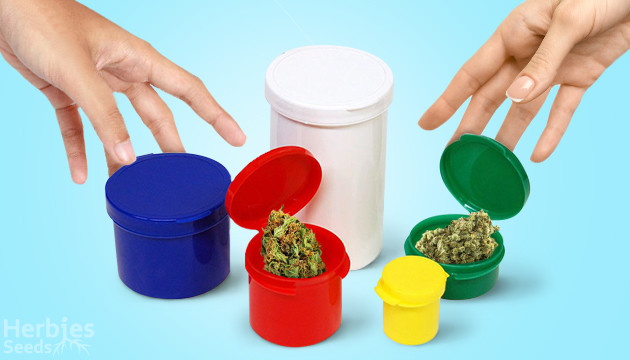 The choice of cannabis strains and seeds these days is nothing short of overwhelming. How do you navigate this abundance and choose what to try next? One way to do it is to ask your fellow growers and tokers: what's in your weed stash right now? We, at Herbies, did exactly this and asked some weed enthusiasts about the strains they turn to these days. Let's get to their answers - your next favorite strain might be right there!
Tanya and Her Cannabis Stash of Sativas
I live on a small Spanish Island and probably about a fifth of the population here grow their own weed, but not all of them grow it well. This means that my stash is always varied and not just with green herb either. Because there's so much weed and cuttings available then I often make weed butter. In my marijuana stash, you'll always find some tasty weed cookies that are guaranteed to put a smile on your face.
I usually smoke my own homegrown weed but I had a problem with my plants last year which means I've had to buy some for the past few months until my autos are ready. Luckily, my friend is one of the best outdoor growers I know so I have a selection of delicious, predominantly Sativa, outdoor, organic weed in my stash right now.
Amnesia Haze this year is particularly tasty and very aromatic, I like to smoke it when I'm being creative and this is a plant that I like to grow myself. I also have some 100 percent Sativa, Wild Thai weed, also grown on the island and this is the one I like to smoke when I go for a walk so that I can feel fluffy with nature.
An interesting feature in my stash this year is the Ketama which is grown in the hills of Morocco and they use it to make hash. It has a hashy taste and a mellow hashy high. This year I'm going to try making my own hash to add to my stash.
Adam and 2 of His Go-To Weed Strains
The strain that's always in my stash, and not just right now, is Grandaddy Purple. I discovered weed back in 2004 and I've tried plenty of buds since then, but "daddy" sure stole my heart! There's just no strain like it, and for me it ticks every box. First, it smells and tastes delicious, exuding a grape aroma that reminds me of sweet purple Crush with a touch of herb to it. The effect is also special to me. I fell in love with it when I first tried it at a music festival along with my closest friends, and I just felt at cloud nine, as euphoric as it gets, as if I was in a movie. And after all these years, Grandaddy Purple still does this to me.
Another honorable mention, that is also in my stash right now still left from the last year's harvest, is Wedding Cheesecake Auto. I grow this bud every season or two for whenever I need a focus boost for work. At times I have to go through tons of papers and articles, and Wedding Cheesecake Auto makes this task so much easier. And my memory doesn't suffer from it at all, so no matter how much I work while on it, I can still easily access all the accumulated knowledge the next day.
Lola and Stardawg, One of the Best Strains She Had
I'm smoking a lot of Stardawg at the moment. I have a busy and creative job – though, thankfully, I work from home. Therefore, I need a strain that gets me concentrating and my creative juices flowing. I don't like having too much of a body stone when I'm working, though, and sometimes getting high can affect my attention to detail. Stardawg does a great job of zoning me in.
Funnily enough, the first time I came across this classic strain was in my final year of uni, when I was writing my dissertation. I was stressed out, drawing a blank and having serious FOMO. My friend gave me a bag of Stardawg and told me: "smoke this, lock yourself in your room for 1 week, and don't come out until your dissertation's finished". I took her advice with a pinch of salt – I didn't lock myself away, but I did smoke up and get down to some serious research. Bang on 7 days later, I had a first draft dissertation that I was actually kind of happy with. After a few more weeks of careful editing, I ended up winning an international award for my dissertation – thank you Stardawg!
Marija and the Best Strain in Her Stash, White Widow
I'm sure most of you've probably heard about this strain or have even tried it yourself so let's jump right in. The strain in question is called White Widow and it is one of my all-time favorite strains to smoke. White Widow is a hybrid with a perfect genetic balance of indica and sativa, offering the best of both worlds.
While the origins of the strain are somewhat of a mystery, White Widow remains one of the most legendary strains of all time. What draws me most to this strain is the fact that it offers a very uplifting, energetic and nearly psychedelic high. As soon as you smoke it you can feel a wave rushing through your head that stimulates your brain and makes you more motivated, engaged and happy.
When I smoke this strain, I feel like I can get engaged in conversations much easier, forget about my sometimes-present social anxiety and talk for hours and hours on end, covering all sorts of topics ranging from small talk to space travel and the creation of the universe.
White Widow produces very dense, trichome-rich buds with high levels of THC. Its stimulating and uplifting effects make it perfect for days packed with activities, creative projects and so on.
Try it yourself and you won't ever forget it!
WeedKB and the Last Strain in His Weed Stash, Purple #1
I've already burned through my autoflowering stash from last year. The only thing that's left is Purple #1. It's a photoperiodic variety. We had beautiful weather last fall, and this strain was fully mature by late October, and I got a shitload of bud from my three bushes.
The thing with Purple is that you have to roll it into joints. Bong, pipe, vaporizer are all no good. I usually have to smoke two or three joints one after another. The more you smoke, the happier you get, but always feel like you're not high enough. And then comes the point when you just lie down on your back, stare at the ceiling, and feel this euphoric/orgasmic sensation irradiating from your lungs for at least an hour.
Great experience! And such a shame you can't do it around disapproving people (such as parents), like go out for a minute and sneak a couple of tokes. With Purple #1, you have to really dedicate yourself to getting high.
Stephanie and Her Weed Salad
I like to keep a variety of options available so that I am not smoking the same thing all of the time. I really like the effects of sativa but since I also like to use cannabis for sleep, I like to have indica on hand as well. I also like to have some hybrids and play around with testing them out to see what they do.
Right now, I have more sativa and hybrids than I do indica. I need to remedy that soon.
Of course, I always have some Moby Dick on hand. It is a must. Another one I like to keep lots of is Jean Guy. I love the taste and the effect. It seems I have more hybrids than straight sativa or indica strains.
What I currently have on hand:
Moby Dick
Cookies Kush
White Rhino
And who can forget the salad bag??
It's Your Turn: What's In Your Stash?
Let's keep sharing our favorite strains! What's the best cannabis strain in your stash right now? What type of weed are you enjoying the most at the moment? Share in the comments below!
Herbies Head Shop expressly refuses to support the use, production, or supply of illegal substances. For more details read our Legal Disclaimer.