The Creator Of Purple Punch Remains A Mystery
We wish we knew who the original breeder of Purple Punch was so that we could thank them for these truly wonderful genetics. What we do know is that this strain shot to stardom around 2017-2018, when these singular-looking buds began to dominate the top shelves of dispensaries. Having conquered the US West Coast, this hybrid of Granddaddy Purple and Larry OG crossed the pond and is now sold in seed form by Barney's Farm and other companies. This 80% Indica/20% Sativa mix wraps all the best qualities its parent strains have to offer into a single package – exquisite 'purple' flavors and a great all-round OG-type high.
This Bowl Of Punch Isn't Exactly For A School Dance
Purple Punch is that rare kind of weed that's loved by novice smokers and veterans alike. Above all, it's relaxing and euphoric – a dessert for your body and mind after a long day.
The effects first settle down behind the eyes, instantly damping all the bad vibes in your head and lifting your mood. You then gently slide into the more physically calming bliss, with loose limbs, drowsy eyes and a perma-grin stuck to your face. Not the best choice for partygoers, this strain is better consumed alone or in quieter social settings, perfect just for chilling and enjoying deep and meaningful conversations among close friends.
With THC levels of 20% or more, an extra toke will make you yawn violently and soon hit the sack. However, medical users who've developed a high tolerance over the years can use Purple Punch throughout the day and feel a nice sedation, with just enough stimulation to keep going to deal with the tasks and hardships of life. Moreover, not one review mentions paranoia – a rare feat for such a potent strain!
The Kush-like buzz that fills the entire body and sends bright sparks through your head will also melt the pains and aches from your body, help with spasms and muscle tension, shield you from stress, alleviate anxiety and depression, calm racing thoughts and provide focus. For cancer patients, it's also the best medicine to combat nausea and loss of appetite.
Flavors: The Sweet Dessert For Body And Soul
Smoking Purple Punch is being smashed in the face by a whole plateful of fruit. The loud smell of the cured buds is dominated by an all-pervading sweetness, with whiffs of blueberries and grapes and a darker, earthier background. It really is like a party punch made with some sugary powdered drink and chunks of actual fruit and slices of lemon.
The terpene profile is rich in beta-caryophyllene with its spicy aroma, and has more modest amounts of alpha-humulene that provides subtle hoppy and skunky notes. However, the taste has much less of the skunk influence, while another delicious terpene, limonene, gives the smoke a somewhat acidic and lemon tart aftertaste. All in all, Purple Punch will appeal to those consumers who appreciate fruity and berry-like varieties rather than the old school dank.
Tips On How To Grow Purple Punch
This Indica-dominant variety is hardy and generous, though it may require some skill from the grower to bring really top yields. Purple Punch is a sucker for light, so be sure to use powerful lamps indoors and put it into a sunny spot outdoors. In a Mediterranean or similar climate, your harvest will be ripe around mid to late-October. Indoors, this strain is as fast as you could wish for – you'll need just 7-8 weeks of flowering time to bring buds to full maturity.
The stellar lineage of Purple Punch is evident not only in its effects and flavor but also in its resistance to mites and other pests, and in its resilience to mold and bud rot. However, the buds can swell so much at harvest time that growers are advised to check them regularly. The buds might 'foxtail' on you as well, which isn't necessarily a sign of heat stress, but rather just the unique genetics.
The plants tend to channel all their energy into the central bud, leaving you with two options: you can either go proactive by topping or SCroGing your plants to make the canopy flat and uniform, or let nature take its course and grow SOG-style, with many smaller plants supporting a huge main cola and sparser side shoots. In any case, you'll need to do some heavy pruning and defoliation to let light and air through to the lower bud sites.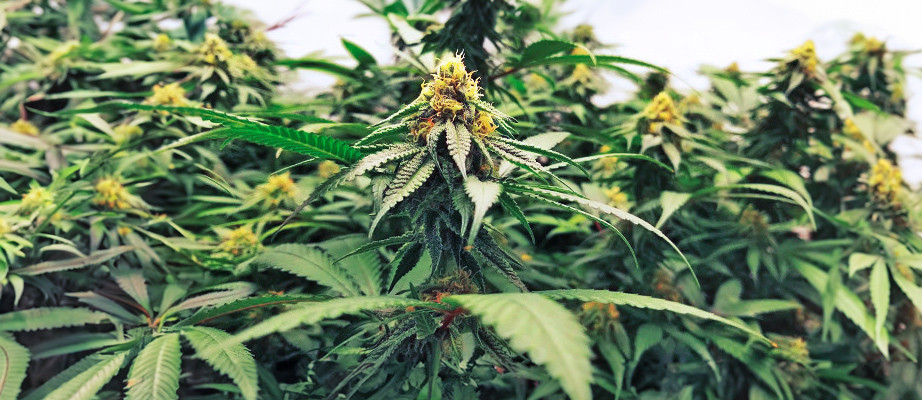 Buds Not As Purple As You Might Imagine
Although its name and its heritage suggest the presence of purple coloration in its flowers, this is seldom actually the case. The buds look great, though – bright neon green nuggets that are almost hidden under a thick coat of crystals, and with the highlights of its orange pistils. If they grew pot in Avatar, it would probably look exactly like this. However, if this isn't beautiful enough for you, you can try to get that coveted purple hue by exposing your plants to cooler night temperatures in the later stages of flowering. Who knows – you might just get lucky!