15% Off Orders Over $ 107.3 for the First July Week
29 June 2021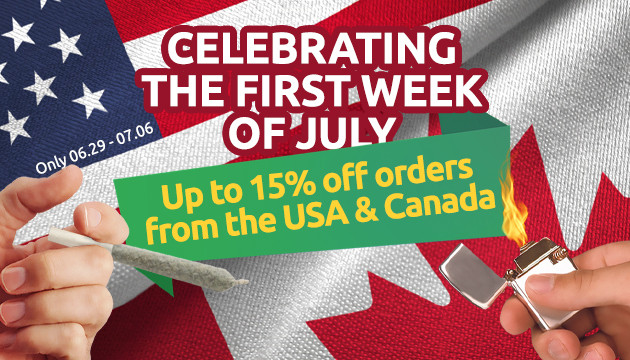 On the first week of July, our friends across the pond celebrate some of the biggest holidays of the year, which are Canada Day and Independence Day in the US. Hooray!
To support the occasions, in the period from 12am June 29th until 12am July 6th (GMT*), we're raising our regular discounts on big orders for all orders from the USA and Canada. Only for the first week of July make an order with a total of over $ 1.0700 and get 15% off! The discount will be applied after you specify the country of residence at the check-out.
That's a deal you shouldn't miss! To give you an idea what you could fill up your cart with, here are three fool-proof seeds universally adored by growers:
Girl Scout Cookies (Garden of Green Seeds)
Girl Scout Cookies (Garden of Green)
Photoperiod

28 %

Creative euphoria

450 g/m² indoors
Go to strain
An all-American classic, Girl Scout Cookies is a great treat for anyone who can appreciate a rich terpene profile. This blend of fruity and spicy flavors adds to a complex effect that gives tokers an immediate boost in creativity and mental inspiration. What about the THC, you might ask? This GSC has a 28% THC level, which puts it among the strongest strains on the market.
Purple Lemonade Auto (FastBuds)
Purple Lemonade Auto (FastBuds)
Autoflowering

Refreshing medicine

22 %

400 - 500 g/m² indoors
50 - 250 g/plant outdoors
Go to strain
The most advanced purple genetics yet, Purple Lemonade Auto will light up your grow room like fireworks on the Independence Day! Just look at her photos and you won't be able to resist growing and smoking this gorgeous bud. One of our absolute best-sellers, Purple Lemonade Auto is not only about the looks. This compact 22% THC strain boasts juicy flavors of citrus and happy, uplifting highs.
Bruce Banner #3 (Herbies Seeds)
Bruce Banner #3 (Herbies Seeds)
Photoperiod

27 %

Pure euphoric bliss

600 - 800 g/m² indoors
800 - 1200 g/plant outdoors
Go to strain
A resilience champ ideal for growing in the colder climate of Canada, Bruce Banner #3 is a green monster that can withstand harsh weather and rookies' mistakes. A great choice for experienced stoners, Bruce Banner #3 is 27% THC and can break any tolerance with its complex effects. This bud makes you feel euphoric and absolutely worriless after a single hit.
For more inspiration for your celebratory seeds haul, make sure to check out our Top Marijuana Strains In Canada and Top Marijuana Strains In the US collections for a truly informed choice.
And just as usual, all other Herbies' deals remain in place! For example, that means that your $ 1.0700 order will bring you not only a great discount, but also 5 extra seeds for free!
Happy Shopping, and Happy Growing!
*8am June 29th - 8am July 6th (EDT) / 5am June 29th - 5am July 6th (PDT)
Herbies Head Shop expressly refuses to support the use, production, or supply of illegal substances. For more details read our Legal Disclaimer.