BLACK FRIDAY SALE: Up to 90% Off and Other Surprises
23 November 2021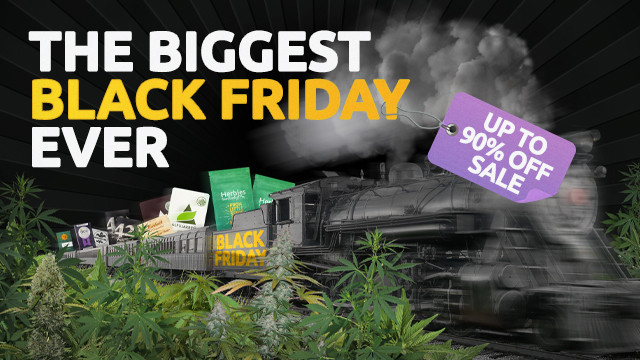 For this year's Black Friday, it's more than just a regular sale! We're offering discounts of up to 90% on our hit genetics and hidden gems, along with some other great perks. You'll have 7 days, from 00:00 November 23rd to 00:00 November 30th (PST), to snatch our best seeds with the lowest ever prices!
Strains with the special Black Friday discount include, but aren't limited to, extra potent photoperiods from Barney's Farm, the front-running autoflowers from FastBuds, and many more time-proven varieties from Pyramid, Heavyweight, Sweet Seeds, and all of your other favorite seed banks. Speaking of which, the top-selling seeds from Herbies' very own bank are also on sale – you can get our 30% THC Grandmommy Purple, massive-yielding Blueberry Hill, flavorful Mimosa Shot, and our versatile seed mixes and other items all with up to 35% off!
THERE'S ONE MORE SURPRISE…
During the same period from 00:00 November 23rd to 00:00 November 30th (PST), we'll be encouraging growers who shop big with free seeds from Humboldt Seeds Organization – rare items of the highest quality - we'll be giving them out as long as the stocks last:
Spend 80 EUR and receive +1 Gorilla Breath
Spend 100 EUR and receive +1 Sugar Breath
Spend 120 EUR and receive +1 Amherst Sour Diesel
You can find dozens of participating strains on our Black Friday page, and if you don't know where to start, here are some great steals:
Grandmommy Purple (Herbies Seeds)
The absolute #1 best-selling strain at Herbies in 2021 is now more affordable than ever. This cannabinoid-filled variety casually tests at sky-scraping levels of 30-33%THC, leaving even the most seasoned stoners in awe. You gotta try this purple-flavored beast, and now is the perfect time!
Mimosa x Orange Punch (Barney's Farm)
Another potency champion that hits 30% THC, Mimosa x Orange Punch is a gorgeous tinted plant that's a delight to smoke. If you're a fan of sweet, citrusy strains, you're going to love this smooth, uplifting bud!
Purple Lemonade Auto (FastBuds)
If you're an indoor grower, don't think twice about getting yourself some Purple Lemonade Auto seeds during the sale. This autoflowering plant ticks all the boxes for hassle-free cultivation while producing a go-to 22%THC bud; it's energizing, social, and calming all at the same time.
Black Cherry Punch (Pyramid Seeds)
Those who use cannabis to combat stress and lift their spirits when times are tough should direct their attention toward Black Cherry Punch. These 25% THC seeds produce an Indica-leaning cultivar that calms the body, brings focus, and elevates the mood with little body load.
Runtz Muffin (Barney's Farm)
Runtz Muffin made waves when it came out for a reason – this strain is a winning combination of tropical flavors, a quick onset, a whopping THC level of 29%, and highly euphoric effects. Runtz Muffin guarantees a distinct cannabis experience that can't be confused with any other strain, and getting it on discount is a rare occasion!
And as per usual, all other Herbies deals remain in place! This means our Black Friday week can get even more beneficial for you than what we've described above. To see all bonuses and deals you're eligible for, try out the Bonus Calculator on our Promos page.
So, what are you waiting for? Go check out all the strains on Black Friday sale and start stacking up on seeds. Invest now while the prices are hitting the rock bottom, and plant whenever you like!
Happy growing!
Herbies Head Shop expressly refuses to support the use, production, or supply of illegal substances. For more details read our Legal Disclaimer.