CHRISTMAS DEALS: Up to 50% Off Sale and Extra Free Seeds
21 December 2021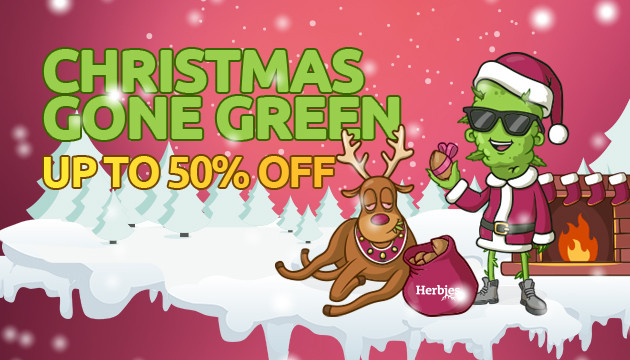 If Christmas is doing a little something extra for somebody, then we're doing it right! For this year's Christmas season, Herbies is offering up to 50% off our dankest strains and up to 3 extra seeds, which we go over in detail below, for orders larger than 80 EUR - all that in addition to the regular Herbies freebies! These miraculous deals will last for a whole week from 00:00 December 21st to 00:00 December 28th (PST).
The list of strains that go on discount this Christmas is huge and just a little short of a whole hundred genetics. We've hand-selected these varieties to suit growers of all experience levels, while delivering punchy flavors and consistently high THC levels reaching 29%.
Of course we couldn't leave our own strains from Herbies Seeds without the discount, so here's your chance to get our best-selling Godzilla Cookies Auto (27% THC), Runtz Punch (29% THC), DDoS #33 (27% THC), or Auto Mix Pack #1 (23-27% THC) with a special Christmas price. Other great steals to get on this sale include:
Godzilla Glue #4 (Herbies Seeds)
This perfect 50/50 Sativa/Indica hybrid has become an instant hit among Herbies customers for its insane 29% THC content and extreme resin production. Needless to say, that resin is chock-full of fragrant pine-and-lemon terpenes, which make for a complex euphoric effect with tons of medical potential.
Banana Sherbet (Original Sensible Seeds)
One of those strains that make your mouth instantly water, Banana Sherbet lives up to expectations and produces buds that are as sweet and fruity as the name suggests. More than that, its 28% THC content makes for a pro-level potency and highly energetic and creative effects.
Shiskaberry (Barney's Farm)
Not many strains promise yields as big as 2kg (4,4lb) per plant, but Shiskaberry does! In her case, quality doesn't need to be sacrificed for quantity - each bud will be rock hard and covered in 26% THC resin for long-lasting, tranquilizing and extremely potent body-buzz.
Black Cherry Punch (Pyramid Seeds)
25% THC Black Cherry Punch is one of the most exotic-looking strains with insane bag-appeal. But it's not just the looks: these purple buds are sugar-sweet and will make your tastebuds happy with their fruity flavor. A couple tokes of Black Cherry Punch is enough for long-lasting and almost purely cerebral high.
That's not it, during the same week, big orders over 80 EUR get up to 3 extra free seeds of some of our favorite genetics:
Spend 80 EUR and get Sticky Fingers Auto (Seedstockers), a relaxing 20% THC strain with cookie-flavored buds completely caked in trichomes;
Spend 100 EUR and get Sticky Fingers Auto AND Big Devil XL Auto (Sweet Seeds), a 20% THC heavy-yielder used as a cash-crop for producing potent, dispensary-grade bud;
Spend 120 EUR and get, Sticky Fingers Auto, Big Devil XL Auto AND Zkittzy Gorilla (Original Sensible Seeds), a 24% THC mix of 2 powerhouse strains that causes a lightning-fast onset of pure euphoria.
And as always, the rest of Herbies' deals and bonuses don't go anywhere! Use this chance to fill your seeds collection to the brim: browse our Christmas Sale collection, get seeds in your cart, up your total to at least 80 EUR, and that will grant you at least 5 free top-notch seeds for a whole new garden of home-grown cannabis! If you're a part of a big operation, or simply want to stock up for later, that's a deal you can't miss out on.
Herbies Head Shop expressly refuses to support the use, production, or supply of illegal substances. For more details read our Legal Disclaimer.