Happy Holidaze! Up To 70% Off For Christmas
23 December 2020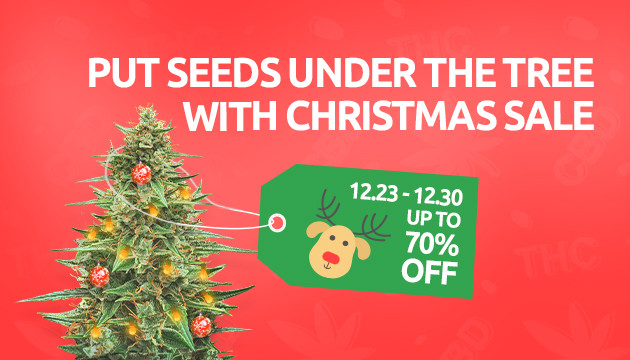 Santa has had his eyes on you for the whole year, and now it's clear – you've all been good growers and deserve the kind of Christmas present you've been wishing for! So, what's under the tree this year? Nothing other than the biggest sale of the year, with discounts of up to 70% on over 200 popular cannabis strains from Herbies' catalog!
Starting December 23rd, 2pm GMT and up until December 30th, 12pm GMT, get seeds of all of your favorite cannabis strains with discounts reaching a breathtaking 70%. With prices like this, you can fill your stockings up to the brim with quality seeds and spend the upcoming 2021 enjoying many sweet harvests.
Participating seedbanks include, but aren't limited to, top-tier producers such as Dutch legends Barney's Farm, terpene enthusiasts Delicious Seeds, yield gurus Heavyweight Seeds, and of course, the bank that redefined autoflowers, FastBuds. Just look at some of the gems you can get with a heavy discount during our Christmas sale:
Runtz Muffin (Barney's Farm)
Certain cannabis strains just hit you differently, and Runtz Muffin is one of them. After appearing on the market a couple of years ago, this variety became an instant hit among amateurs and pros alike for the all-encompassing feeling of love and euphoria it provides. Sumptuously flavored, Runtz Muffin will wrap you up in gentle notes of lavender, cream, and clementines.
Eleven Roses (Delicious Seeds)
Coming from a seedbank that favors rich terpene profiles, it's no wonder Eleven Roses is one of the tastiest strains to date. While also reaching 25% THC and providing narcotic-like and mind-melting effects, Eleven Roses treats weed enthusiasts to a rich blend of metallic Kush, sweet fruit, and damp earth notes.
Fruit Punch Auto (Heavyweight Seeds)
Finally available as an autoflower, Fruit Punch Auto is a legendary strain beloved by creatives of all sorts. Powered by its 80% Sativa profile and 21% THC content, Fruit Punch Auto opens your mind to new ideas and grants an overflow of creative energy. On top of that, it's simply delicious, with extra-rich notes of lemon, lime, and yellow mango.
Wedding Cheesecake Auto (FastBuds)
A perfectly well-rounded hybrid, Wedding Cheesecake Auto is an exceptionally productive cultivar that breaks every misconception there is about autoflowering strains. Sporting an impressive THC level of 24% and cerebral, upbeat effects to get you going for hours, Wedding Cheesecake Auto is also sickly-sweet and highly reminiscent of its namesake dessert thanks to its creamy and fruity terpene profile.
Monster Bruce Banner Auto (Monster Genetics)
While BB genetics don't need any introduction, Monster Genetics have put their twist on them to create the unbeatable Monster Bruce Banner Auto! This rendition of the classic sports lime-green colas and red pistils on a plant that produces a pungent citrus aroma, and a taste combining sugar and gas. Unlike other hybrids, it starts off with a powerful body stone, which mellows out closer to the end of the session.
A sale like this is a true Christmas miracle! And as if it could get any better, all previous Herbies discounts, deals, and freebies will remain for the sale's duration! So don't waste any more time – snatch as many of your favorite seeds as you can while they're still in stock!
Herbies Head Shop expressly refuses to support the use, production, or supply of illegal substances. For more details read our Legal Disclaimer.