15% Off Sale: Herbies Halloween Slasher
29 October 2021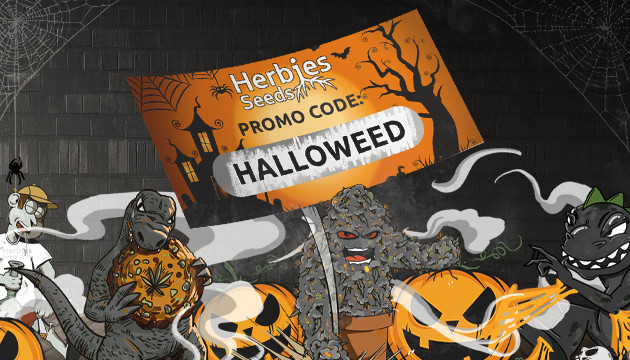 While you've been lighting up candles and carving pumpkins, at Herbies, we've been busy slashing high prices for this year's up to 15% Off Halloween Sale. If vampires can't stand garlic and mummies burn under sunlight, our price tags fall apart when attacked with the promo code HALLOWEED!
As the promo code is now out in the wild, you can start filling your shopping cart with Herbies-style Halloween treats, aka weed seeds! Just a couple more details on our Halloween Sale so you can use this shopping opportunity to the fullest:
The Halloween Sale at Herbies lasts 3 days, from 00:00 October 29th to 00:00 November 1st (PDT).
The maximum discount during the Halloween Sale is 15%.
The discount and seeds on sale are changed daily.
Participating strains are hand-picked for the highest quality and can be found here.
To get the discount on selected strains, use the promo code HALLOWEED at checkout. Note that the number of times the promo code can be used is limited.
As always is with Herbies, there's just one more thing… nothing to be scared of, though – quite the opposite! Every single customer who buys one of the Halloween Sale strains in the period from 00:00 October 29th to 00:00 November 1st (PDT) automatically participates in a giveaway to win one of three personal promo codes, each worth 100 USD! Now just imagine how much bud this number of seeds will yield!
You know what to do now, right? Go check out our Halloween Collection to see what awesome strains are on Sale today – remember, they're different every day of the deal! View our collection daily to benefit the most from this ooky-spooky Halloween Sale!
Herbies Head Shop expressly refuses to support the use, production, or supply of illegal substances. For more details read our Legal Disclaimer.