HERBIES SEASONS: FREE SEEDS SWEEPSTAKES
2 June 2021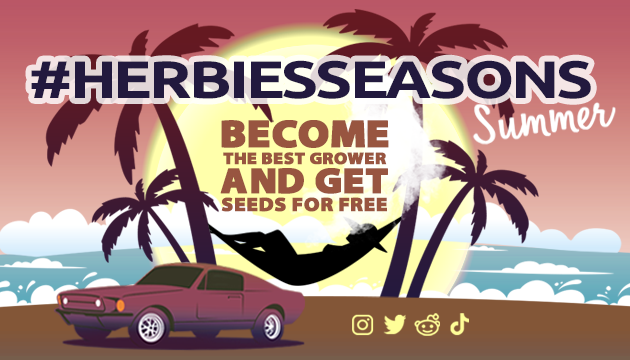 Now is your chance to show off your cannabis plants and get free seeds for it! Starting today, you and your friends can take part in the Herbies Summer Season. We can't wait!
How You Can Win:
Join and follow us on our social networks! You can join the contest on Instagram, Twitter, TikTok, and Reddit.

Post a picture or video of either

your grow set-up, OR

your plant in any stage of growth.

Included in the post should be a written message on a piece of paper in the photo with your username, date, and "HERBIES CONTEST!" written on the paper. This will verify that the pictures are yours and they are current.

Tag our account and include the #herbiesseasons hashtag under your post.
Three winners will be selected by our Herbies Seeds experts at the end of summer! Each winner will receive $ 107.32 credit on the Herbies website to get some seeds.
Notes: As long as your post follows these rules, the format is up to you and your creativity! The more original and interesting, the better your chance of winning! A minimum of 30 individual participants in the next 3 months will be necessary to launch the contest. Participants CAN choose to resubmit their photos, but only one will be taken into consideration. Share this with your friends who also love to grow cannabis!
Links to our social networks are here:
Instagram: https://www.instagram.com/herbiesheadshop_com/
Twitter: https://twitter.com/HerbiesSeeds
Reddit: https://www.reddit.com/r/newgrowers/
Good luck, everyone! We can't wait to see all of your beautiful plants and set-ups!
Herbies Recommends
VIEW ALL
Herbies Head Shop expressly refuses to support the use, production, or supply of illegal substances. For more details read our Legal Disclaimer.