It's Time To Vote! Are You Team Red Or Team Blue?
2 November 2020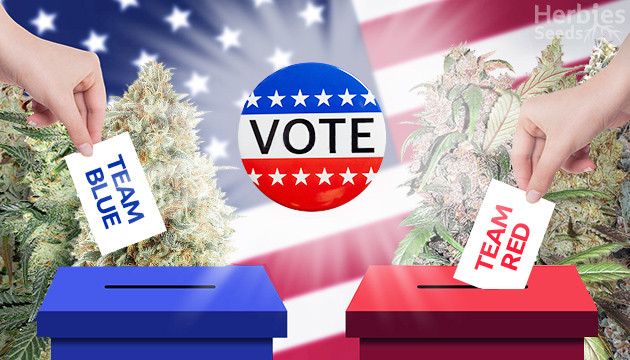 Since the official presidential election date is right around the corner, it's the final countdown until U.S. citizens make the most important decision of the past 4 years. Are you voting red or blue?
Herbies has prepared some candidates of its own – let's get to know them better!
TEAM RED:
Red Dragon
A perfect daily strain, this 22% THC Red Dragon from Barney's Farm is a joyous source of electrifying energy and flavors blending berries and guava. Being absolutely undemanding in growing, this candidate advocates for ease of cannabis cultivation.
Red Diesel
Cerebral and mood-enhancing, Red Diesel tickles your senses in all the right places. A sweet smell with notes of diesel alongside a pleasant body buzz creates the ultimate feel-good vibe. As a 50/50 hybrid, Red Diesel represents all strains with perfectly balanced effects.
Red Mandarine F1 Fast Version
The fresh citrus bouquet of Red Mandarine is a true aromatherapy for your nose, while the taste of mandarin will stay on your lips for hours after toking. Naturally, being a fast version flowering in just about 50 days, this blissful strain is a candidate for every grower who values their time.
TEAM BLUE:
Blue Gelato 41
With Blue Gelato 41, Barney's Farm has created much more than just another sweet dessert strain. It also boasts the potency of 25% THC and grants tons of focus and motivation to everyone toking it. With yields reaching 6.6lbs (3kg) per plant, Gelato 41 stands for the rights of every monster yielder on the market!
Gorilla Blue
Despite its crazy high THC rate of 24%, you won't go completely bananas after smoking Gorilla Blue. That's because its effect is body-based, Indica-like, and guarantees an intense session of relaxation – you simply won't be able to get your body up from the couch. A vote for Gorilla Blue is a vote for the ultimate couch-lock!
Blue Auto Mazar
Something you rarely expect from an autoflowering seed is a potency of 26% THC, yet here is the record-breaking Blue Auto Mazar by Dutch Passion. With its sensible blend of juicy, fruity flavors and a perfect relaxing effect that's ideal for experiencing in the evening, Blue Auto Mazar is a candidate for all fans of new-age autoflowers.
***
This battle is almost as heated as that between Biden and Trump, but by now, your mind should be made up. So are you voting red or are you going blue?
No matter what the upcoming presidential election brings, Herbies will always be here and ready to take your orders for top-tier cannabis seeds, because some things never change. Our collections still offer varieties picked by cannabis pros to suit any grower's needs. If in a couple of days you find yourself unhappy with the results of the election, go to Herbies Recommends and treat yourself with a cannabis seed that will never disappoint!