Black Friday Sale's In Full Swing! Major Price Cut On Best-Selling Weed Seeds
26 November 2020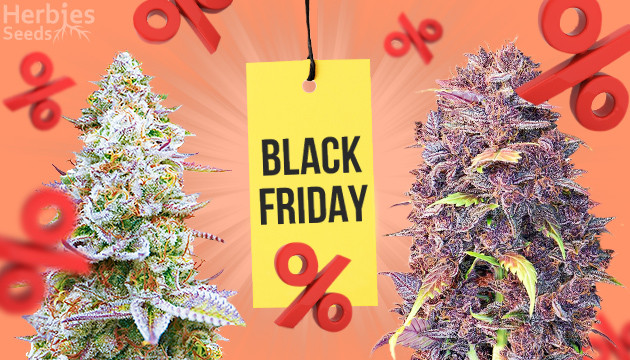 Stop whatever you're doing – you'll definitely want to see this! We're giving out our most-wanted cannabis strains with a major price cut. Yes, it's happening! Our best-selling weed seeds, aka your favorites, are available at an extra special price – 25% off ALL packs of Gorilla Zkittlez, Purple Lemonade Auto, Hulkberry, and more… pick up your favorite seeds at a bargain price now!
25% Off Our Best-Sellers! What Weed Seeds Are At Play?
Gorilla Zkittlez
One of the most popular cultivars from Barney's Farm, Gorilla Zkittlez has earned her fame for a reason. This 60% Indica produces strong feelings of happiness, relaxation, and creativity accompanied by a sweet taste of a thick tropical fruit bouquet. Testing at 24% THC, this weed strain may be too intense for novice consumers, but if used sparingly, Gorilla Zkittlez turns into the perfect daytime smoke.
Purple Lemonade Auto
A colorful Indica-dominant autoflower, Purple Lemonade is the most advanced Purple genetics from FastBuds. Providing a complex high paired with pleasant body relaxation, this weed strain is full of zesty, sweet, and citrusy flavors. With 22% THC, Purple Lemonade is great for a daytime smoke or pleasant evening buzz.
Sugar Black Rose Early Version
One of the best-tasting Indicas on the market, Sugar Black Rose Early Version from Delicious Seeds is brimming with a crazy-tasty mix of fruity, flowery, spicy, and skunky notes. Add this to her incredibly relaxing effects fueled with 25% THC, and you've got a perfect nighttime weed strain for both recreational and medical use.
Black Cherry Punch
Powerful, uplifting, and crazy-tasty, the Black Cherry Punch strain from Pyramid Seeds is also a marvel to look at. Her dark green buds with beautiful purple specks are full of a deliciously thick, earthy flavor coupled with an intense berry-like sweetness. With a THC content reaching 25%, this Sativa-dominant beauty is ideal for creative pursuits or taking care of a few errands.
Hulkberry
Extremely potent, relaxing, and happy, the Hulkberry strain is no joke! Testing at 27% THC, it's probably the most potent and hard-to-resist weed strain from RQS. Infused with an intense fruity taste, this Sativa dominant hybrid is a perfect choice for cutting through stress and enjoying afternoon outings. 
Don't wait until November 30 – scoop them up before someone else does!
Herbies Head Shop expressly refuses to support the use, production, or supply of illegal substances. For more details read our Legal Disclaimer.