New Year Sale: Up to 22% Off!
30 December 2021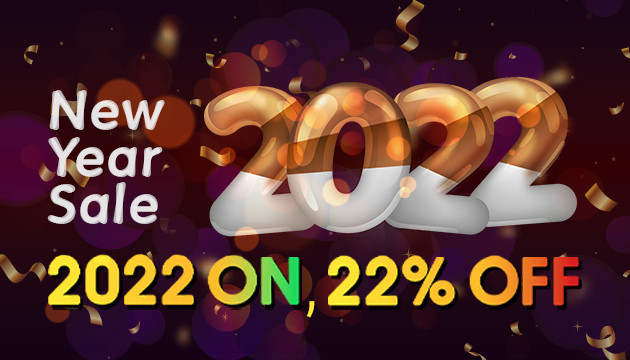 What could be more fitting for a great start to 2022 than an up to 22% off sale from Herbies? Let's get your drawers full of seeds for a great year of growing ahead!
From 00:00 December 30th to 00:00 January 8th (PST), you can shop our special New Year Sale collection with up to 22% discounts. Besides that, in the same period, when you surpass 80 USD in total, you'll get up to three extra seeds on top of our regular bonuses. Stick with us to the end to learn what strains will be on sale and what extra seeds you can get for free!
Seeds You'll Find on New Year Sale
Among others on the list of discounted strains, you'll find potent bestsellers from FastBuds, Advanced Seeds, GHS, Dutch Passion, and of course, Herbies Seeds! This time, you'll get to snatch for a low price our meditative 26% THC Blueberry Hill or our up to 33% THC Heavy Kickers Mix with all of our most mind-bending genetics in one package. Other steals include, but aren't limited to:
Grandmommy Purple (Herbies Seeds)
Smelling sweet and fruity like your grandma's garden, Grandmommy Purple is a treat for adults only. The absolute bestseller of our shop, it flaunts a crazy sky-scraping potency of 28-33% THC for a truly knock-out high. It's a natural mood enhancer and tranquilizer, which also makes GMP a perfect sleeping aid.
Durban Poison (Dutch Passion)
A legend that's been on the top of cannabis lists for 50 years now, Durban Poison never gets old! Its effects that have earned the strain worldwide recognition are cerebral and stimulating. Durban Poison is that daytime smoke you've been looking for – it will keep you energized without any couch-lock.
Purple Punch Auto (FastBuds)
This autoflower from FastBuds is appreciated for its heavy yields and delightful effects. At 24% THC, it's universally loved by rookies and seasoned tokers alike because its creative effects strike a balance between cerebral and physical and are equally impressive for both.
Big Bang Auto (Green House Seeds)
Big Bang Auto is a perfect find for every terpene enthusiast out there. This strain is crazy delicious, with each bud enveloping rich notes of strawberries, apples, roses, and violets. Effects-wise, expect a big bang of relaxing and soothing Indica that's ideal for medical purposes.
New Year Bonus Seeds for Big Orders
In the same period, if your order total surpasses 80 USD, you'll get a special bonus seed for free – and best of all, they add up! So, if your order is larger than 120 USD, on top of our regular bonuses, you're getting all three of the following:
Spend 80 USD and receive Sticky Fingers Auto, 20% THC and cookie-scented
Spend 100 USD and receive Big Devil XL Auto, 20% THC and heavy-yielding
Spend 120 USD and receive Zkittzy Gorilla, 24% THC and extra-resinous
Remember, the rest of Herbies' deals and bonuses remain active during the New Year Sale, which makes this time even more profitable for growers. Our seeds are always fresh, so even if you aren't planning to grow before summer, just stock up and let them wait – the seeds will remain full of life until you decide to plant.
Enough reading for now – make sure to get the seeds that catch your eye asap before stocks run out!
And of course…
Happy New Year, everybody!
Herbies Head Shop expressly refuses to support the use, production, or supply of illegal substances. For more details read our Legal Disclaimer.