The Battle Of The Fresh Arrivals – What Are You Going To Choose?
25 June 2020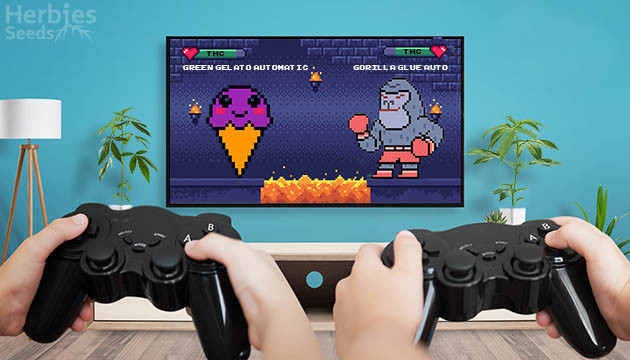 Every day is a fight, especially when it comes to brand-new cannabis strains at Herbies fighting for the attention of growers. Today, the renowned Barney's Farm and Royal Queen Seeds are presenting their fresh competitors for the name of your next favorite strain. Welcome to the ring, follow the battle, and make the right choice!
Round 1: The Battle Of The GGA's
For the first round of our Royal Queens Seeds vs. Barney's Farm clash, please welcome to the ring two GGA's. Both are automatic powerhouses with a number of traits that are hard to resist, but which is going to come out on top?
Gorilla Glue Auto (Barney's Farm)
This Gorilla family member in the blue corner is known for its 25% THC punch that hits your whole body and leaves you knocked out by its ultra-heavy stone effect. Fighting back is pointless, so the best tactic when facing Gorilla Glue Auto would be to surrender and enjoy the intense psychedelic rush while being nearly passed out on a comfy couch.
As it's supposed to be with autos, Gorilla Glue Auto demonstrates primatial resistance toward harsh environments. Something you'll need to take into consideration though is how smelly this strain is. During the flowering, this fighter starts exuding scents of coffee and spice. The aromas are gorgeous, but they can easily reveal what's growing in your garden. The same palette is inherited by the harvested buds and beautifully complemented by the taste of cream.
Green Gelato Automatic (RQS)
The times when autofowers were considered outcasts for their low potency are soon to be forgotten. Look in our red corner of the ring – Royal Queen Seeds' Green Gelato Automatic is an exceptional auto specimen packing an astonishing 24% THC! Due to its hybrid nature, the intense effect of this strain is felt both as a creativity head rush and total body relaxation. This trait makes the strain popular not only among recreational users, but also among patients looking for relief from pain, appetite loss and anxiety.
As the name suggests, Green Gelato Automatic is a dessert on its own when it comes to its flavor. Each bud is sure to make any party better by bringing delicious sweetness to the table. If your choice is Green Gelato Automatic, prepare for the mouthwatering mix of pungent citrus and connoisseur-worthy earth.
Round 2: Photoperiod Indicas Face To Face
For the second round of the battle, we present Barney's Farm's Wedding Cake in the blue corner and Triple G by Royal Queen Seeds in the red corner of our canna-ring. Both are potent Indicas known for their intense stone effect, but still, which one is better?
Wedding Cake (Barney's Farm)
Born from such legends as Girl Scout Cookies and Cherry Pie, Wedding Cake has some big shoes to fill! Its name hints at the abundance of shiny white trichomes covering the plant like a layer of delicious icing – that's where all of the potency is. Expect a classic Indica stone sprinkled with euphoria, creativity and mood enhancement.
This Cake will feed a huge party, as its yields are as massive as 650g/m2 (2.13 oz/ft2) indoors and 2000g (70.5 oz) /plant outdoors. Once your belly is full of BF's Wedding Cake, you'll still ask for more, simply because it's so irresistable! This cannabis strain produces unmistakable flavors and aromas that blend together sweet and sour, earthy and pungent, and tops it all off with a hearty dose of vanilla.
Triple G (RQS)
26% THC, 85% Indica, and 3 Gs standing for this bomb strain's parents, Gorilla Glue and Gelato – doesn't that sound like a formula for a real winner? A triple warning for inexperienced users: the extreme rush of euphoria this strain provides might catch newbies off-guard and make them anxious. Experienced users, on the other hand, will thoroughly enjoy this wild ride of introspection and creativity.
Triple G makes for an enjoyable grow with her bush-like structure and the ability to thrive in any environment. The yields of this weed strain are medium, but can be boosted with training and pruning for even distribution of light to its spiky flowers covered in orange pistils – a classic loveable look. The appeal doesn't stop here, as Triple G's flowers also ooze with a unique blend of flavors and aromas. It's rare for decadent notes of chocolate to fuse so seamlessly with berry, earth, and spice, but that's exactly the profile of Triple G!
Find More Outside The Ring
The above seed banks have shown their best assets, but something's telling us you need more options. That's easy, because Herbies updates its catalog frequently and with lots of new exciting cannabis seeds at a time. This week, besides our brave fighters from the canna-ring, we're also welcoming to our family the following strains: Wedding Cake Auto (Barney's Farm), Cookies Gelato (RQS), Shogun (RQS), Mango Crunch Regular (RQS), Marula Fruit Regular (RQS), and Pumpkin Kush Regular (RQS). Check them all out in our collection of New Arrivals to find your new fave – each weed strain from this diverse bunch is definitely worth your attention, time, and space in your garden.
Herbies Head Shop expressly refuses to support the use, production, or supply of illegal substances. For more details read our Legal Disclaimer.