The Votes Are In: The Strain Of The Year Is…
14 January 2021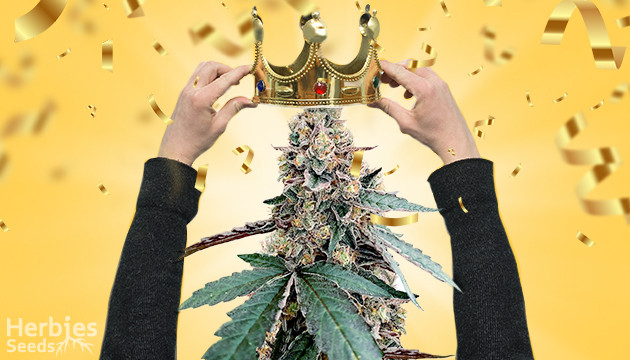 Despite all the odds, 2020 was great for discovering new cannabis strains to smoke and grow. Not at all surprising – with all the free time we were given last year, we got the chance to try out as many strains as possible, gifting each of them with the amount of attention, love, and care they deserved.
As a result, one of the novel strains that's been steadily growing in popularity gained unbeatable momentum in 2020. After showcasing its potential to the biggest number of growers, this strain earned the number one spot among our customers' most favorite strains of 2020.
Cue the drumroll! According to public vote, the 2020 strain of the year at Herbies is…
Runtz Muffin from Barney's Farm!
Runtz Muffin (Barney's Farm)
Photoperiod

Smashing relaxing power

27 - 29 %

550 - 600 g/m² indoors
1000 g/plant outdoors
Go to strain
This strain left the competition no chance with its winning combination of qualities, which can't be described using mere numbers. Yes, Runtz Muffin contains 29% THC and produces up to a whole kilo (2.2lbs) of trichome-laden green, blue, and black buds, but what growers buy these seeds for is the experience of being absolutely flabbergasted by the delightful smoke. It's strawberry-scented, and each inhale tastes like orange marzipan made of crushed toasted almonds. If you feel you've tried just about every strain out there and find yourself craving a breath of fresh air, choose Runtz Muffin, our strain of the year, for the dream-like state of euphoria it induces that will feel like going back to the worry-free days of your youth.
With Runtz genetics growing in popularity with lightning speed, it was really about time for Runtz Muffin to hit the top spot among the best strains at Herbies, but let's not forget the honorable mentions!
Right behind the triumphant Runtz Muffin, the silver and bronze of our 2020 winning podium are taken by Dos Si Dos 33 (Barney's Farm) and Granddaddy Purple (Blimburn Seeds) respectively. Even while making way for the young and fresh this year, these well-established strains have long been household names in the cannabis world. As if saying "hold my joint, Runtz Muffin", Dos Si Dos knocks smokers off their feet with its bold, narcotic-like effect, while Granddaddy Purple shines with its signature "purple" flavor and THC content sufficient to tranquilize a horse. Trust us, these two can't be missed either!
Thank you to everyone who took part in the voting, and congrats to Runtz Muffin, the strain of the year at Herbies! To start off 2021, make sure to take the time to try as many strains as you can to decide on next year's winner – you can find all our bets at Herbies Recommends.
Herbies Recommends
VIEW ALL
Herbies Head Shop expressly refuses to support the use, production, or supply of illegal substances. For more details read our Legal Disclaimer.