Welcome To Black Friday 2020! Best Weed Seeds With Up To 70% Off
24 November 2020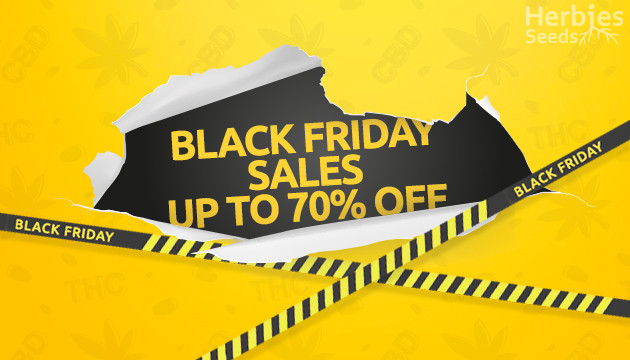 2021 UPDATE: For this year's Black Friday we're raising the bar even higher with up to 90% discounts! Be the first to know - subscribe to our newsletter, save our homepage, and don't miss out on the start of the biggest sale of the year!
Thanksgiving is around the corner… and guess what? It's time to buy some goodies for the holiday season and take advantage of our big Black Friday sale. We at Herbies are ready to treat you with the best deals on weed seeds from Pyramid Seeds, Dutch Passion, Dinafem Seeds, Original Sensible Seeds, and more!
Wait no longer and start buying cannabis seeds with Herbies' Black Friday discount! During the period from 10am on November 24 to 3pm on November 30 (GMT), you can buy weed strain seeds from the best breeders with 70% off – and the best part is, all other Herbies deals remain in place!
The Black Friday Sale: What Weed Strains Are In?
During our Black Friday sale days, Herbies will offer the best prices on top-shelf cannabis seeds, including these four girls in black:
Black Destroyer
A fast-flowering and high-yielding Indica, Black Destroyer is a unique cannabis strain that will charm you with her dark-colored resinous buds. Perfect for indoor and small grow room setups, this heavy-yielding weed strain delivers up to 650g/m2 after only 55 days of flowering. Take this opportunity to grow this cannabis beauty in your indoor garden!
Black Gold Auto
All that glitters isn't gold. That's right – Black Gold Auto is a stunning autoflower glittering in sticky resin that covers her juicy buds and dark green, almost black leaves. Sugary flavors burst with sweet orange and grapefruit notes, topped with a bit of spice and fuel. This gooey monster is an amazing treat for all hash fans and dabbers!
Black Gum
Sticky, candy-like sweet, and devilishly potent, Black Gum is a 90% Indica strain that boasts the legendary Black Domina genetics combined with old-school Bubble Gum. Just as sticky as she sounds, this fantastic weed strain produces large buds oozing with sugary resin in less than 60 days of flowering. Ideal for making cannabis concentrates, hash extractions, and oil infusions, Black Gum is also a must-have medical marijuana – grab her while you can at a bargain price!
Black Diamond CBD
Looking for a heavy-yielding and CBD-rich weed strain? We've got you covered! Black Diamond CBD is a gorgeous marijuana plant featuring sticky flowers shining like stars amid her dark purple coloring. Thanks to her Sativa dominance, this beautiful gem is also a heavy yielder. Plant her outdoors and you'll get up to 1000g/plant! Be ready for buds infused with 15-20% CBD that are perfect for those who need strong medication but still want to socialize and stay active.
Herbies Head Shop expressly refuses to support the use, production, or supply of illegal substances. For more details read our Legal Disclaimer.