Promos
Free Seeds
To make your shopping experience at Herbies even more enjoyable, we are delighted to offer you free seeds and bonuses! If you're looking for a real bargain, try our exclusive deals: 
Free Gorilla Glue Auto With Every Purchase – Make any order and get a Gorilla Glue Auto free of charge!
A Bonus Seed For Every 20 EUR Spent – Choose a free seed for every 20€ in your cart! Get an extra-potent Zkittlez, heavenly sweet Auto Gelato, sticky Gorilla Glue Auto, or citrusy Amnesia Lemon. If you don't feel like choosing from between them, we'll add the free seeds randomly.
Now let's get to know the free seeds a little closer:
Knock-Out Gorilla Glue Auto

24% THC Gorilla Glue Auto is an autoflowering version of a cannabis legend, and a fast-flowering plant with a compact structure and truly impressive potency. This autoflower combines pine, sour citrus, and pungent diesel notes for the entourage effect supporting the extra-potent, cheerful high.
Zesty Zkittlez

Fruity, extremely potent (up to 23-25% THC), speedy, and easy to grow – all of these traits are featured in the incredible Zkittlez. If you need more to get sold on this strain, it also has narcotic-like effects that can easily bring anyone to a state of happy creative Zen.
Ecstatic Gelato Auto

For many years, the potency and sky-high THC levels of Gelato were only a pipe dream for those who preferred autoflowers. Wait no more – now the autoflowering perfection is available to everyone. This Gelato Auto is 26% THC and guarantees a euphoric high under a thick coating of the sickly-sweet terpene profile.
Invigorating Amnesia Lemon

Amnesia Lemon is a must-try for anyone who claims to be a cannabis lover. A slight Sativa dominance with THC levels of 21% makes this strain perfect for an all-night-long party, offering uplifting and energizing effects. Besides, spicy, citrusy, and sweet, Amnesia Lemon doesn't leave a chance to any competitor in the taste department.
Want more? We have more! Check out our Seedbanks' Offers for deals from top breeders – you'll be surprised how many there are already.
FAQ
How to Get Free Cannabis Seeds?
You have 2 options and basically unlimited free seeds to get: you can have a Gorilla Glue Auto seed for free after making any order at Herbies or you can choose a free seed from Zkittlez, Auto Gelato, Gorilla Glue Auto, and Amnesia Lemon for every €20 in your cart! Make your order and get your free seeds now!
What Seeds Can I Get as a Free Seed at Herbies?
At Herbies you can choose between such free seeds as extra-potent Zkittlez, heavenly sweet Auto Gelato, sticky Gorilla Glue Auto, or citrusy Amnesia Lemon for every €20 spent! Also, don't forget that every order gets one Gorilla Glue Auto seed for free!
Are These Free Seeds of Good Quality?
Yes, of course! We get our seeds from only reputable seed banks, and free seeds you get from us are no exception! Our free seeds make our reputation so we inspect each of them before shipping out to make sure the quality is great - you can check this after your first order!
Discounts
With our discount system, you can always save on your passion for growing cannabis. When shopping for marijuana seeds at Herbies, you get:
5% off orders over 100 euro
10% off orders over 200 euro
15% off orders over 400 euro
Please keep in mind:
This discount system also applies to other deals on our website.
Herbies discounts do not extend to the shipping costs of your order.
By the way, we add free seeds to EVERY order! Visit this page for more info. 
And that's not all - we have also prepared some great gifts for our customers. Check out our Gifts page to learn what you'll get.
Gifts
To enjoy growing and the fruits of this labor to the fullest, you'll need some high-quality equipment. Herbies has got you covered! When ordering* seeds at our store, you can get some pretty awesome gifts that will help you throughout GIY'ing and after! Here they are.
WITH EVERY ORDER
When purchasing at Herbies, you'll automatically get a gift set that includes:
Rolling paper. You can never have enough rolling paper, right? To save you from the times you suddenly realize you're all out, keep an extra by your stash just in case.

A tube container. For those times when you can't finish a whole doobie but don't want to discard it, this scent-proof carrying case will come in handy. Its tight cap quickly extinguishes smoke and preserves your weed for a better moment – perfect for all types of scenarios, including festivals, hiking, and house parties.

A sticker-bombing set. A perfect souvenir to make you smile every time you look at it, five cool stickers with random weed and grow-inspired designs are the best things to look at while high. Start your collection of our stickers and use them to sticker-bomb your bong or grow room for an added touch of coolness.
When You Reach 60 EUR, You Also Get…
A grinder. We're sure you'll grow great weed from our seeds, but you also need to take care of your grind. Too fine or too coarse can make or break a smoking sesh. That's why we're adding this long-lasting grinder made of clear plastic. This grinder is made specifically for cannabis, so you know the bud will be broken up into perfect pieces for a smooth smoking experience.

A reusable zip-lock bag. Preserving weed the right way is responsible for how long you'll get to enjoy your harvest and the full range of its flavors. This airtight zip-lock bag is ideal for keeping your weed away from light and excess moisture. Keep several ounces in there at all times for easy excess and absolutely no scent leaks.
When You Reach 80 EUR, You Also Get…
Pruning shears. A pair of sharp pruning shears will forever be a grower's best friend. They'll come in handy whenever you want to train your plants, defoliate, or harvest. Ropes, stalks, roots, you name it – the blades of these shears can easily snip through it all. And look at that handle: it's bright and arched, which means hard to lose and easy to store.

A stash holder. This durable stash container in Herbies green will serve you well in all scenarios. Whether you're on the go or just like to keep everything needed for a sesh on hand at all times, reach out for this container. It's compact enough to fit in a pocket or be discreetly hidden anywhere in your living space.
When You Reach 100 EUR, You Also Get…
A keychain stash capsule. For whenever you catch a craving to smoke on the go, here's our high-quality stash capsule made of metal in our signature green. The capsule is durable and airtight, so your bud can stay there for a really long time without going bad. And when its time has come, pop open that inconspicuous container hanging with your keys and light up!

A filter tips book. Made of 100% recycled paper, these tips are easy to roll and work great for a smoke session any time. The tips book contains 60 tips with an inspiring quote on each. Light up and enjoy!
When You Reach 120 EUR, You Also Get…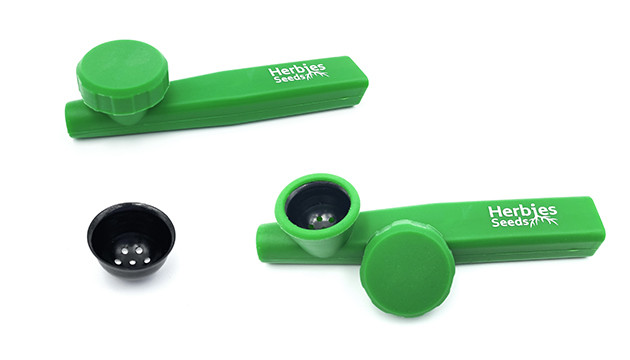 A silicone pipe. It's probably not every day that you have the time or energy to roll a joint or possess the needed equipment. That's when our pipe comes into use! It's made of a light matte silicone that tightly holds a bowl. High-quality materials make it a pleasure to hold, while the classic shape ensures a tight grip!
At 140 EUR, Get the Full Set and…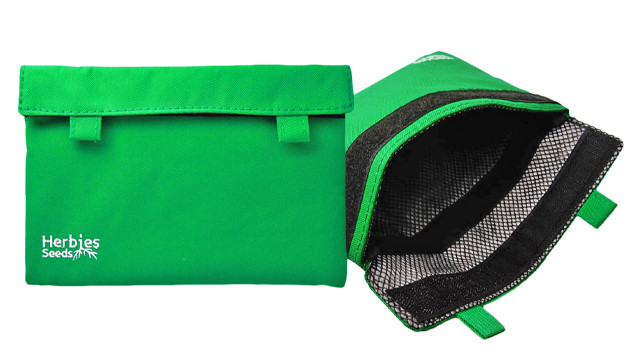 A smell-proof bag. A bag that big will fit all the equipment and a variety of strains you need for a good session. Plus, if discretion is a priority, nobody's going to know what's inside – it could easily be documents or a laptop! This bag is made of durable layered fabrics that guarantee protection from light, moisture, and smell leaks.
***
IMPORTANT. Additional information concerning the distribution of gifts from Herbies:
Gifts will be added to your order as long as they're in stock. On our side, we'll do everything possible to make sure we never run out.
*For the sake of stealth and smooth delivery, we currently don't add gifts to orders from the U.S., Bulgaria, Estonia, or Australia. We'll keep working on making gifts from Herbies available to customers from these regions as well – stay tuned for updates.