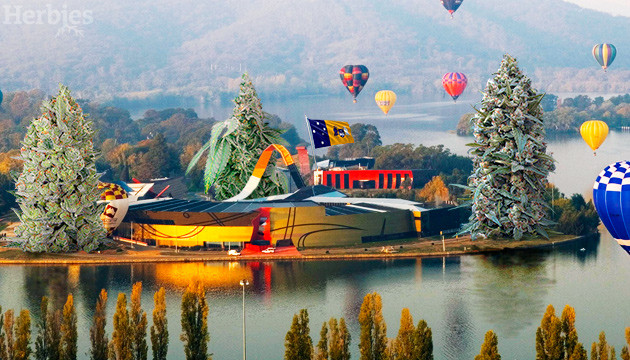 It was a couple of years ago that the Australian Capital Territory, including Canberra, made headlines by decriminalizing the cultivation and possession of personal amounts of cannabis by adults. Although marijuana is still largely illegal here and elsewhere in the country, the fact remains that Canberrans do grow the plant in ever greater numbers, and now they face even less legal trouble doing it.
Can You Grow Weed in Canberra?
If you're 18 years or older and live in Canberra, you can grow up to two cannabis plants and store the produce – 150 grams of wet marijuana or 50 grams of dry flowers. However, if there are two or more adults sharing the same place of residence, they can grow no more than four plants.
Also, make sure that nobody sees your plants and that they are kept away from children. You can't smoke in front of children nor do so in public.
Canberra Cannabis Laws
Actually, Canberra weed laws are a little bit more complicated than that, mostly because the new ACT legislation is in direct conflict with the Commonwealth laws that prohibit anything associated with the plant. It doesn't help matters that ACT policing must follow orders from two sets of top brass: Canberra and the Commonwealth.
However, fears that the police would go on to prosecute people for growing marijuana in Canberra were unfounded. In the first year after the legislation went into effect, there were only five cases of simple possession, down 90 percent from the previous year, and all of those cases involved some other crimes.
The bottom line is that if you don't have any priors and are in good standing with the police, you can grow weed in Canberra without fear of prosecution.
Is the Climate of Canberra Suitable for Cannabis Cultivation?
You can successively grow marijuana in Canberra if you choose the right strain (see our suggestions below), temper your expectations, and align your cultivation timeline with the quirks of the local climate.
Cannabis loves a lot of sunshine, so pick an open spot without shade from trees and buildings – otherwise, your buds could remain thin and wispy.
Maturing plants also hate too much rain because the issue of mold inside flowers is very common. Fortunately, the months of March and April (the time when fattening buds are especially vulnerable) are relatively dry in Canberra. However, the relative humidity of the air keeps climbing throughout fall, so check daily for signs of mold and bud rot.
Meanwhile, the beginning of the growing season in Canberra should be smooth sailing for growers. Germinate your seeds at the end of October and put the young, 2-week-old plants outside in November. There'll probably be much rain and gloomy weather, but it should be warm enough for your seedlings to survive and even thrive.
Best Weed Strains to Grow in Canberra
The list below includes both the fastest among photoperiod strains (they will finish in fall, but no later than April) and autoflowering seeds. As for the latter, you can harvest them throughout the growing season because they need no more than 3 months to finish. With these autos, you can realistically have 2-3 consecutive harvests a year.
Sour Diesel (Blimburn Seeds)
With her tall structure and huge swollen colas, Sour Diesel will easily bring you 10 times the legal limit. Oops! But you can remedy that by planting the seeds later in the season or sharing your harvest. This Sativa-dominant hybrid boasts 25% THC and an equally powerful smell of fuel. For stealth, you could always try planting her near a gas station…
Strawberry Amnesia (Herbies Seeds)
Another tall and fast-flowering Sativa, Strawberry Amnesia produces oversized buds that are quite tolerant of high humidity. Her effect is like a shot of adrenaline that makes you more euphoric and motivated with every toke. She'll yield enough to take you through the long and gloomy Canberra winter.
Mimosa Evo (Barney's Farm)
Mimosa Evo won't suffer from early fall's declining temperatures – she'll only turn a beautiful shade of purple and get frosted with up to 26% THC. Her tropical flavors of lemon and berries usher in a high that's surprisingly energizing, so if you can handle the extra potency, this dominant Indica can become your go-to daytime smoke.
CBD Auto 20:1 (FastBuds)
CBD Auto 20:1 has so little THC that it should probably be classified as hemp. On the other hand, the percentage of CBD is through the roof, so these buds are the ultimate cannabinoid medicine to treat pain, anxiety, depression, and a host of other conditions. Make CBD oil, cannabutter, extracts, and concentrates from this autoflower, or else simply smoke it – it's a deliciously sweet and fruity treat.
Runtz Punch (Herbies Seeds)
This weed strain is for those users who've tried them all and built up quite a tolerance. Our in-house creation, Runtz Punch carries enough THC to make you feel like it's your first time. You'll be spaced out for hours, happily solving the grandest mysteries of the universe. And, as the name suggests, it's a cross of America's trendiest and most delicious genetics, dying to be tried on Canberra soil.
Auto Orange Bud (Dutch Passion)
With this amazingly fast autoflower, you can time your grow cycles in such a way that you never have more than two plants in your garden and yet are always rolling in fresh bud. It's a citrus-smelling juicy skunk with a jaw-dropping 26% THC. Plant Auto Orange Bud in a greenhouse, and you can extend your Canberra growing season by a full 2 months or even more.
Sugar Candy (Delicious Seeds)
This delicious weed is frosted with a special kind of 'sugar' – the one that's sticky to the touch and creates an intense rush in both your head and body. Sugar Candy is also a perfectly balanced Indica/Sativa cross with enough hybrid vigor to be your most rewarding cultivar. Two kilograms per plant is a realistic target.
Hulkberry (Royal Queen Seeds)
This fruit and berry-scented green monster is a generous producer of resinous buds that are ready for harvest in Canberra by the end of March. Smoke this 65% Sativa-dom for focus, energy, and creativity – and don't forget the good mood! Hulkberry is the ultimate medicine for any mood disorder.
Wedding Cheesecake Auto (FastBuds)
She's big, she's gorgeous, she's caked in solid THC frosting, and all this in a mere 70 days from seed. Wedding Cheesecake Auto is energy without calories, great for both wild parties and boring chores. This autoflower is so hardy and resistant that you need exactly zero experience to bring her to a bountiful harvest.
Cream Mandarine XL Auto (Sweet Seeds)
This strain is a part of Sweet Seeds' XL collection for which the seedbank's best-selling varieties were selected for size and high yields. Cream Mandarine XL Auto is perfect for indoor cultivation. Just bear in mind that Canberra weed laws frown upon indoor growing and expressly forbid hydroponics. However, outdoors, she'll deliver her goods too – an exquisite sweet-and-sour terpene profile and over-the-top THC levels).
Final Thoughts on Growing Marijuana in Canberra
It's a no-brainer: you can grow cannabis seeds in Canberra legally and reap great harvests. The new legislation does a decent job of protecting you if you only grow weed for personal consumption, while the climate is forgiving enough to successfully cultivate many great photoperiod genetics and any autoflower. So, buy cannabis seeds here at Herbies and make them thrive in your Canberra garden!
Herbies Head Shop expressly refuses to support the use, production, or supply of illegal substances. For more details read our Legal Disclaimer.