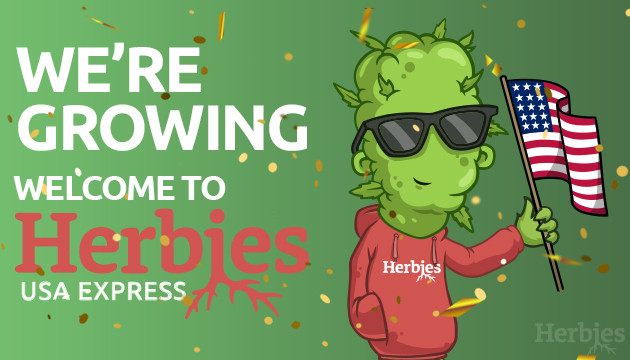 The news is out – we're excited to announce the launch of a brand-new branch in the United States and are inviting you along to see what we're up to! Welcome to Herbies USA Express – the beginning of a new era in Herbies' history.
Herbies' flagship branch is designed specifically to meet the needs of our U.S. customers. We've cooperated with some of the most experienced U.S. breeders to ensure supreme seed quality and partnered with USPS to provide top-quality delivery.
Why You Should Choose Herbies USA Express
With Herbies USA Express, buying cannabis seeds online has become easier than ever. Our product range includes only strains that have been hand-picked for growing in the U.S., and orders are delivered within 1-3 days across all 50 U.S. states and Washington, D.C.
You can choose from a variety of payment options for the most convenient shopping experience and enjoy our usual double guarantee and personalized customer service. Plus, we're based in the U.S., so you won't face any customs issues with our trouble-free delivery service.
What's in There?
Want to get a taste of our U.S. collection? There's Herbies' Indica bestseller, Grand Daddy Purple, now upgraded to a fast-flowering version that's ready for harvest in just three months.
Then there's Mimosa, our delicious burst-of-happiness-at-any-moment Sativa. Stock up on jars because this girl can catch you completely off guard with yields reaching 2.8 oz/ft² indoors and 4.5 pounds per plant (that's right!) outdoors.
Don't walk past Bruce Banner Auto either – this plant is extremely easy to grow and has an enormous 27% THC for an autoflower. That's not to mention impressive indoors yields of up to 2.2 oz/ft².
And in case you thought it couldn't get more potent than that, Northern Lights #10 will prove you wrong with its THC levels reaching 33% (whaaat?). There are dozens of other awesome strains in store, but instead of us listing them all here, why not try out the new site for yourself?
A Shower of Gifts Is Coming!
It's already a lot, but that's not all! To celebrate the launch of our new branch, we've decided to do a big giveaway. You can now buy any one (or more) of 15 selected strains to get extra free seeds as a thank-you for jumping on board. Hurry while stocks last!
Want to learn more? Visit the Herbies USA Express website and explore our collection of top-shelf cannabis strains. There will be more promos and seeds to come, so stay tuned for updates!
Herbies Head Shop expressly refuses to support the use, production, or supply of illegal substances. For more details read our Legal Disclaimer.