Cannabis Seeds in Adelaide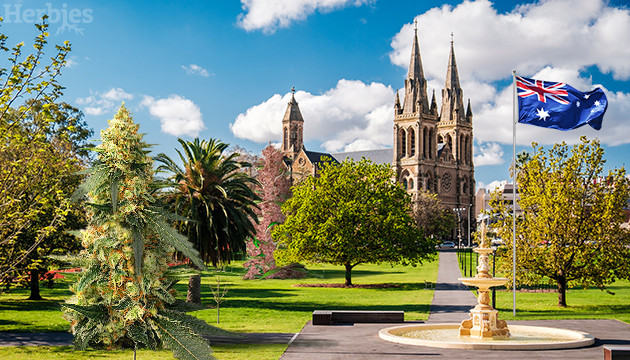 Adelaide is an unusually sunny and cozy city. The sun, water, and air are the main ingredients of an unforgettable cocktail that the capital of South Australia is ready to offer any grower. If you're looking for cannabis seeds for sale in Adelaide, read this article to learn everything you need to know to start growing.
Is It Legal to Buy Cannabis Seeds in Adelaide?
It's legal to buy pot seeds in Adelaide as long as they aren't germinated, meaning that technically, they're intended for souvenir purposes. If you don't want to risk having legal troubles, you can keep them until legalization happens (hopefully).
Can You Grow Cannabis in Adelaide?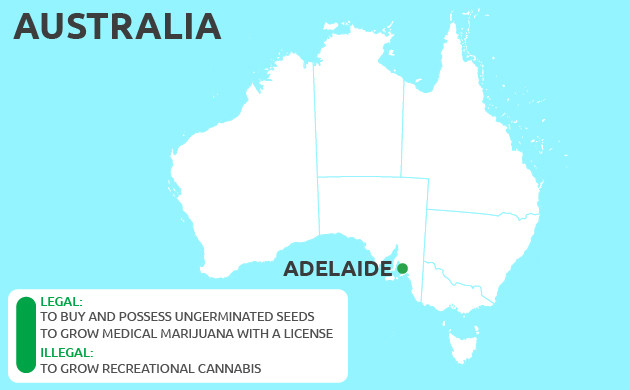 In South Australia, it's illegal to keep, use, grow, or sell cannabis. The only opportunity to grow medical marijuana is reserved for commercial organizations with a license and permit granted under the national licensing scheme.
Possession of small quantities of cannabis (up to 100 grams) for personal use can result in a fine of up to $2,000 or imprisonment for up to 2 years. Growing cannabis plants can land you in jail for up to 15 years.
Due to these restrictions, few shops offer cannabis seeds for sale in Adelaide, so instead, you can buy them online from a trusted online shop that ships worldwide.
What to Consider When Buying Weed Seeds in Adelaide
When it comes to growing cannabis in Adelaide, there are a few things you should keep in mind to get the most out of your experience. The environment and local climate in which you grow seeds have a massive impact on the harvest you'll end up with. Finally, to successfully grow cannabis in Adelaide, it's important to pick the right varieties suitable for local conditions.
Climate in Adelaide
Adelaide is home to a Mediterranean-like climate with mild, wet winters and hot, dry summers. The warm season lasts around 4 months – from early December to mid-March – which is enough for outdoor grows, as most photoperiod strains tend to take around 8-9 weeks of flowering and autoflowers need even less time.
Where to Buy Marijuana Seeds in Adelaide
Since growing for personal use is illegal in South Australia, the chances of finding quality cannabis seeds for sale in Adelaide aren't very high. A much more convenient option for local connoisseurs is to use online shops that ship weed seeds to the city. If you've made it this far, chances are you're looking to buy marijuana seeds online in Adelaide, and we're happy to help you with just that. Explore our catalog of more than 2,000 top-quality strains with excellent genetics and get your order delivered to your doorstep in stealth packaging!
Best Cannabis Strains to Grow in Adelaide
With so many strains out there, it may seem difficult to pick the right seeds for your garden. Luckily, we've done the legwork for you and rounded up the top five strains that will thrive in your Adelaide garden. All of them are feminized, so they'll only grow female plants for you to have a quick and easy harvest.
Moby Dick (Barney's Farm)
A cross of two top-yielding varieties, White Widow and G13 Haze, Moby Dick produces incredible yields in a short flowering time as far as Sativa hybrids go. With 27% THC, this strain offers an uplifting and energizing high that's best enjoyed in the daytime.
Moby Dick takes just 9-10 weeks to finish flowering from the day you flip to 12/12, with indoor yields reaching a staggering 700 g/m². Outdoor-grown plants produce up to 2000 g/plant sometime in March.
Purple Juice Auto (Herbies Seeds)
Purple Juice Auto is a cross between Purple Punch and Auto Blueberry that has a beautiful purple hue and an uplifting, head-clearing high. It has a reasonable 23% THC, making it a great choice for those looking for an energizing high that gently soothes a tired body and alleviates many symptoms, including stress, pains, and insomnia.
This weed takes 65-70 days from seed to harvest on average, producing 550 g/m² indoors and up to 250 g/plant in outdoor gardens. As an autoflower, Purple Juice Auto is perfectly easy to grow and responds well to low-stress training.
Banana Purple Punch Auto (FastBuds)
Another autoflower on our list, Banana Purple Punch Auto is a 75% Indica hybrid that produces great results in a short period of time. With 26% THC, it delivers an uplifting high on the onset, which slowly turns into a strong sedative feeling that will send you straight to bed.
Banana Purple Punch Auto is ready for harvest within around 8 weeks from seed, meaning that you can have two harvests in one season while getting up to 200 g/plant outdoors and 550 g/m² indoors.
Strawberry Lemonade (Barney's Farm)
Strawberry Lemonade is a Sativa-dominant cross between Strawberry and Lemon OG that's known for its delicious taste and high potency. This weed has 24% THC and delivers a boost of creative energy, making it perfect for daytime activities.
Indoors, Strawberry Lemonade finishes flowering in just 60-70 days from the 12/12 flip, producing up to 700 g/m² of sweet, lemony nuggets. If you choose to grow this strain outdoors, prepare to trim up to 2.5 kg of bud per plant in March.
The Church (GHS)
The Church is a nearly perfectly balanced hybrid with a slight Indica dominance that has the ever-popular Super Skunk and Northern Lights in its lineage. This strain packs around 20% THC and produces an upbeat yet relaxing high that will take you on a creative journey to cosmic heights.
Thanks to its Indica genes, The Church is easy to maintain and tolerates even rookie mistakes. With an indoor flowering time of 10-11 weeks, this weed pumps out a record-breaking 800 g/m². When grown outdoors, it can yield up to 900 g/plant sometime in March.