Cannabis Seeds in Darwin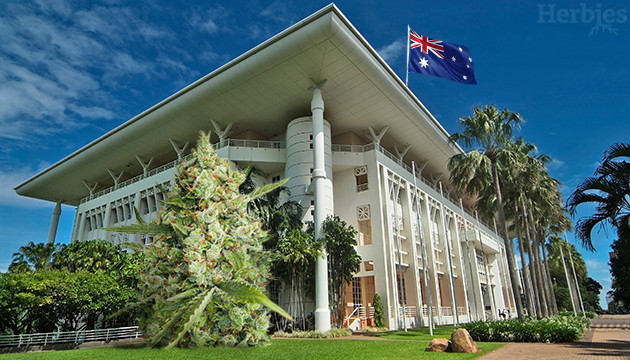 Australia has been moving toward cannabis legalization, but in most territories and states, cannabis growing and possession is still prohibited, including in the Northern Territory. However, residents can apply for a medical license, which grants the right to legally buy and store medical marijuana. If you want to grow marijuana seeds in Darwin, read on to find all the info you need to know before you get them.
Is It Legal to Buy Cannabis Seeds in Darwin?
It's completely legal to buy marijuana seeds in Darwin since they're considered novelty items rather than drugs. You can store your seeds as collectibles or simply wait until cannabis becomes legal. Although it's quite difficult to find marijuana seeds for sale in Darwin, there are quite a few trusted online providers that ship to the city.
Can You Grow Cannabis in Darwin?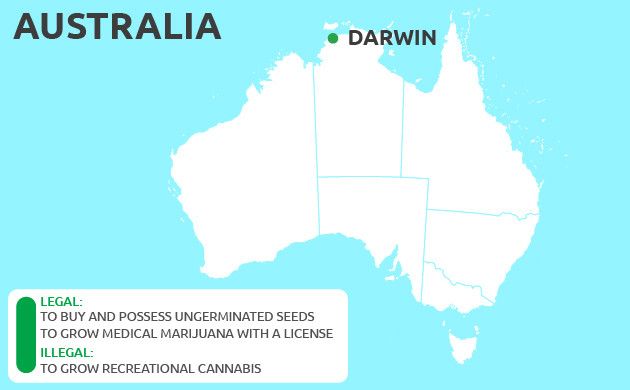 As of now, growing pot seeds in Darwin for personal use remains illegal, even if you're a medical patient. Those who suffer from chronic medical conditions can apply for medical licenses, which allow them to legally purchase and possess medical marijuana. Possession of weed for recreational use in public carries hefty fines or even jail time based on the amount of dry material, so it shouldn't come as a surprise that finding marijuana seeds for sale on the Gold Coast is no easy task.
What to Consider When Buying Weed Seeds in Darwin
Now that we've figured out the cannabis laws in Darwin, it's time to consider the climate in this area and the strains that will give the best results.
Climate in Darwin
Cannabis cultivation might be risky in the Northern Territory, but it's still a great place to grow. Darwin has a tropical savanna climate defined by distinct dry and wet seasons. The growing cycle falls mostly on the wet season and lasts from August until April, which provides enough time to cultivate late-blooming Sativa varieties. Even during the wet season, temperatures can get pretty high, ranging from 24oC-32oC. Humidity levels can go up to 80%, so you might want to pick mold and disease-resistant strains.
Where to Buy Marijuana Seeds in Darwin
Looking for the best place that offers cannabis seeds for sale in Darwin? These days, it has never been easier, and you can do it from the comfort of your own home. All you need to do is go online and find a reputable provider that ships pot seeds to the Northern Territory. Herbies is a trusted seed bank where you can buy marijuana seeds online in Darwin – in our catalog, you can find over 2,000 top-shelf strains that come with a 100% germination guarantee.
The Best Cannabis Strains to Grow in Darwin
We've done the legwork and carefully chosen the premium strains suitable for growing in Darwin.
Banana Purple Punch Auto (Fast Buds)
A must-have for every Sativa lover, Blue Dream'matic Auto from Fast Buds was made by crossing Blue Dream and Tangie'Matic. It delivers a euphoric and uplifting high that slowly evolves into a cerebral body buzz. The THC content sits at a respectable 22%, while the sticky buds kick out incredible citrusy aromas and flavors with notes of berries and an herbal aftertaste.
This autoflower takes around 63-77 days to finish. Indoors, it produces up to 600 g/m2, while outdoor-grown plants can yield between 60-250 g each.
Durban Poison (Dutch Passion)
Durban Poison is a landrace Sativa with genetic roots in South Africa. This variety produces 22% THC-infused buds and delivers an intense energizing and clear-headed high, making it a great option for daytime use.
When it comes to terpenes, stoners can expect spicy flavors and scents combined with a sophisticated herbal mix. The indoor flowering cycle lasts around 8-9 weeks with average yields of 500 g/m2. In outdoor gardens, the plants reach full maturity sometime in April, bringing over 300 g per each.
Super Lemon Haze (GHS)
Green House Seeds breeders combined legendary Lemon Skunk and Super Silver Haze genetics to create a 70% Sativa hybrid with a moderate THC content of 19%. As a dominant Sativa, it produces a euphoric and uplifting high, boosting your energy levels throughout the day.
One of the reasons why this variety is so popular among growers is its rich terpene profile, which gives off the incredible aroma and flavor of sweet lemon along with a slight touch of earth. When grown indoors, this hybrid is ready for harvest after just 70 days of flowering, producing 800 g/m2. Outdoor growers can expect up to a massive 1200 g per plant in mid-April.
Apple Betty (Herbies Seeds)
Apple Betty is one of the most potent strains in Herbies' in-house seed bank with a truly remarkable lineage. This cross between three premium genetics – Chem's Sister, Sour Apple, and Chocolate Diesel – can contain up to an incredible 33% THC. Newbies beware, as this hybrid packs a potent punch of highly potent cerebral and couch-locking effects.
Equally impressive as its potency, the terpenes of Apple Betty produce sweet dessert-like scents accompanied by the sweet flavors of freshly baked apple pie. In indoor setups, you can expect up to 800 g/m2 in just 8 weeks from the moment you induce flowering. Outdoors, a plant can bring a record-breaking 2600 grams of resin-drenched bud.
Critical Kush (Barney's Farm)
Critical Kush is a pure Indica from Barney's Farm whose family tree includes Critical Mass and the legendary OG Kush. With a THC content of 25%, Critical Kush produces classic Indica effects that will leave you stoned and stress-free on the first inhale. Its complex terpene profile forms a tasty mix of herbal and citrusy flavors along with pungent scents of earth and diesel.
Critical Kush is an ideal option for impatient indoor growers, as it reaches full maturity in just 55-60 days from the moment you flip her to 12/12, producing up to 650 g/m2. Outdoor growers can expect equally impressive yields in late March.