Cannabis Seeds in Hobart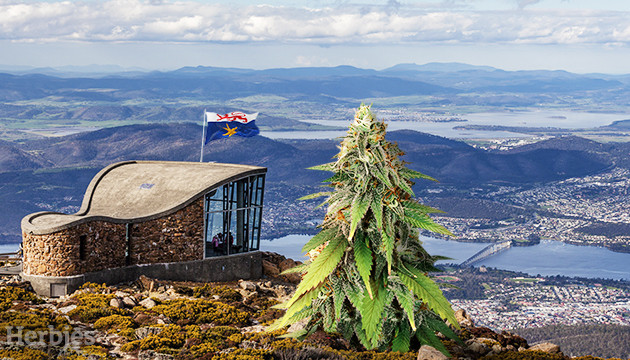 While medical marijuana has been legal in Australia since 2016, recreational cannabis remains prohibited in Hobart. The majority of Australia supports cannabis legalization for personal use, and that support is even stronger in Tasmania, where 59% of locals back cannabis law reform. If you want to grow marijuana seeds in Hobart, read on to find everything you need to know before you sprout your seeds.
Is It Legal to Buy Cannabis Seeds in Hobart?
You can buy your pot seeds in Hobart without getting into legal trouble since they're considered a novelty item and not a drug, meaning you can legally purchase them from various online seed banks.
Can You Grow Cannabis in Hobart?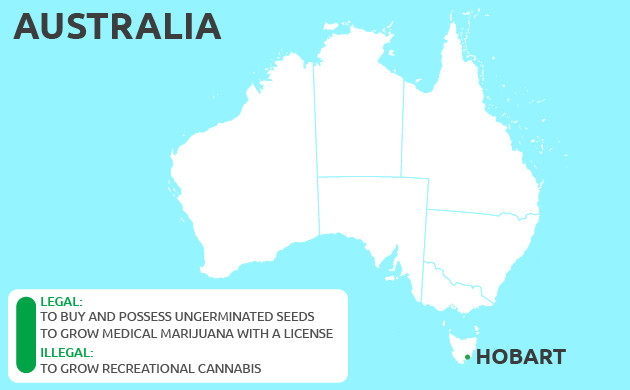 It's prohibited to grow marijuana seeds in Hobart unless it's done for medicinal purposes under the federal licensing scheme. If you're growing cannabis for personal use, you could face a $2000 fine and up to 2 years of jail time. A person found in possession of up to 50 grams of cannabis in their home might not be prosecuted, but those caught in a public place might face much harsher penalties. Because of these strict controls, there aren't many places to offer marijuana seeds for sale in Hobart, so your safest choice would be to order them online.
What to Consider When Buying Weed Seeds in Hobart
Apart from the laws in your area, you should consider the local climate and where to get your pot seeds. Keep reading to find out which strains will thrive in Hobart's climate as well as where to buy them.
Climate in Hobart
Hobart has a temperate oceanic climate that's relatively cool compared to the rest of Australia. However, it's pretty humid, so you might want to pick strains resistant to humid environments to avoid mold and pest issues. The average summer temperatures usually range between 11-21oC, while winters are a little chilly, with temperatures ranging from 5-12oC. The growing cycle lasts from August until April, allowing growers to cultivate high-yielding and potent Sativa strains with longer-flowering cycles.
Where to Buy Marijuana Seeds in Hobart
Looking for the best place that offers cannabis seeds for sale in Hobart? You can purchase some quality cannabis seeds, you can order them online from various trustworthy seed banks. At Herbies, you can get your hands on hundreds of cannabis strains with 100% guaranteed germination plus stealth shipping.
All you need to do is go online and find a reputable provider that ships pot seeds to the Northern Territory. Herbies is a trusted seed bank where you can buy weed seeds online in Darwin – in our catalog, you can find over 2,000 top-shelf strains that come with a 100% germination guarantee.
The Best Cannabis Strains to Grow in Hobart
Now to the best part! To save you some time, below is the list of the top five strains that will thrive in Hobart's climate.
Gorilla Glue #4 (Expert Seeds)
Gorilla Glue #4 from Expert Seeds is a cross of three incredible varieties: Chem Sis, Chocolate Diesel, and Sour Dubb. With 24% THC, this Sativa-dominant hybrid produces a potent and long-lasting high that will leave you in a state of complete euphoria in no time.
Terpene-wise, stoners can expect a complex mix of earthy aromas and sweet flavors with notes of diesel and chocolate. The indoor flowering phase takes around 8 weeks with average yields of 400/m2, while outdoor crops bring 700 g per plant in late March.
Godzilla Glue #4 (Herbies Seeds)
Godzilla Glue #4 is a three-way mix of Chem Sis, Sour Diesel, and Chocolate Thai genetics. This strain really lives up to its name with its sky-scraping THC content of up to 29%. This perfectly balanced hybrid delivers a balanced euphoric and relaxing high that works wonders for those struggling with anxiety and chronic pain.
This strain's terpenes offer crave-worthy flavors and aromas of sweet chocolate in combination with citrus and piney notes. Indoors, Godzilla Glue #4 produces anywhere between 600-800 g/m2 after only 65 days of flowering. In outdoor environments, growers can get up to a massive 1200 g/plant sometime in March.
Afghan Kush (World of Seeds)
This legendary variety is a pure Indica and one of the most popular old-school strains available. Afghan Kush comes from World of Seeds and contains a moderate THC content of 20%. As a 100% Indica, the effects of Afghan Kush are couch-locking and relaxing, making it an ideal option for late-night sessions.
Its famous terpene profile forms rich herbal flavors and scents accompanied by hashy background notes. The average indoor flowering time is around 60 days, after which growers can get up to 500 g/m2. Outdoors, plants can each produce over 800 g of buds that are ready for harvest in late March.
Purple Lemonade Auto (Fast Buds)
Purple Lemonade Auto is a beautiful strain that suits newbie and experienced stoners equally, as it contains a moderate 22% THC. One sweet puff will make you feel uplifted and at the same time relaxed, leaving you clear-headed and focused.
The reason behind its name is the mouthwatering terpenes that produce the rich aroma and taste of sweet lemon. This autoflower takes just 63-70 days from seed to harvest and performs well both indoors and outdoors, where it can yield 500 g/m2 and up to 250 g per plant respectively.
Zkittlez OG Auto (Barney's Farm)
Barney's Farm breeders created this autoflower by crossing Zkittlez, OG Kush, and BF Super Auto #1, resulting in a 50/50 hybrid with up to 23% THC. Thanks to its balanced genetic makeup, Zkittlez OG Auto produces a pleasant cerebral and body high that's suitable for any time of the day.
This strain's rich terpene profile offers candy-like flavors and the scents of sweet berries and lemon. Zkittlez OG Auto takes around 77 days to complete its life cycle, yielding up to 600 g/m2 indoors and up to 400 g/plant outdoors.