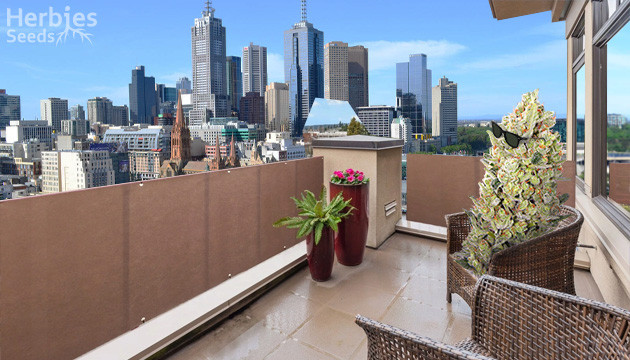 As winter winds down in the Southern Hemisphere, it's time to start thinking about the imminent growing season. There are many factors to consider when planning your outdoor grow, such as strain choice, timing, location, soil types, and nutrients.
We thought we'd lighten the load for you Melbournian cannabis aficionados by presenting our list of the best weed strains to grow outdoors in Melbourne this season.
What Cannabis Strains are Suitable for Melbourne's Climate?
Melbourne experiences a temperate climate and falls into the Mediterranean zone. In fact, if you flipped Australia into the Northern Hemisphere, Melbourne would occupy similar latitudes to Sevilla in Spain or Athens in Greece.
This gives Melbourne six months of warm weather with more than 12 daylight hours. It is therefore possible to grow almost every strain of cannabis, even Sativa-dominant hybrids, as well as some strains of shorter-flowering landrace Sativas.
It's even feasible to grow three back-to-back autoflower crops in one season. So, with this in mind, we've selected a range of strains to help you make that all-important decision.
Gorilla Glue #4
Gorilla Glue #4 (Original Sensible Seeds)
Photoperiod

Relaxing euphoria

28 %

550 g/m² indoors
700 g/plant outdoors
Go to strain
The strength of this famous, perfectly balanced 50/50 hybrid is hinted in the name. This strain has tested at a dizzying 28% THC, meaning that even just one big drag can leave you giggling like a schoolgirl – at absolutely nothing. Medicinally, Gorilla Glue #4 is excellent for pain relief and appetite stimulation, and is also a useful sleeping aid. Get the dosage right, and you can expect a life-loving boost of happiness and euphoria. Overdo it, and expect to be glued to the couch for hours. It produces a complex aroma that's earthy and chocolatey, with hints of sour apple and pine. This is an exceptionally easy strain to grow, and these cannabis seeds are well suited to Melbourne's temperate climate.
Mimosa Evo
Mimosa EVO (Barney's Farm)
Photoperiod

25 - 30 %

Laughing buddha

700 g/m² indoors
2000 g/plant outdoors
Go to strain
Depending on the greenness of your thumbs, it's possible to grow the crystal-covered Mimosa Evo bud, which ranges from 24-30% THC. Barney's Farm has crossed Mimosa with their prized Orange Punch to give us this 60% Indica-leaning hybrid, capable of producing over 2000g (4.4lbs) per plant. Despite her Indica tendencies, Mimosa Evo is an excellent mental stimulant, providing clear thought and bright ideas. Plant these cannabis seeds in Melbourne and expect delicious tropical flavors of zesty lemon, orange, and mixed berries.
Café Racer
Cafe Racer (BlimBurn Seeds)
Photoperiod

25 - 35 %

Creativity booster

450 g/m² indoors
600 g/plant outdoors
Go to strain
We cannot stress this enough: Café Racer is for experienced cannabis consumers only! By crossing Granddaddy Purple with Girl Scout Cookies, the breeders at Blimburn Seeds have created a plant capable of producing bud with THC levels that can reach 35%. Nope, that's not a typo! You should have no problems growing this 70% Sativa weed strain in Melbourne. Expect citrusy and earthy flavors that complement a happy, euphoric high.
The Incredible Bulk
The Incredible Bulk (Dr. Krippling Seeds)
Photoperiod

Makes life easier and happier

20 - 24 %

600 - 1000 g/m² indoors
800 - 1500 g/plant outdoors
Go to strain
This 80% Indica-dominant strain is a bit of a revelation. It stacks on the bud, and does so in a remarkably short time, without losing anything in the way of potency. Expect huge, juicy buds of 20-24% THC that are ready 49-56 days after flowering has been triggered. The predominant terpene here is pinene, which lends a sweet, earthy flavor with an aroma similar to that of hash. This strain would suit a beginner grower, as she isn't too picky about pH levels or nutrient fluctuations. Plant some of these cannabis seeds in Melbourne and prepare to be wowed!
Grandmommy Purple
Grandmommy Purple (Herbies Seeds)
Photoperiod

An ecstatic must-have

30 %

400 - 500 g/m² indoors
450 - 550 g/plant outdoors
Go to strain
Grandmommy Purple, a new and potent strain, boasts soaring THC levels of 28-33%. Powerful aromas of wild berries and fruit-flavored candy accompany this 80% Indica-prevalent cross. The sheer complexity of terpenes makes it ideal for those who vaporize their weed strains in Melbourne. However, it's not a daytime smoke unless you enjoy long daytime naps. It has a strong sedative effect, making it ideal for insomniacs or those who just need the weight taken from their shoulders for a while. Feel pain and anxiety lift in real-time before falling into the deepest of sleeps.
Dos Si Dos 33
Dos Si Dos 33 (Barney's Farm)
Photoperiod

22 - 28 %

1 strain to get all 33 pleasures

700 g/m² indoors
2000 g/plant outdoors
Go to strain
This delightfully aromatic 60% Indica, 40% Sativa blend grows exceptionally well outdoors, and does so in a huge range of climatic zones, including southern Australia's temperate region. It will also be unaffected by Melbourne's brutal heatwaves, as the plant thrives in hot climates. Testing between 22-28% THC, this potent strain produces relaxed and happy feelings that culminate in eventual sedation. It tastes of lime, mint, and spices, while the room-filling aromas are of cookies and sherbet.
Tropicanna Banana
Tropicanna Banana (Barney's Farm)
Photoperiod

22 - 25 %

Cheers up even the dead one

700 g/m² indoors
2000 g/plant outdoors
Go to strain
Sitting slightly on the Sativa side at 60%, this heavily-scented strain offers earthy aromas that give way to drool-inducing flavors of banana and tropical fruits. It produces trichome-laden buds with THC levels ranging between 22-25%, gifting the consumer with happy, uplifting, and relaxed feelings that will go on and on. Tropicanna Banana prefers sunny, Mediterranean-like climates, so this weed strain will grow well at Melbourne's southerly latitude. It could also be a great choice for growers looking for a high-yielding and pungently aromatic strain of weed.
Eleven Roses
Eleven Roses (Delicious Seeds)
Photoperiod

11 steps to bliss

24.8 %

600 g/m² indoors
2000 g/plant outdoors
Go to strain
The best thing about Eleven Roses – apart from its tantalizing aroma – is the ease at which it grows. It's exceptionally mold and pest-resistant, and is ideal for all you beginner growers out there in Melbourne. Eleven Roses is an upgrade on Delicious Seeds' already-impressive Sugar Black Rose, which was crossed with an Appalachian Kush male. The result is a 100% Indica strain that can produce THC volumes nearing 25%. It also has massive therapeutic appeal, immediately promoting a feeling of calm, well-being, and eventual sedation.
Glookies
Glookies (Barney's Farm)
Photoperiod

Begin your own mind trip

25 %

700 - 800 g/m² indoors
2000 - 3000 g/plant outdoors
Go to strain
If you plant some Glookies cannabis seeds in Melbourne, expect to pull in up to 3000g (6.6lbs) per plant. This now classic strain is a cross between Gorilla Glue and Thin Mint Girl Scout Cookies, and has tested at a mind-blowing 25% THC. It's considered Indica-dominant at 70%, delivering a strong and long-lasting high that's both cerebral, highly creative and relaxing. The aroma is nothing short of complex; expect gassy, oily, and nutty flavors that mingle with fresh, zesty citrus fruit.
Purple Juice Auto
Purple Juice Auto (Herbies Seeds)
Autoflowering

23 %

Between soothing and energizing

400 - 550 g/m² indoors
Go to strain
We mentioned the possibility of growing up to three autoflower crops in one season, so it would be a little rude not to include one here. The Purple Juice Auto is a well-suited weed strain for Melbourne that's capable of yielding 50-250g (1.75-8.8oz) per plant. It's not only a 70/30 Indica hybrid that delivers a relaxing body high, but also provides a clear-headed and euphoric burst of energy thanks to primo Sativa genetics. Powerful limonene terpenes give this bud a sweet and sour citrusy flavor.
Which Strain is the Best for You?
All our chosen weed strains for Melbourne will perform well in Victoria's climatic conditions. Your choice may come down to two factors, these being your growing experience or consumption preferences. Beginner or first-time growers can choose an easy-to-grow strain such as Gorilla Glue #4, The Incredible Bulk, or Eleven Roses, which has exceptional anti-fungal properties. Those who prefer highly aromatic cannabis varieties might be more inclined to go for the fragrant potency of Mimosa Evo or Tropicanna Banana.
If you'd like to try growing more than one crop in the season, try experimenting with Purple Juice Auto. For consumers who like strong, sleep-inducing, and therapeutic cannabis, consider experimenting with Grandmommy Purple. Whatever cannabis seeds you plant in Melbourne this year, we wish you all the best!
Herbies Head Shop expressly refuses to support the use, production, or supply of illegal substances. For more details read our Legal Disclaimer.