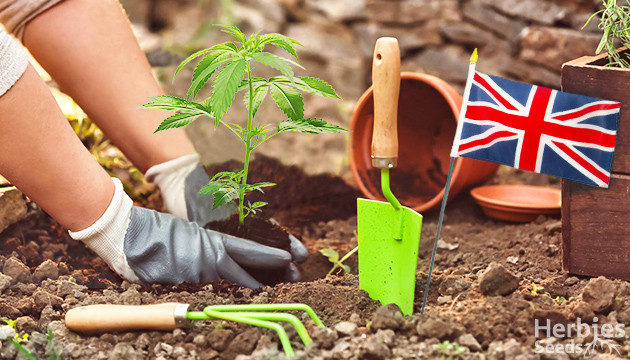 When you think of the best places to grow weed outdoors in the world, you probably think of California or Central Asia – but not the UK. However, while the UK may not offer the same kind of growing environment as these well-known cannabis regions, with 133 days of rain and 1,350 hours of sunlight per year, Britain provides its own set of benefits. Smart growers can use this to their advantage.
Not exactly sure where to start? Fear not! In this post, we'll cover every aspect of outdoor cannabis growing in the UK.
Top Cannabis Strains In The UK
VIEW ALL
Before You Start Your UK Outdoor Grow…
There are a few facts you need to know about growing weed in the UK outdoors before you sprout your plants. First, understanding Britain's climate zones is critically important. Additionally, you'll want to know the pros and cons of growing weed outdoors in the UK.
Climate Zones: What's The Best Place For Growing Weed In The UK?
The UK is broken up into four major climate zones. These include the Southeast, Northeast, Southwest, and Northwest zones.
The Southeast region includes Britain's major urban sprawl of London, Brighton, Cambridge, and Norwich. This is the driest region of the UK. It boasts warm, mild summers and frigid, bitter winters. Occasional watering is required in times of drought.
Britain's Northeast quadrant is one of its harshest regions. This area, which includes Aberdeen, York, Newcastle, and Edinburgh has a reputation for delivering Britain's coldest summers and winters. It also has the shortest growing season in the UK. You'll need to opt for quicker varieties for growing outdoors in this region.
Southwest Britain encompasses Bristol, Devon, Cornwall, and Cardiff. Growing weed outdoors in this region is beneficial because it has a longer growing season than the rest of the UK.
The Northwest quadrant includes Northern Ireland, Wales, and much of Scotland. It's one of the wettest regions in the entire UK. During prolonged rainy periods here, it's advised to cover plants up to prevent molding and root rot.
The Pros And Cons Of Growing Weed Outdoors
Why grow weed outside in the first place? Well, an outdoor grow presents a ton of advantages, even in the UK.
Growing weed outside in the UK means you'll be using the most powerful grow light in the world: the sun. Using the sun will help you increase your yields, and you can also save a significant amount of money since you won't have to power grow lights.
Another benefit to growing weed outside in the UK is the frequent rainfall. This can actually give UK growers an advantage over drier climates with more sunshine like California. High precipitation can be a double-edged sword, though, as too much rain can lead to root and bud rot. To protect against weather, invest in a tarp to cover your plants!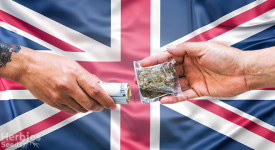 The Legality Of Cannabis In UK
READ NOW
When Should You Plant Cannabis Outdoors In The UK?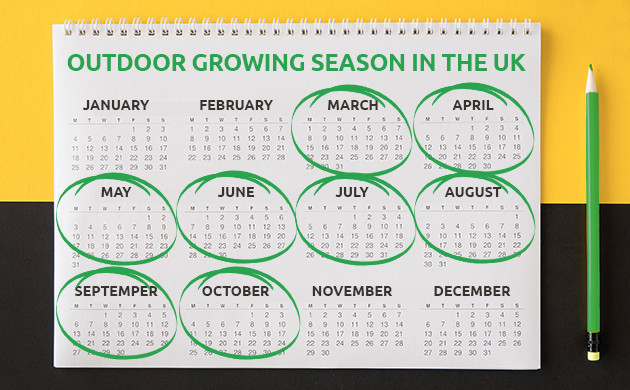 There's no exact science for determining when to plant cannabis outdoors in the UK. However, one particular factor can guide your decision-making: temperature.
Temperatures are generally cool during spring in Britain, and it's not uncommon for some regions to experience the last frost of the year in early or mid-May. You need to wait until after that happens to plant your ladies outside.
In other words, don't jump the gun to get your plants outside. Instead, consider germinating your plants indoors and moving them outside later in the spring. You could put them by a window that gets plenty of sunlight, or else choose to sprout them under LED lights.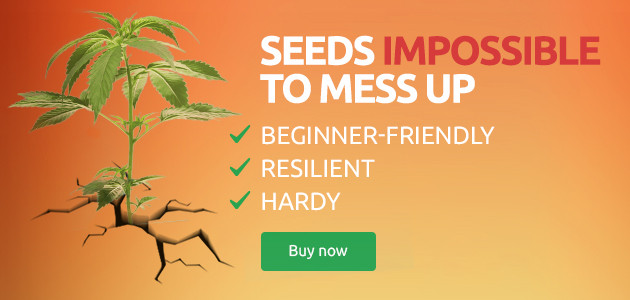 Growing Weed Outdoors In The UK: Month By Month Breakdown
No guide on UK outdoor grow tips would be complete without a monthly breakdown of the growing season. Below, we'll cover the growing climate during each month. We'll also go over what to do in each month of the UK's growing season.
March
While March may be the beginning of the UK's weed growing season, don't rush to get your plants outside. The first day of March only has about 11 hours of sunlight. It's also still pretty cold, with an average temperature of 7-8o C (44-46o F).
Just because March is cold doesn't mean you can't work on your garden, though. Get started early on any garden maintenance you need to complete. Clear out weeds and spread natural compost around your garden to prepare it for your plants. Get this stuff done early – you'll thank yourself later!
April
The weather in April is much better-suited to growing weed outdoors in the UK than in March. With nearly 13 hours of sunlight on April 1st, this is the time when growers using a greenhouse or polytunnel can begin to move their plants outside.
However, while the temperatures become milder, they're not perfect. The average temperature during April is about 9-10o C (48o F) – still too cold for weed plants to survive outside. Without a greenhouse or polytunnel, it's a good idea to continue nurturing your plants indoors.
Nonetheless, anyone growing weed in the UK has some options in April. This is the perfect time to begin growing any "companion plants." Some of these companion plants, such as peppermint, work to drive away pests. Others, like yarrow, can attract beneficial bugs.
May
May is the beginning of the real outdoor cannabis growing season for much of the UK. Early May brings the last frost of the year to coastal regions. The interior and northern parts of Britain usually see their final frost in the middle of the month.
Most outdoor growers move their plants outside in May. With nearly 15 hours of sunlight and temperatures around 13o C (53o F) even in the coldest UK regions, we finally have the conditions we need for plants to survive.
Don't transplant your ladies directly into the ground yet, though. Instead, keep them in containers. That way, you can still bring them indoors if you end up facing a late-season frost.
June
The outdoor cannabis growing season in the UK is firing on all cylinders by June. That's plain to see, with days that feature 16.5 hours of sunlight and temperatures going steadily above 15o C (59o F).
This also means your plants will need significantly more water than in previous months. If you haven't yet, it's now safe to transplant your ladies directly into the ground. If you live in a rural area, consider building a fence to keep out grazing animals. Finally, June is a good time to begin LST if you need to keep your plants low-profile.
July
June and July are pretty similar months when growing weed outside in the UK. The amount of sunlight hours barely changes, and temperatures increase only slightly to about 16.5o C (61o F). However, this can have a drastic effect on your plants if they don't get enough water – and don't forget that July is also when rainfall starts to become scarce.
Keep an eye out for drooping leaves, and water your plants immediately when you see this. Plants in greenhouses or poly tubes will need more water than their outdoor sisters thanks to the high heat of these structures.
August
Once August rolls around, it's the beginning of the end of the outdoor cannabis growing season in the UK. Temperatures begin to cool off to about 15o C (59o F). Days also start getting shorter, with only 15.5 hours of sunlight on August 1st. This triggers plants to change from the vegetative phase into the flowering phase.
August will likely be when your plants begin to run out of nutrients. Keep an eye out for discolored or wilting leaves, which indicate nutrient deficiencies. Add kelp meal, worm castings, and bone meal to give your plants the jumpstart they need.
September
Finally, we find ourselves in September, the start of the final chapter of the outdoor weed growing season in the UK. If you've reached this point, you're in the home stretch. Daylight hours continue to drop, reaching 13 each day. Temperatures also fall to about 14o C (57o F).
One major problem you may now face is your garden's aroma. Weed gardens smell great – but this fragrance can attract unwanted attention from nosey neighbors, authorities, and pests. However, if you've properly hidden your garden by surrounding it with companion plants in the spring, your previous efforts will mitigate this issue.
October
The end of September brings the UK outdoor weed growing season to a conclusion. Temperatures in October drop to 8o C (46o F) and keep going down. By the end of the month, nearly everywhere in the UK has experienced its first frost of the winter. Make sure to harvest your plants before that happens!
November-February: UK Indoor Growing Season
Just because you can't grow weed outside from November to February doesn't mean you need to stop cultivating altogether. Instead, it's time to move your garden inside. This definitely takes more effort than growing outdoors – you'll need gear like tents, lights, and more. Fortunately, we've already covered everything you need to know about growing weed indoors in previous posts.
Growing Outside in the UK – Let's Wrap Up
Growing cannabis in the UK may sound daunting at first. However, with proper planning, it can be a fruitful enterprise. Understanding the UK's four climate zones is critical, and you'll also need to know how the climate changes each month. To help guide you, the vast majority of cannabis seeds at Herbies come with detailed instructions from breeders – you'll just need to adjust every strain's needs to the UK's conditions. Armed with this knowledge, you'll be ready to get started on your outdoor grow in the UK!
Herbies Head Shop expressly refuses to support the use, production, or supply of illegal substances. For more details read our Legal Disclaimer.