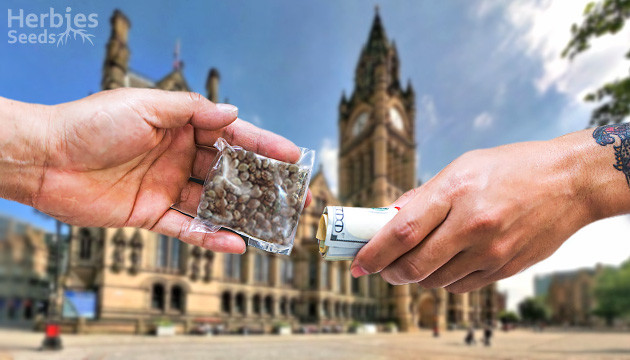 When you're looking for cannabis seeds in Manchester it isn't always as easy as you might think to buy them in person at a store. Rest assured that it's entirely legal to buy marijuana seeds either online or over the counter in England so long as you're not actually growing them, but they aren't necessarily easy to lay your hands on them in a physical retail outlet.
With this in mind, we'll look more closely at where you're able to find your chosen weed seeds in Manchester and which varieties are the best choice for you if you're growing in the wet and windy climate of England's North West region.
Interested In Growing Weed in Manchester?
If you grow your own, you can be certain of getting a yield that meets all your expectations. But, unfortunately, as all Mancunians know, the weather in this part of England doesn't necessarily lend itself well to easy outdoor growth.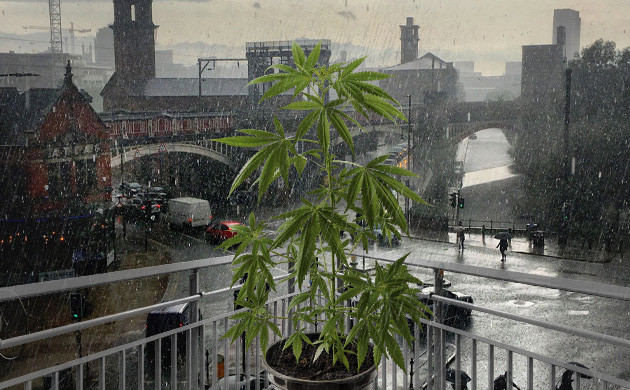 Sunny weather in Manchester is something of a rarity, even in the Summer months, and there is a substantial amount of annual rainfall – 830mm – much of which falls between August and December. Essentially, with an annual average temperature of just 10.5 degrees Celsius, it's clear you won't have the widest range of seeds to pick from.
Fortunately, there are some autoflowering varieties and hardy strains for sale that will thrive even in Manchester's cold, wet and windy environment.
Which Are The Three Best Marijuana Strains to Grow in Manchester?
Growing indoors is often your best bet if you're living in Manchester due to the less-than-ideal West coast climate. However, if you're determined to grow cannabis seeds in Manchester outdoors, you should opt for fast-growing, autoflowering strains that will still thrive in such conditions.
Some of the best options include:
Northern Light from Royal Queen Seeds
Requiring minimal effort to reach its maximum yield, this popular strain is an Indica-dominant classic which is an ideal choice for beginners opting for outdoor cultivation.
Critical from Royal Queen Seeds
Perfect for northern growers, this feminised hybrid ticks all the boxes thanks to its short growing season and its ability to cope with cold snaps. Its hardy genetics and Indica morphology allow this strain to easily handle Manchester's cold climate.
Lowryder Auto from Vision Seeds
If discreet outdoor growing is your top priority but you still need a strain that will thrive in Manchester's cool, damp weather, Lowryder Auto is an ideal choice. Producing an impressive yield within 7 – 9 weeks, this compact variety is perfect for guerrilla growing.
Where to Buy Cannabis Seeds in Manchester
You'll find a handful of physical outlets in Manchester and the surrounding area where you'll be able to buy cannabis seeds over the counter. However, the best way to get your hands on them is to purchase online.
Buying seeds over the internet gives you the convenience of getting your purchase delivered to your own front door. Also, if you opt for Herbies Seeds, you can even use a credit card without any problems to make discreet purchases.
As an added benefit, we also stock a wide variety of strains from the top seed banks – considerably more than could be found in your local head shop – and that's why we should be your number one when buying cannabis seeds in Manchester!
Herbies Head Shop expressly refuses to support the use, production, or supply of illegal substances. For more details read our Legal Disclaimer.