Kosher Sorbet feminized seeds
Description
Kosher Sorbet: A Mellow, Happy, Relaxing High
With its mellow, relaxing, and happy high, this Indica-dominant cannabis strain is perfect for both beginners and seasoned consumers. As Kosher Sorbet strain is of moderate potency, it's an excellent choice for chilling out after a long day, especially as its soft, cerebral stone is known to soothe feelings of anxiety and depression. Without a doubt, you'll also find Kosher Sorbet great for relieving chronic pain.
A Sweet, Creamy Kush Taste And Aroma
The aroma and taste of the buds that emerge from Kosher Sorbet feminized seeds is a perfectly blended balance of creamy, sweet, and earthy flavors that delight the senses. While its sweet side stays true to the Sorbet family, it nonetheless remains partly savory, with the famously earthy, piney aroma of its Kush lineage.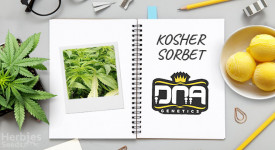 Kosher Sorbet Grow Report
How To Grow This Gorgeous Garden Beauty
Kosher Sorbet cannabis strain is a medium-sized garden beauty that produces large and dense frost-colored buds, perfect for both novice and experienced growers. With a 9-week flowering time, outdoor growers can expect a decent harvest come mid-October.
Its medium-sized height makes this the perfect indoor plant, as well as great for growing outdoors without attracting too much attention.
Indoor gardeners can expect an average yield of 500g/m2 (1.6oz/ft2).
Its strong branches mean it doesn't need much support, but it will do well with a trellis when left to grow larger outdoors.
Although not the biggest plant, Kosher Sorbet offers nice, big buds and a yield that any grower can be proud of.
Kosher Sorbet: Award-Winning Genetics
This Kosher Kush/Sorbet blend contains the award-winning genetics that could make it one of the greatest hybrids in history. As a result, Kosher Sorbet seeds produce a 70/30 Indica-dominant cannabis cross with a dreamy, creamy flavor that tantalizes the taste buds, while gently relaxing the body and softly stimulating the mind. Its famous genetic profile offers everything you can expect and more.
Characteristics
Brand

DNA Genetics

Type of seeds

Feminized

Either autoflowering or photoperiod. Both have their pros and cons, but growing autos is easier.

Learn more

Type of seeds

Photoperiod

Suitable for growing

Indoor, Outdoor

Each strain produces a certain effect on your body. This is what you can expect from this variety.

Learn more

Effect*

Relaxed and hungry

Genetic composition of the strain. Shows parent strains that were used to create this particular variety.

Learn more

Genetics

Kosher Kush x Sorbet

Height

Medium

Harvest

450 - 500 g/m² indoors

The length of the flowering stage for photoperiod strains, or seed-to-harvest time for autoflowers.

Learn more

Indoor flowering time

63 days

% Sativa/ Indica/ Ruderalis

30% Sativa / 70% Indica
*Herbies sells cannabis seeds exclusively as souvenirs that aren't meant for cultivation or germination. Customers should be aware that the germination of cannabis seeds is illegal in most countries. Herbies sells cannabis seeds exclusively for collecting and preservation for future generations. We advise customers to check with their local laws before germination, as Herbies does not accept responsibility for the illegal use of our products.