Payments
Payment options and details
We currently accept bank transfers, payments by card, and Bitcoin. After placing an order at Herbies, you will receive directions for payment options at checkout.
Card payments
Credit and debit card payments are temporarily out of service in some countries. Please check in the cart if this payment method is available in your country.
We at Herbies Seeds accept card payments worldwide. Please note that all transactions on our website are made in euros. No fee is charged.
If your credit card's working currency is not EUR, consider that the exchange rate on our website may differ from the rate of your bank.
All transactions are secured with a reliable and easy-to-use online payment system. In case of non-receipt of an order, customer protection is in place through the payment service.
If There's A Pending Transaction For A Cancelled Order On Your Bank Account
Due to banks' privacy policies, it's beyond our scope to know why exactly your payment has been declined. In order to receive that information, please contact your bank directly.
In some cases, you will still see the amount for the canceled order shown on your transaction history. This happens because after a customer places an order at Herbies, our transaction processor contacts the payment card's issuing bank to confirm that the provided payment information is valid and the card was not reported as stolen or lost – sometimes the confirmation can't be completed. The confirmation process includes the authorization and reservation of the full amount needed to complete the purchase.
In cases when the authorization has not been received by our transaction processor, the card is not charged with the order amount. However, the card's issuing bank may hold the funds as pending, and you'll see it in your transaction history for up to 10 business days before the full amount is unblocked and released to your account balance.
Please note, we don't accept payments via Cash App, Discover or Capital One.
In case of failed card payment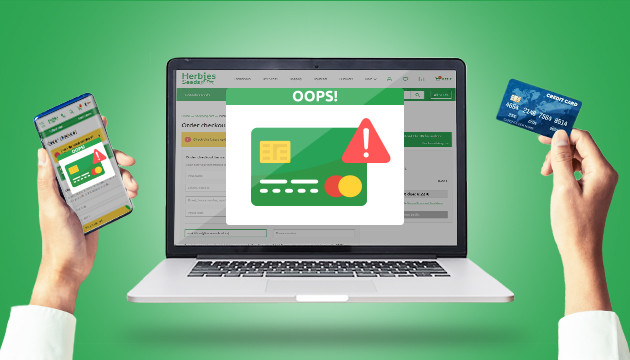 There may be several reasons for failed card payment. Here, we break down the most common of them. In four simple steps you can find a quick solution in case of a problem with your transaction.
First, in case your account has been charged but the payment for the order hasn't gone through, the funds will be returned within three days.
Please follow the instructions on this page to complete your transaction successfully.
STEP 1: Make sure you are using an eligible standard debit or credit card
Our payment system DOES NOT ACCEPT:
American Express cards
Government payment cards
Bank cards without 3D-Secure
Prepaid cards, gift cards, Capital One, and Cash App cards are also not accepted. If you tried to pay with one of the above-listed card types, please choose a different one.
STEP 2: Activate 3D-Secure code technology if it hasn't been activated yet
One of the most frequent reasons for transaction cancellation is using a card with disabled 3D-Secure. Please note that we only accept credit or debit cards that support the 3D-Secure system. 
What is 3D-Secure?
3D-Secure (aka Visa Secure, MasterCard SecureCode, MasterCard Identity Check) is a protection system made to save your account from fraudulent activities. When 3D-Secure is enabled, each online transaction is backed up by an extra precaution in the form of an SMS security code sent to your phone number. Before proceeding with the payment again, contact your bank directly to find out if your card supports 3D-Secure verification codes and allows international transactions. 
We advise you to enable 3D-Secure because:
It keeps your funds safe
Activating it is instant and free of charge
3D-Secure will allow you to pay by card at Herbies
How to activate the 3D-Secure code system
In order to activate 3D-Secure, please contact the bank that issued your card. Some banks also allow users to independently enable this feature via their internet banking services. To learn more about 3D-Secure, go to the following links for Visa and MasterCard.
If you're sure you have an eligible payment card with 3D-Secure enabled, you can proceed to payment.
STEP 3: Follow the "Pay Now" link from our email
To make another payment attempt, you need to follow the "Pay Now" link from the email we sent you. It will lead you to the secure payment page, where you'll see the order total along with three blank input boxes for your card information:
CARD NUMBER: Insert the 16 digits on the front of your credit or debit card.
EXPIRY DATE: Insert your card's expiry date in the following format: MM/YY. Usually, you can find this information on the front of your bank card.
SECURITY CODE (CVV): Insert the three digits from the back of your card.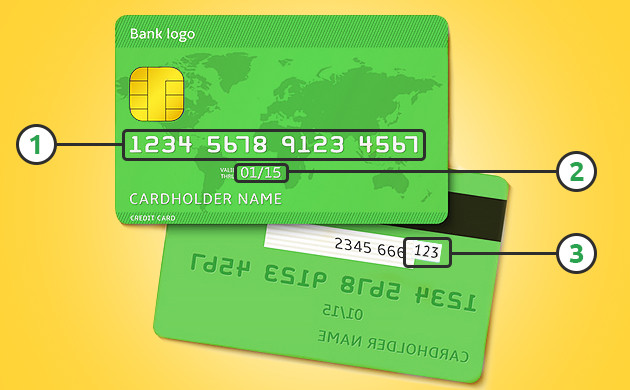 Check if the data you've entered is correct and click "Pay". If the currency of your card is different from EUR, the total will be automatically converted according to the current exchange rate. You will see the total amount in your own currency on your bank statement. For privacy reasons, our company's name will not be included on it.
STEP 4: If the previous steps didn't work, try another payment method
In case you don't have a suitable bank card, we recommend paying by bank transfer. If you would prefer to change your payment method, please contact our customer service via chat or e-mail ( [email protected]) for our banking details.
Bitcoin payments
Bitcoin, a secure and anonymous payment system, is now available to use at our shop. We do not charge any fees for payments in bitcoin and give an extra 5% discount on orders paid with BTC. If you want to learn more about buying Bitcoin and using it for payments at Herbies, check out our article. In addition to that, below you will find some useful information regarding this payment option.
Terms Of Payment:
We accept bitcoins to our wallet. If you use this payment method please send the exact amount indicated in bitcoins (not equivalent in USD/EUR).
On the checkout page, there is a QR code that you can use for a quick payment via your mobile device. Crypto-wallet application is required.
The confirmation process usually takes 10-45 minutes and requires up to 3 confirmations. You can always check your transfer status at www.blockchain.com/explorer
Be aware! The payment link remains active for 3-8 hours depending on the network traffic. It is NOT RECOMMENDED to proceed with payment if the link is getting close to the point of expiration or has already expired. Please, get in touch with us via chat or email 

[email protected]

– we will promptly send you a new payment link.
If you have transferred funds after the expiration of the temporary wallet, please, let us know via our online chat or via email.
If you have not received your confirmation email, check your Spam folder.
Refunds:
Refunds are provided to the customer's BTC wallet upon request. If you have any questions regarding a refund, please contact us via the chat or via email.
Refunds are made in accordance with the fiat order amount in EUR, regardless of the local order currency and BTC rate. For example, if your order total is 50 AUD, we will use the AUD-EUR exchange rate and refund the EUR equivalent amount in BTC according to the exchange rate of the day the refund is made. Depending on that rate, the refund amount may be higher or lower than 50 AUD.
Customers from the U.S. and the UK can pay with Bitcoin via Cash App. To do this, please follow the instructions below.
Already Have a Cash App Account?
Choose Bitcoin on the Investing tab

Buy the required BTC amount and press Next

Confirm your order

Tap the Banking tab on your Cash App home screen

Select Bitcoin

Press Withdraw Bitcoin

Press Use Wallet Address and enter the address provided at checkout or by email

Confirm with your PIN, Touch ID, or Face ID.
No Cash App Account?
Download Cash App

Sign up

Add a payment method

Get a Cashtag

Press Bitcoin at the bottom of your Cash App home screen

Get verified

Tap on the Investing tab and choose Bitcoin

Buy the required BTC amount and press Next

Confirm your order

Tap the Banking tab on your Cash App home screen

Select Bitcoin

Press Withdraw Bitcoin

Press Use Wallet Address and enter the address provided at checkout or by email

Confirm with your PIN, Touch ID, or Face ID.
Bank transfer
Once you've placed an order you will receive an e-mail containing our banking details:
Beneficiary name: PURE ATMOSPHERE S.A.M. SL
Bank: BANCO BILBAO VIZCAYA ARGENTARIA, S.A.
Head Quarters address: Plaza San Nicolás, 4 - 48005 Bilbao
Branch office address: Rambla Mendez Nuñez, 42 - 03002, Alicante - Spain
IBAN: ES60 0182 0100 2502 0170 5251
BIC/SWIFT: BBVAESMMXXX
BANK CODE: 0182
ACCOUNT NUMBER: 0201705251
The variety of currencies on our website is indicated for your convenience. However, the main currency at Herbies is still EUR, so we recommend checking the price of items in euros before placing your order. Please make sure that we receive the full amount in EUR from you. Otherwise, we will have to request an additional payment, which will delay your order.
You can make your bank transfer to Herbies via Wise.
Please note, we don't accept payments via money transfer apps, such as PayPal, Venmo, Zelle, Western Union, etc.
It's important that you mention your order ID and your surname on payment description. After that, e-mail us at [email protected] to inform us that you have made payment for your order, including the order ID. 
Cash on delivery
With Herbies, customers from eligible countries can pay for their orders with Cash on Delivery. When choosing this payment method, the order is to be paid to the postman upon arrival of the package.
Please note that we accept only cash payments in EUR. To check whether this payment method can be applied to your purchase, see the checkout page after submitting your order. This service is charged for. The fee for the Cash on Delivery service will be specified at checkout.
The limits are per consignee and day:
5.000 USD (or equivalent in EUR) for international worldwide shipments
1.000 USD for shipments within Spain
100 seeds (including bonus seeds)
Information on currency
Each item's price is based on the suppliers' recommended retail price in EUR. Every day, we update the exchange rate according to data from a trusted international resource (https://www.fastforex.io). For your convenience, you can always switch your preferred currency for prices on Herbies. However, the main currency is still EUR, so we recommend checking the price of items in euros before placing your order. Otherwise, we will have to request an additional payment, which will delay your order.