---
More THC Than You Ever Had With Herbies' High THC Seeds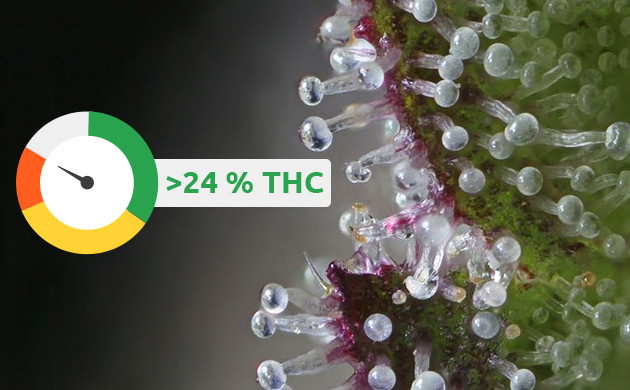 This seed collection includes some of the most groundbreaking strains in the industry. It showcases regular and feminized photoperiod seeds in addition to autoflowering variants, giving the choice to you, the grower! Forget about your tolerance – there'll be nothing left of it once you take a toke and fly higher than you ever have before! This collection is the perfect place for anyone craving an experience of a lifetime – the most intense couch-locks, the most psychedelic sensations, and the most euphoric and cerebral highs – the keyword is THE MOST. 
Whether you have an indoor or outdoor garden, we're certain you'll find something that's just right! If you're picking a strain from our collection of the highest THC cannabis seeds for sale, this is what you'll be getting:
High THC content – the average THC content in this list exceeds 24%.
Excellent genetic lineage – these strains were produced as a result of crossing prized genetics to give novel, extra-potent twists on classic strains.
Mouth-watering terpene profiles – whether you like fruity varieties or those with an earthy flavor, you'll love the taste of our high THC cannabis strains.
Only The Highest THC Cannabis Seeds For Sale – Get Yours Now!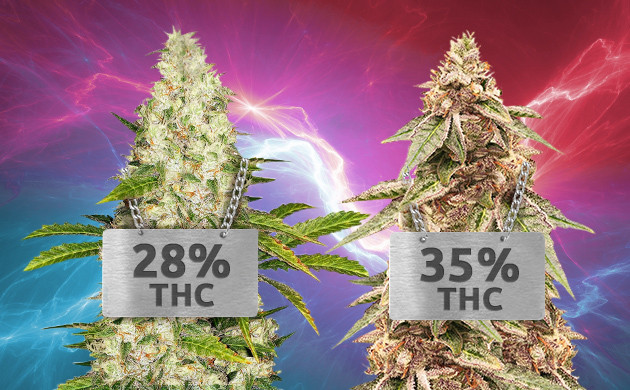 Whether you're a recreational or medical user, our list of high THC cannabis seeds contains some of the strongest weed strains out there, including Do-Si-Dos OG by Original Sensible Seeds (28% THC), Granddaddy Purple from BlimBurn Seeds (35% THC), and many more – just see for yourself! These strains have been selected specifically to minimize the amount of time you spend searching for your next grow and maximize the efficiency of your garden, so get growing and get high!