What Are Sativa Marijuana Seeds?
Cannabis Sativa seeds come from the tall Sativa plants that originate in equatorial regions such as Thailand and Mexico. Growers from all around the globe choose this seed type for the euphoric, cerebral effects, record-breaking yields, and therapeutic qualities that help to combat anxiety, depression, and other conditions and ailments.
How To Tell The Difference Between Sativa And Indica Seeds
Both Sativa and Indica seeds come in a broad variety of types, including feminized and regular, autoflowering and photoperiod. This makes differentiating between seeds quite difficult. However, if you want to buy Sativa seeds, you need to know what to look for.
Visual Differences
Speaking of the seeds themselves, there's a way to tell the difference between Sativa and Indica seeds. Usually, Indica seeds are larger and covered in stripes, while Sativa seeds are smaller and rounder, with few to no stripes. However, most strains on the modern market are hybrids between the two, which means it's nearly impossible to tell whether a seed is an Indica or a Sativa by its appearance. The most trusted way is to read the info provided by the breeder – here at Herbies, we always state the ratio of genetics in each seed.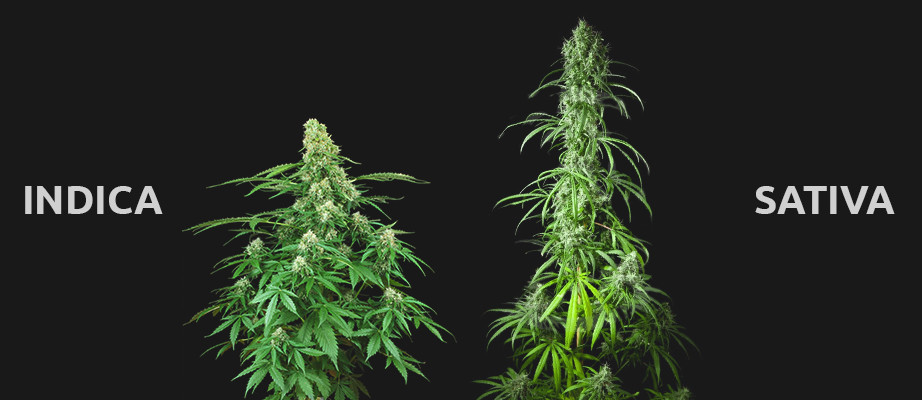 When it comes to the plants, Indicas tend to be smaller and sturdier Christmas-tree shaped bushes with large, squat leaves. Meanwhile, Sativa plants are tall and lanky. Depending on the strain, they can reach up to 2, 3, and even 5m in height favorable outdoor conditions.
Difference In Yields
Due to their taller and generally larger structure, cannabis Sativa seeds tend to bring larger yields. In favorable outdoor conditions, you'll be able to harvest several kilos of buds per plant. However, to harvest large Sativa yields, you'll need to provide your plants with plenty of time and space.
Difference In Effects, Taste, and Smell
While generally speaking, smoking Sativa buds provides cerebral, euphoric, and uplifting effects while toking on Indica makes you feel relaxed with a body buzz, it would be unfair to limit the description of each seed type to this. Every strain, whether Sativa or Indica, comes with plenty of intricacies in both effects and flavors, so the best tactic would be to try as many strains as possible and pick your favorites.
Terpene profiles also vary from strain to strain, and don't depend much on whether it's an Indica or a Sativa. However, practice shows that many energizing strains come with bright, citrusy flavors, while relaxing ones often exude sweet notes like banana or mango.
The Best Feminized Sativa Seeds For Sale
Here at Herbies, you can discover hundreds of new strains from top breeders! You can also be sure of their high quality, as we only work with household names in the cannabis seed business.
Do We Ship To The USA?
Yes, we do! Herbies provides fast and stealthy worldwide shipping, including to the USA.
How To Buy Sativa Seeds Online
Use our intuitive navigation system and filters to buy Sativa seeds of the best quality online from the comfort of your own home. To make your experience even better, we add a set of Herbies gifts and a free seed to every purchase.