---
What Does "Photoperiod Cannabis Seeds" Mean?
Logically, photoperiod cannabis seeds bear photoperiod cannabis plants – the ones that largely depend on photoperiods to successfully grow, mature, and come to harvest.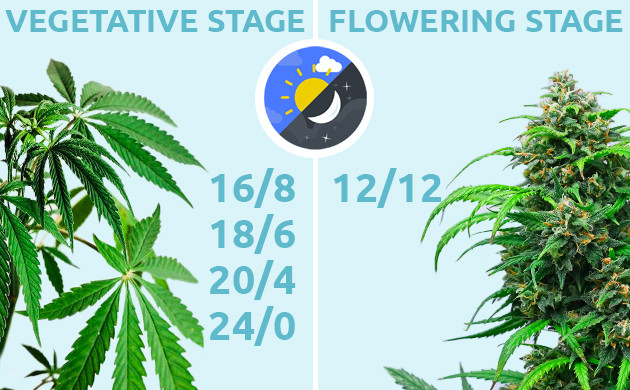 To put things simply, a photoperiod is a measurement of how much light a cannabis plant is going to need per day. Photoperiod measurements normally come with two numbers and look something like this: 18/6, 20/4, 24/0, 12/12.
When you see the photoperiod measurement, the two numbers are referring to two different things. The first number indicates how much exposure to light the plant needs, or the amount of "daytime" it should be getting. Conversely, the second number refers to how much time it should be resting in the dark, or how much "nighttime" it needs. This is based on a 24-hour day, so the two numbers should total 24. If not, there's a typo.
In order to start flowering, photoperiod cannabis requires a strict schedule of at least 12 hours of darkness. Normally, growers keep their flowering photoperiod plants under 12/12 until harvest. Prior to that, cannabis in the vegetative stage requires more light. Because of this, growers normally keep their vegging plants on a 16/8, 18/6, or 20/4 schedule depending on their preferences.
Photoperiod vs. Autoflowering Cannabis Strains
So, if photoperiod essentially means that a plant depends on light cycles to start and keep flowering, what's the other option? We're glad you asked. Let's take a look:
Photoperiod: While they require specific amounts of dark and light daily, photoperiod plants grow bigger and yield more potent buds. Photoperiod strains normally take 5-7 months to reach harvest.
Autoflowering: The opposite to photoperiod, autoflowering strains don't require specific light hours to mature, and start flowering on their own automatically. They take a shorter period of time to grow but yield less marijuana.
For the most part, people tend to compare photoperiod strains with autoflowering strains. There are some noticeable differences between these cannabis strains, and those looking to grow should be aware of them. When you break them down, the two classifications stack up against each other in the same way most of the time.
Photoperiod Cannabis Strain Strengths
Photoperiod cannabis strains follow the natural growing process. This can be considered a distinct advantage over the autoflowering strains available. Because they continue to grow and vegetate indefinitely until flowering is triggered, they are capable of reaching much larger sizes, which in turn produces much larger amounts of cannabis.
Photoperiod cannabis can be trained, and they can withstand even the most extreme HST methods when done correctly.
Photoperiod strains can be cloned.
Potency in photoperiod strains is traditionally stronger than that of autoflowering strains. This includes both THC and CBD content levels.
There are more cannabis strains available as photoperiod seeds, meaning you have a larger choice of what strain to plant according to your own preferences, climatic conditions, etc.
Photoperiod Cannabis Strain Weaknesses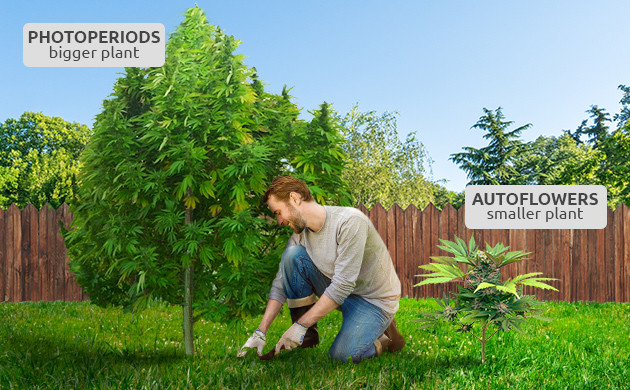 Plant husbandry skills are a must to grow suitable photoperiod strain. They require fertilizing, training, specific amounts of light, and a knowledge of general plant care.
Photoperiod strains take much longer to grow and produce flowers, meaning that cultivation can be delayed.
Autoflowering Cannabis Strain Strengths
Autoflowering cannabis strains follow a fixed growing cycle, making cultivation a predictable, scheduled event. This process also tends to occur more quickly than photoperiod plants, meaning quicker harvests.
Many of the plants are smaller, meaning they can be easily grown indoors.
They don't require specific photoperiod conditions, meaning that specific amounts of light each day aren't needed. As the name implies, this makes the growing process nearly automatic, making these strains very beginner-friendly.
Autoflowering Cannabis Strain Weaknesses
Strains of autoflowering cannabis are smaller, meaning lower yields when cultivation occurs. This is a result of the autoflowering process, as plants flower at a set time, inhibiting further growth.
While highly potent strains are available, many common autoflowering strains tend to have lower THC and CBD content than photoperiod strains.
Autoflowering strains can be only lightly trained.
They can't be cloned.
So Why Do People Use Photoperiod Seeds?
In most cases, autoflowering plants produce smaller harvests than photoperiod plants do. This is often considered a decent tradeoff for the smaller size and easier cultivation process that's frequently preferred by newbies in growing.
So now we reach our real question: why do people like photoperiod seeds if they require more work? For starters, it comes down to tradition. Photoperiod seeds are loved by many cultivators because of the work rather than being disliked for it. It offers a more hands-on approach to the growing process and allows you to become more acquainted with your plants. Combine that with the larger yields and the purity of the seeds themselves, and you've got a set of seeds that people love, despite how difficult the process can sometimes be.
Frequently Asked Questions About Photoperiod Cannabis Seeds
How long does it take to cultivate photoperiod cannabis strains from seed?
Many photoperiod cannabis strains take around 10 weeks of flowering to reach maturation, although some may take more or less time. Add to this the length of the vegetation period you wish to give your plant (2 weeks absolute minimum, but preferably a couple of months for larger harvests), and you have 4-5 months of growing. Outdoors, depending on the strain, photoperiod cannabis finishes in September-November.
I've never grown before, should I use photoperiod seeds?
That depends on how hands-on you'd like to be. When growing photoperiod cannabis plants, a number of processes need to take place. Thankfully, there are plenty of helpful guides available online (like our Cannabis Blog), making the process less intimidating for beginners.
Can feminized seeds be photoperiods? Can photoperiod seeds be feminized?
Most photoperiod strains on the modern market are feminized. They still require specific amounts of light – the only difference is that they're preselected, meaning you're going to grow solely female plants.