What Are Regular Cannabis Seeds?
The main difference between regular cannabis seeds and feminized ones is that the latter are modified to grow into female plants in 99% of cases. In contrast, when growing regular cannabis seeds, this is purely up to luck. Usually, the ratio of female plants to male ones grown from regular seeds is 50/50. However, this ratio can fluctuate, and sometimes you'll get more female plants, whose buds you can smoke, while other times, more seeds will turn out to be male plants, which can only be used for breeding.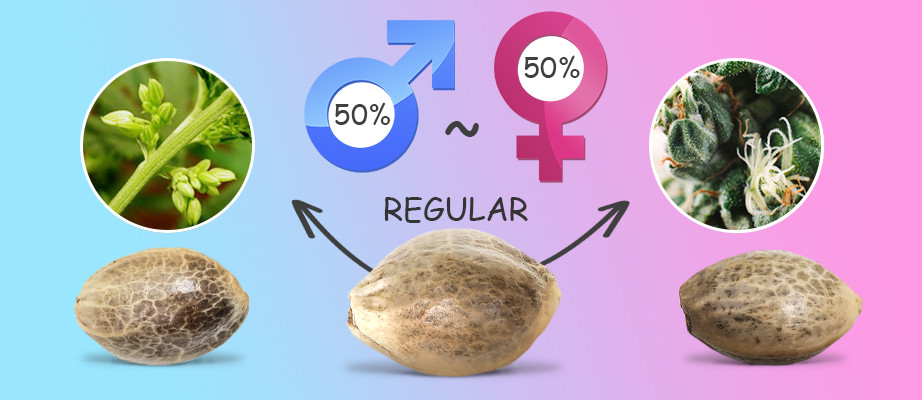 How To Grow Regular Cannabis Seeds
When it comes to growing, there's not that much different about regular cannabis seeds. They go through all the same phases, including germination, vegetation, flowering, and harvest. The most important thing you need to keep in mind here is that plants grown from regular marijuana seeds require sexing after they pass the vegetative stage. This means you have to inspect your plants almost daily for signs of male or female reproductive organs. When you see male pollen sacs starting to appear, you need to discard the plant before it can pollinate the female cultivars, unless of course your goal is to produce cannabis seeds rather than smokable buds.
Regular CBD Seeds
Mirroring the rest of the seed market, the majority of regular cannabis seeds for sale are THC-heavy. However, the options for regular CBD seeds are growing. Who are these seeds produced for? Mainly, they are designed for patients who are licensed to grow their own medical marijuana but don't want to spend a fortune on cannabis seeds. Due to their easier production, reg seeds, including the CBD ones, cost only a fraction of the price of feminized seeds.
Nevertheless, plants grown from regular CBD seeds have the same high cannabinoid levels and healing effects. There's growing evidence that CBD helps treat a wide variety of ailments and symptoms, including migraines, nausea, glaucoma, inflammation, anxiety, and depression. If you're looking for natural relief from these conditions, you can buy CBD seeds and start producing your own medicine.
Regular Autoflowering Cannabis Seeds
Even some of the more experienced growers aren't aware of the fact that regular autoflowering cannabis seeds exist. While it's true that most autoflowering seeds come already feminized, you can definitely buy regular autoflower seeds as well. If you're looking for a cheaper variant of your favorite strain, or if you'd like to breed some strains together and create an autoflowering variety of your own, this group of non-feminized seeds is for you. Growing them is as easy as with other autos. However, you'll need to take an extra step and sex your plants. Your further actions will depend on your goals, but you'll likely need to separate males from females anyway to control the pollination process better or avoid it completely.
Best Regular Seeds
Only at Herbies are there hundreds of regular cannabis seeds, and we can vouch for all of them, as our seeds come from reputable seedbanks from all over the globe. So if you're looking to buy the best regular cannabis seeds out there, you've got plenty of options. Here are just some examples:
Satori Regular by Mandala Seeds. This honey-sweet hybrid produces up to 28% THC for an effect that has earned Satori a cult following. This regular strain is incredibly introspective, inspirational, and euphoric like no other.
Caramelo Regular by Delicious Seeds. This Sativa-leaning strain produces over 24% THC and a floral, lavender-like aroma. Its blissful and relaxing effect is great for recreational use, but Caramelo is also used medicinally to treat anxiety, insomnia, and other conditions.
Critical Kush Regular by Barney's Farm. This pure Indica is derived from a famous lineage and produces insane amounts of 22% THC bud. It's also super easy to grow! At the end, you'll enjoy top-quality bud that can easily knock you out.
Don't stop here, however – there are hundreds of regular strains to explore at Herbies. Whether you're looking for high-yielding, extra-potent, or cheap regular cannabis seeds, we've got you covered.
Male Marijuana Seeds
If you're looking to get only male marijuana seeds – for example, for breeding purposes – the news isn't that good. Despite all the advances in genetic engineering, products such as male cannabis seeds aren't available for purchase. However, while sexing seeds themselves is impossible, we know one thing for sure: male weed seeds make up around 50% of all regular seeds.
If you want to buy male cannabis seeds, you need to pick one of the regular strains and get yourself a pack of seeds. Luckily, these are relatively inexpensive, so you can get a bigger pack – hopefully, there will be enough male or female seeds there for you, whatever you're looking for. So, while there's no section at Herbies dedicated specifically to providing male cannabis seeds for sale, you will always have some in any pack of regular seeds.
Regular Feminized Seeds
Hopefully, you understand by now that "regular feminized seeds" is a self-contradictory expression. Regular feminized seeds don't exist – you either get feminized seeds, which turn into female plants with smokable buds, or regular seeds, which turn into either male or female plants. For better or worse, there's no in-between.
Regular Marijuana Seeds For Sale
A great advantage of regular cannabis seeds is that they come at a lower price while presenting all of the necessary features for good growth, such as high potency, rich terpene profiles, and great yields. If you're looking to buy some regular weed seeds, you're already in the best place you could be. Herbies offers cheap prices on regular cannabis seeds along with top germination rates guaranteed by the breeders, plus great bonuses such as free seeds added to every order and useful branded gifts!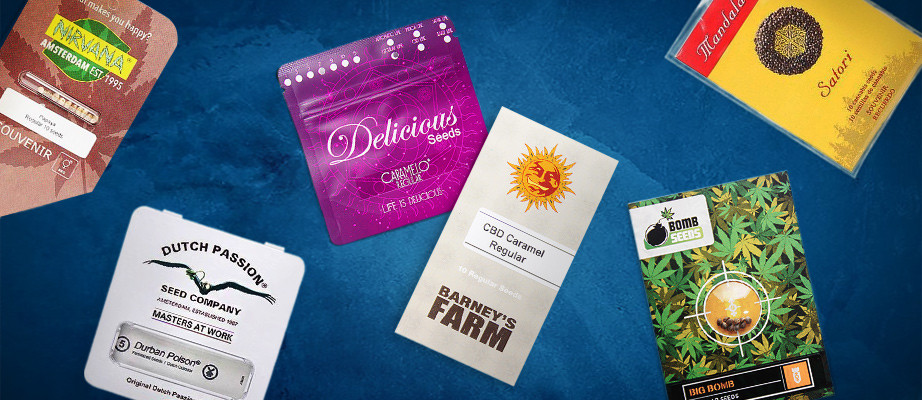 FAQ
How long do regular cannabis seeds take to harvest?
It all depends on the genetics you choose and how you grow, so the period from seed to harvest can last anywhere from around 9 weeks to 7+ months! Every strain at Herbies comes with the flowering time specified in its characteristics – select one and learn about the approximate seed to harvest time.
Are feminized cannabis seeds as good as regular seeds?
Yes, the only difference is that feminized seeds don't require sexing. All other features depend on genetics.
Is cannabis from regular seeds stronger than feminized seeds?
No. If you browse our catalog, you'll see that feminized and regular seeds can be equally potent in both THC and CBD.
Do regular cannabis seeds produce higher yields than feminized seeds?
No, a female plant from a regular cannabis seed will produce more or less the same yields as a plant from a feminized seed. However, you need to remember that with regular seeds, you won't be able to harvest buds from every seed you germinate, as at least some of them will likely turn out to be male.
Can regular cannabis seeds be female?
Of course! Regular seeds can produce both male and female plants.
What percentage of regular cannabis seeds turn male?
Normally, there's a 50/50 chance of getting female plants from regular seeds. However, there can be fluctuations, so you won't know for sure until each plant shows its sex.
Do autoflowering cannabis seeds germinate faster than regular seeds?
No, germinating regular cannabis seeds doesn't differ from germinating other types. The germination rate and speed depend on the environment and the freshness and quality of the seed, not on whether it's regular, photoperiod, feminized, or autoflowering.
When should I choose regular, feminized, or autoflowering seeds?
To put it simply, choose regular marijuana seeds if you're looking for a cheaper price and don't mind discarding the male plants. Regular seeds are also your only choice if you want to breed your own strains. Choose feminized seeds instead if you want to use your growing space as efficiently as possible and don't want to deal with sexing. Finally, choose autoflowers if you prioritize low-maintenance grows and want to grow a smaller and quicker-flowering plant.
How much do regular weed seeds cost?
The price of regular weed seeds varies depending on the genetics, but it's definitely one of the most affordable categories. You can use our sorting tool to quickly see the cheapest and most expensive regular cannabis seeds from this collection.