Big Head Seeds Bank: From Humble Origins To International Success
Spanning almost two decades, the history of Big Head Seeds began in 2002 when the future founders of the company first met at a cannabis event. They compare this encounter to the beginning of a bad joke – the one about an Englishman, a Dutchman and an American – but the success they've achieved is no laughing matter. Today, this UK-based producer sells seeds worldwide, including through an extensive collection at Herbies.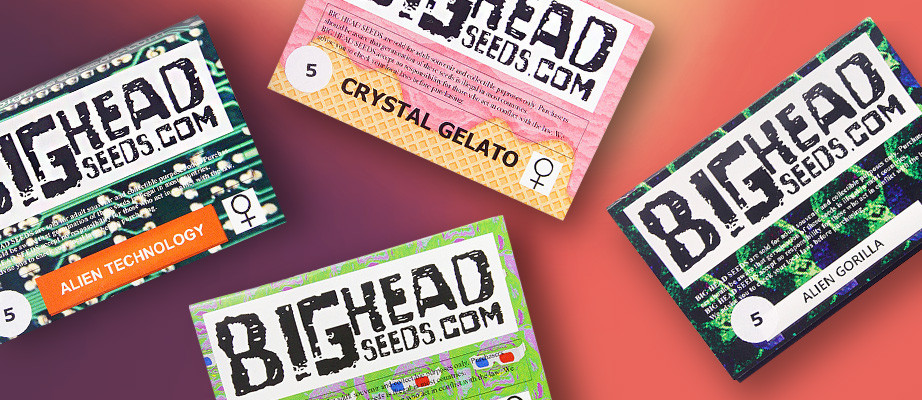 The Most Potent Weed From America And Europe
Big Head Seeds is so popular because they know what every grower wants: marijuana plants must be efficient, fast and reliable producers of large quantities of THC, CBD and other cannabinoids, as well as aromatic substances. And that's exactly what their strains consistently deliver. To achieve this goal, Mr. Big Head and his friends have gathered only the most insane genetics from both sides of the pond.
Big Head Seeds' Catalog Is Constantly Growing
Today, the company offers an impressive collection that's dominated by household names like Chemdawg, Granddaddy Purple, Sour Diesel and many others. The founders are first to acknowledge that this classic lineup is really a tribute to all the 'unsung heroes' of the underground cannabis scene, who have been preserving and enriching the gene pool of this endangered plant for decades. However, at Big Head Seeds, they constantly make innovative crosses. So check out such mouthwatering titles as Sherbert Dab or Crystal Gelato to understand the exciting new directions the industry is headed.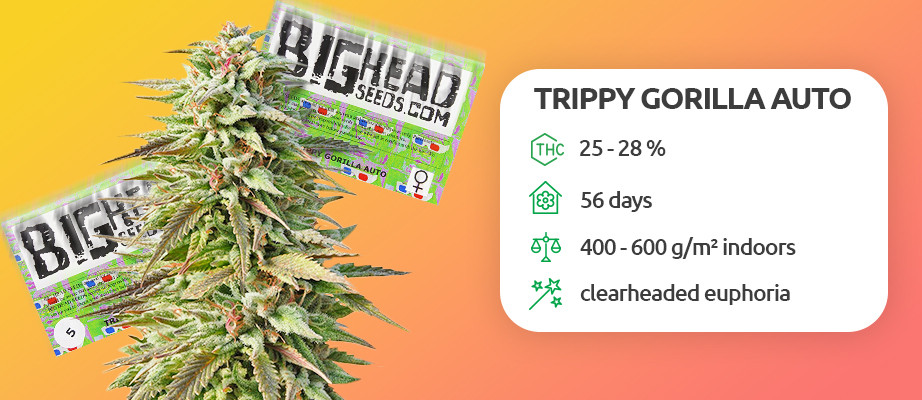 Feminized Cash Machines And A Few Choice Autos
Big Head Seeds has long established themselves as a reliable source of top genetics for commercial growers, along with amateur cultivators who look for a sure thing in terms of potency, flavors and bag appeal. Understandably, most of their strains are feminized photoperiod-dependent varieties. However, if the breeders are confident that they can create an autoflower that will be outstanding in every respect, they go ahead and make it. So far, they've offered half a dozen of these, each of them a must-try.
Trippy Gorilla Auto: As Good As Her Photoperiod Parent
As an example of an innovative Ruderalis-infused champion, we present to you Trippy Gorilla Auto, which produces the same 25-28% of THC as the original, but does so in as little as 56 days from start to finish. Despite a lot of Sativa genes, this plant doesn't grow tall, but still delivers with the best of them – up to 600g/m2 (2 oz/ft2) indoors. The smoke that smells of pine and citrus will fill your whole being with waves of clearheaded euphoria. In other words, this specimen is a perfect example of just what the breeders at Big Head Seeds are capable of!
Official website: Big Head Seeds