Trippy Gorilla
Description
Trippy Gorilla Strain Info
Produced by breeder Big Head Seeds, Trippy Gorilla is a feminized Sativa-dominant hybrid that grows aggressively by nature, rewarding cultivators with impressive harvests. This unique and standout strain is sure to make some noise in the cannabis community, both for growers and consumers.
Genetics
Showcasing their mastery at combining cannabis strains, Big Head Seeds created this highly potent and high-yielding strain with a family tree containing GG#4 Original Glue and Big Head #1.
Flowering Time
Her flowering time is just 8 weeks or 56 days, after which you'll be rewarded with incredible yields. For outdoor grows, Trippy Gorilla flowers in October.
Yields
Trippy Gorilla's expertly-crafted genetics really shine through in her guaranteed heavy harvests. The average cultivator can expect potential harvests of a whopping 600-750g (21-26.5oz) per plant.
Trippy Goriila's Effects
Despite being a hybrid, the effects of Trippy Gorilla are dominated by her Sativa genetics. That means you can expect an entirely cerebral stone with an energizing, clear-headed high.
THC Levels
Trippy Gorilla is an extremely potent strain with THC levels ranging from 25-28%.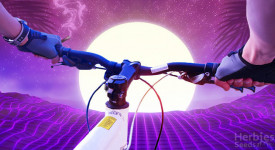 Trippy Gorilla Trip Report
Smell And Taste
Trippy Gorilla's terpene profile is pleasing and delicious. Full of pine and citrus notes, she makes for an incredibly smooth and pleasant experience.
Grow Tips
This stunning plant glitters under the grow lights and can display gorgeous streaks of purple in her flowers. She is known for her aggressive growth throughout the vegetative stage and for her overactive resin production, making her a hit with lovers of hash and waxes. Her crystal-covered buds decorate a short and stocky plant, hinting at some Indica in her genetics. Here is some more info to help you grow this strain:
Some light pruning is recommended so light can reach all her leaves.
Trippy Gorilla can reach a short final height of 1.1m (3'7") indoors.
This strain performs incredibly well under a 12/12 light schedule.
Trippy Gorilla Seeds
Trippy Gorilla has the potential to please not just growers thanks to its great harvests but also customers with its cerebral high. That's why you should add these feminized seeds to your grow list today by buying some online from Herbies Seeds, where you're sure to get a great price.
Characteristics
*Herbies sells cannabis seeds exclusively as souvenirs that aren't meant for cultivation or germination. Customers should be aware that the germination of cannabis seeds is illegal in most countries. Herbies sells cannabis seeds exclusively for collecting and preservation for future generations. We advise customers to check with their local laws before germination, as Herbies does not accept responsibility for the illegal use of our products.