GG#4 Original Glue - The Matriarch Of An Awesome Family
GG#4 Original Glue strains were developed by Don Peabody (aka Joesy Wales) and the late Ross Johnson (aka Lone Watty) from Nevada. The 2 men were the first to admit that it was a matter of pure chance: a Chem's Sister in their garden decided that she'd rather be a 'brother' and then pollinated a Sour Dubb. Instead of throwing away the whole batch (that was meh by any standard), the breeders grew the seeds and crossed them with a Chocolate Diesel. And - ta-dah! - they got Gorilla Glue 4, one of the most popular varieties on the cannabis scene today and a winner of more than a dozen cups.
According to the Certificate of Genomic Analysis (and not every strain has them), it's 0,79 unique, meaning that it's not just the same tired old genetics repackaged under a new catchy name. No, this is truly something new. And if you wonder how many GG#4 Original Glue strains are there, well, GG Strains LLC have also created the Gorillas number 5 and 1, and, of course, many seed companies offer their own versions of these genetics in seed form, e.g. Gorilla Glue #4 by Original Sensible Seeds and Gorilla Glue Auto by Fastbuds.
Effects of GG#4 Original Glue: Relaxed And Happy Coma
An ultimate strain for thrill seekers, GG#4 Original Glue is like a ticket to a rollercoaster ride – even daily smokers prefer to use it only occasionally and seldom make it their staple weed.
With 25 to 30% of THC and almost no CBD to restrain it, this well-balanced hybrid is ridiculously potent. The initial rush hits you instantly, numbs your body and fills your head with lightness, as if you were floating through space. Then - back to Earth, or rather your couch, where you'll spend the long hours of relaxed euphoria, binge-watching TV and stuffing your face. Just don't forget to have the food within hand's reach, and something to wash it down, too - your mouth will be parched so bad that you'll be ready to drink from your water bong.
More experienced smokers report that they can function on small doses of this marijuana which makes them buzzed and chill and shielded from stresses of daily existence. Medical patients use GG for a variety of conditions where the effects of THC rather than CBD are needed: to fight off anxiety and depression (with a toke or two), and to induce sleep (with higher doses).But If you're a newbie, you better find some milder strain to ease you into the realm of high-potency cannabis. And if you try Gorilla, never ever lose sight of your couch because even one hit can make you… well... vertically challenged.
Rich Aroma And Even More Complex Taste
The funk of the flowering plants is strong and pungent, and the dried buds smell of pine, spices, berries, a hint of something chemical, and have a loud skunky presence enveloping it all. The thick smoke is rather harsh on the lungs due to extreme levels of THC, but it's actually a good thing because it'll save you from overdosing in each and every session. Air your room right after you finished smoking, otherwise the smell can stay there for days.
According to reviews, the flavor of GG#4 Original Glue is a mixed bag. Its exact composition depends too much on a particular phenotype. If, for example, GG #5 is more Kushy and piney, others may have a stronger influence of berries. Still, you might actually like the aftertaste that this weed leaves - earthy, woody, a bit gassy, with coffee-like sourness.
Some Info To Grow The Perfect Gorilla
Although often described as a balanced 50/50 hybrid, GG#4 Original Glue has actually more Indica influence (with 63% of it in GG4, and even more - in GG5). Unfortunately, the genetics are highly unstable, and, when growing this variety from seeds, you'll be sure to get many different phenos (most of them real keepers though).
Another letdown is that the plants are prone to hermies. Remember that their mother-turned-father was a hermaphrodite? So, indoors, be sure to create optimal and stable conditions to reduce stress, and regularly check your girls for a stray pollen sack. Outdoors, only grow this strain if you live in a climate with a long warm and dry summer and mild autumn, and expect the harvest by early to mid-October.
Indoors, the flowering time won't take more than 8-9 weeks, and the vegetative growth will be so fast that the whole life cycle can be as short as 14 weeks in total. Also, due to the rapid growth, the bushy structure and the considerable height of the plants, you'll need to top, or FIM, or LST them, and prune lower and inner branches. GG is an ideal option for SCRoG setups as well, and will yield you a lot of bulky, spongy buds, densely covered with resin.
Harvest day will feel more like a glue factory accident. Trim these sticky buds for a half hour, and your scissors won't open, and they'll stick to your fingers, and you'll be fit to audition for an Edward Scissorhands remake.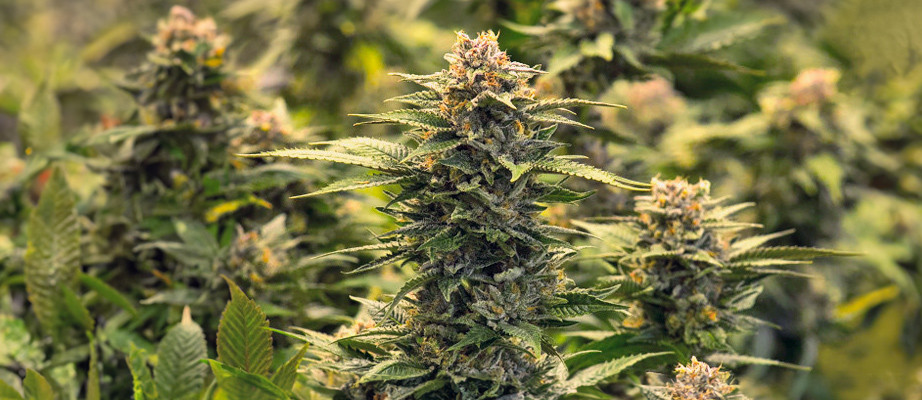 GG#4 Original Glue Must Actually Be Called Original Gorilla
Did you know that the creators of this strain were sued for trademark violation because an Ohio-based glue producer happens to have the same name? The breeders lost the lawsuit and now are legally bound to rename all their creations. Well, the glue guys may be the first to use this trademark, but honestly: shouldn't they rather be thankful for all this free publicity?