Godzilla Cookies Auto Feminized Seeds (Herbies Seeds)
Description
Godzilla Cookies Auto Strain Info
This is the perfect strain for big Saturday BBQs or lazy Sunday mornings. With a 60:40 ratio of Indica and Sativa, she gives you the best of both worlds: an energizing, giggly high for chatting or creative work, as well as a hard-hitting yet mellow high that'll help you relax and kickback. Enormous buds are her claim to fame with an unmistakable flavor and super resin-producing lineage along this plant's history.
Genetics
For breeders to master this next-level auto flower it took crossing the phenotype of Gorilla Glue #4 and Girl Scout Cookies.
Flowering Time
You'd think growing gargantuan yields would take plenty of time, but that isn't the case with Godzilla Cookies Auto, completing her cycle in a mere flower time of 70-75 days.
Yield
Godzilla Cookies Auto is sought-after for beginners and commercial growers alike because she's an easy-to-grow girl that can produce harvests up to 600 g/m² (2 oz/ft²) indoors!
Effects
Enjoy just one hit and feel a rush of motivation and energy. Our strain's fine-tuned hybrid genetics give you a pleasant head high that leaves you feeling uplifted, creative, and social. Then, the buzz will melt through your body, starting with your face and working its way throughout. Just swim in that soothing, electrifying feeling!
THC Level
She achieves these favorable effects with her chest-beating THC content of 27%!
Smell And Taste
Godzilla Cookies Auto smells and tastes as powerful as she feels. Her terpene profile creates bud that you'll smell before you see, filling your senses with aromas of cookies and diesel. This strain's taste profile is equally exciting – along with diesel and cookie over notes, you'll notice tangy, invigorating new citrus flavors.
Grow Tips
Without much work, you'll be able to produce big, dense buds the size of ping pong balls when growing Godzilla Cookies Auto. Expect absurd levels of trichome production – this strain is a great candidate for producing hash, cannabis oil, and other concentrates. Our strain is also popular worldwide, as it can withstand common plant diseases and cold climates that usually cause mold and mildew.
Growing Godzilla Cookies Auto is deceptively simple, but here are a few tips to help you get the most out of your bud:
Godzilla Cookies Auto grows monstrously fast and can reach heights of 110cm (3'7"). Because of that, you'll want to add support for heavy branches early in flowering.
Tie the side branches down to help increase your yields during the flowering stage. When you do that, you'll also increase the number of flowering sites.
This strain is a pungent one (in a good way). It's worth purchasing a carbon filter to prevent the lemon/fuel smell from filling your house!
Godzilla Cookies Auto Seeds
Are you looking for a super-producer auto-flowering strain that jumps above the rest in a moment of potency you won't soon forget? Then don't hesitate to buy some Godzilla Cookies Auto feminized seeds online at Herbies, right here, right now!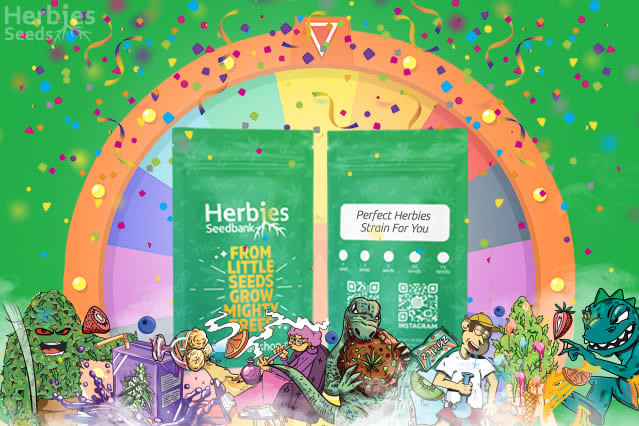 What Herbies Seed Is Right For You?
Characteristics
*Herbies sells cannabis seeds exclusively as souvenirs that aren't meant for cultivation or germination. Customers should be aware that the germination of cannabis seeds is illegal in most countries. Herbies sells cannabis seeds exclusively for collecting and preservation for future generations. We advise customers to check with their local laws before germination, as Herbies does not accept responsibility for the illegal use of our products.