Dinafem Seeds For Sale Are Hand-Picked – So Are Their Genetics
With Dinafem, you can always be sure of uncompromised quality of product, because from each batch, they select only the most mature and largest seeds. This ensures not only great germination rates – close to 100% – but also the unstoppable development of plants throughout their lifecycle. But this is just the tip of the iceberg.
Their rigorous selection process starts long before the seeds are produced: the large team of Dinafem breeders spends years developing and refining their genetics. All the strains they offer are unique, stable and reliable. As for the quality of the buds they produce, you can judge these by the raving reviews of growers, and by the innumerable wins at various cannabis competitions in Holland and Spain.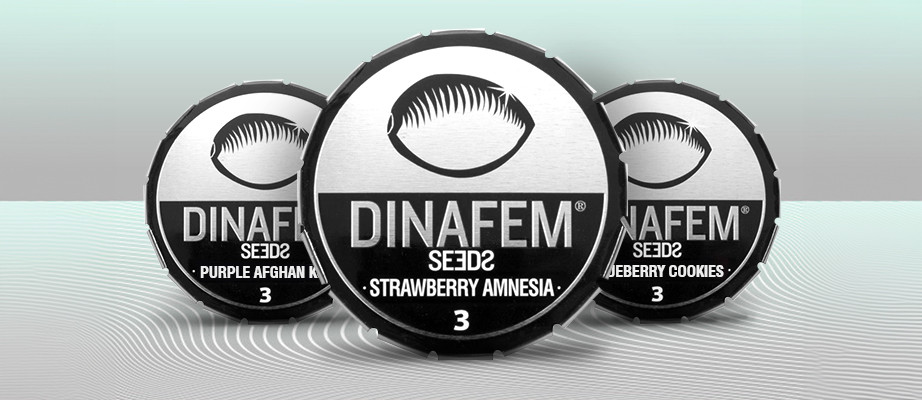 A Plethora of Strains For All Types Of Growers And Situations
The selection of strains by Dinafem is mind-boggling and even intimidating at times. Is it really necessary to have so many items? The answer is 'yes'. At Dinafem Seeds, they know that every grower's situation is different, as are their needs. Some value high yields, others great taste and aroma or some specific type of high, and no gardener has the same conditions in their grow space. Fortunately, no plant by this seed bank is exactly like another, and you can choose the one that will be perfect for you. Dinafem Seeds have made the task of choosing as easy as possible by providing very accurate descriptions and characteristics for every variety they sell.
Two types of their seeds deserve a special mention:
Quick Strains. These are photoperiod varieties that have just enough Ruderalis genes in their genetic makeup to finish 1-2 weeks earlier than their traditional counterparts. Yield-wise and quality-wise, they are just as good.
High-CBD Strains. These seeds cater specifically to medical users. While their overall cannabinoid content is around 20%, the proportions of THC to CBD are different. So, among Dinafem's CBD-rich varieties, you'll find some with almost no THC, some with 10% THC and 10% CBD, and also everything in between.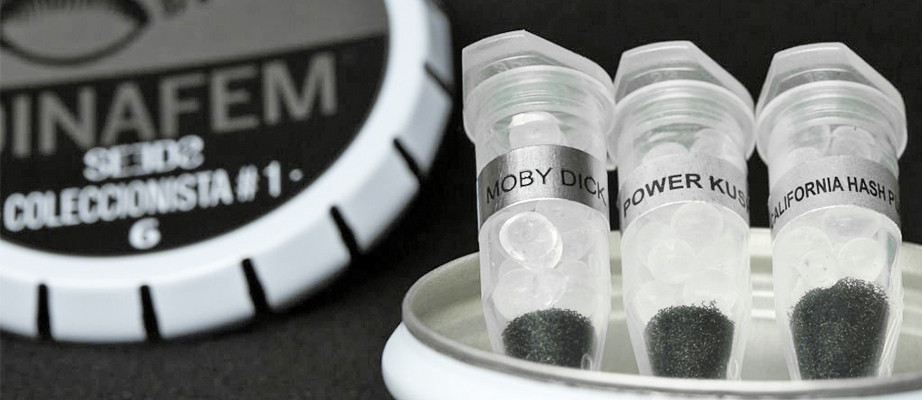 Dinafem Seeds: Growing Made Easy
Whatever genetics you choose based on your specific requirements, you can count on them being vigorous, hardy and completely low-maintenance. In other words, all of Dinafem Seeds' plants are beginner-friendly. Moreover, if you not only lack experience but also don't want to invest much time and effort into this hobby, you can choose any of the autoflowering strains and get a great harvest in your backyard or on the terrace or balcony in just a couple of months. Needless to say, ease of growing is perfectly compatible with outsized harvests, delicious flavors and mind-blowing effects.
Innovative Packaging For Safe Transport And Optimal Storage
Dinafem Seeds has gone all the way to guarantee that seeds are stored and shipped to your doorstep in perfect condition. For packaging, they use small round metal boxes with a plastic tube inside. Inside the tube lie the seeds, separated by a polyurethane membrane from a few grains of silica gel to ensure optimal levels of humidity. Dinafem has taken all measures to ensure that these living organisms sprout as soon as you make them wet.
Official website: Dinafem Seeds