Everybody loves cannabis just as much as everybody loves a good bargain! There's absolutely nothing wrong in wanting to buy cheap seeds. After all, cheap doesn't mean low quality, especially not at Herbies! Even us, the team behind this seed shop, are very much interested in providing such a huge collection of cheap cannabis seeds. Why? Because the affordability of such product lets the wider audience buy it, enjoy the experience of growing cannabis at home, and understand the benefits of it.
Even if you buy cheap seeds at Herbies instead of the more pricey ones, you're still getting the top-notch product. That's because Herbies' catalog is comprised of specifically selected strains from renown breeders with best reviews from both amateur and professional growers. So, with us, if you go cheap, you are not only saving money, you also get to afford more high-quality seeds to try and become better as a cannabis grower - without sacrificing anything.
Marijuana Seeds for Sale
Low prices presented in this collection of cheap marijuana nuts is not the only opportunity for you to save a coin. Here at Herbies, we are extremely proud of our discount system, bonuses, and freebies. Not only there's a big sale every now and then, but we also treat our customers, new and old, to freebies and lower order totals every day of the year.
What's better than seeds that are cheap? Free seeds! One of our favorite traditions is giving out a free Gorilla Glue Auto seed with every order. We've been doing this for years, and aren't going to stop! Besides that, for every 20 euros spent in our store on weed seeds, you get one more seed for free. You can pick one seed type out of these 4 legends: Gorilla Glue Auto, Zkittlez, Auto Gelato, or Amnesia Lemon.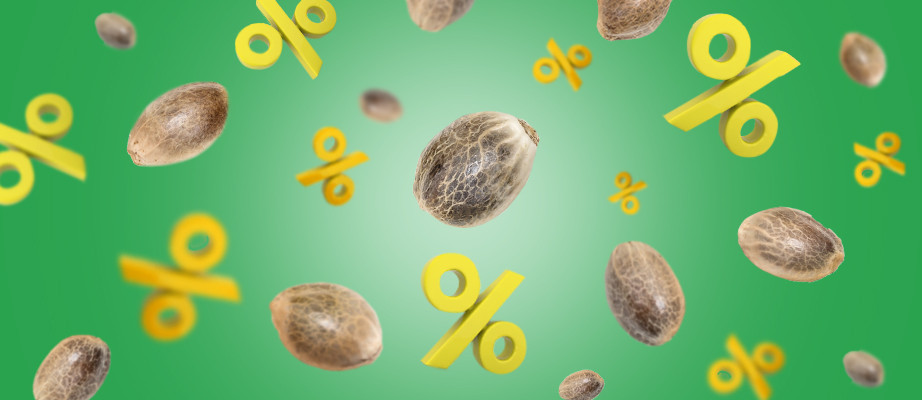 How to buy cheap seeds online?
Being on a budget doesn't mean you have to resort to a certain seed type. That's not the case at Herbies at all. We've worked hard to make the collection of cheap pot seeds as diverse as possible.
First, there are cheap feminized seeds. Even though this seed type is normally pretty expensive, we were able to get some outstanding yet affordable seeds in our collection for sale. "Feminized" means these seeds have been genetically modified to only grow into female cannabis plants. These, will in turn, yield smokable buds, which male cannabis plants can't do. Hence, when looking for seeds on a budget, it's also more profitable to stick with cheap feminized seeds, as it allows you to buy less seeds, and still get a potent female plant from each of them, as opposed to regular seeds, where you only have a 50/50 chance.
Speaking of regular cannabis seeds, they must be the cheapest seed type out there. That is not because they are in any way worse, not at all! Growers have been using them for centuries with great success, way before feminized marijuana was invented. Regular cannabis seeds have a 50% chance of turning female, that's why you might want to order more of them, just in case. And if you want to experiment with breeding your own cannabis and producing your own seeds, regular cannabis seeds is the only way to go.
Then, there are cheap autoflower seeds. These are the latest innovation in the cannabis industry, and the perfect seed to start your growing journey with. Thanks to a share of Ruderalis genetics in them, autoflowering cannabis plants are compact, hardy, quick, and easy to take care of. Most importantly, autoflowering weed doesn't require the change in light cycle to start flowering. So, if you're a beginner grower on a budget looking for an easy-to-grow plant, go for cheap autoflower seeds with Ruderalis genetics.
All of these seed categories are available for sale here, online, at Herbies.
Are cheap seeds worse than regular price seeds?
Just like with many things in life, expensive doesn't always mean better, and cheap doesn't mean worse. There's a lot of factors that play their role in forming the price of cannabis seeds, including popularity, costs of production, branding and advertisement, seed type, etc.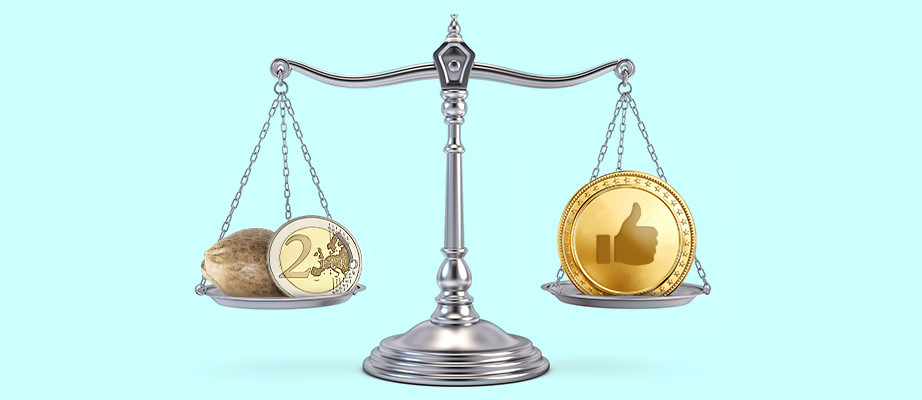 Here at Herbies we never work with untrustworthy or sketchy seed banks, that can't prove the quality of their products. Every seed in our collection, including cheap marijuana seeds, was selected by our team of the industry professionals who know what makes good marijuana and quality seed. Each strain you find at Herbies is backed up by positive reviews from growers and smokers alike. In addition, our storage facilities are equipped to maintain each seed in sterile, dark and cool (4-6 C) environment, ideal for keeping them fresh and full of life until it's time to ship. This means that even if you pick seeds from the cheapest seed bank, you will still receive fresh marijuana nuts ready to bear potent plants.
Why are some marijuana seeds cheaper and others more expensive?
Let's go through the factors that form the price of marijuana seeds online. Why are some weed seeds for sale cheaper than the others? Does it mean these seeds are worse? Not at all.
First of all, popularity of a strain plays a huge role in how the prices for weed seeds are formed. Very often, the bigger or the more novel the strain is, the higher the price will be. Every year there will be a couple of hit strains collecting awards and fans worldwide. While there's nothing wrong in wanting to try them first and support the seed bank, growers on the budget might need to wait. The history always repeats itself: several seasons in, and these cannabis seeds become much more affordable. Then, you can find previously trending strains among cheap marijuana seeds. Of course, they don't get any worse with time, it's still stellar genetics worthy of the attention and the awards they earned. But now, it's perfect time to snatch them!
Another factor is the difficulty of production. Some strains are simply easier to produce than others. It could be due to the size of the seed bank and its facilities, or, for example, the source of parent plants. Most of well-known strains have been bred so much, that they become more affordable for seed banks to use as parent plants and create new exciting varieties.
After that, each seed bank decides on what pricetag to put on their seeds. Some of the best seed banks in the world decide to attract more growers with lower prices, and it works! So there's no need for them to boost the prices, when they make huge profits from selling more items for cheap. On the other hand, expensive seed banks very often stick to discount and sale promos. When this happens, we change prices at Herbies too - that's when you can find normally expensive varieties in our collection of cheap marijuana seeds.
Where to Buy Cheap Cannabis Seeds?
The team behind Herbies works relentlessly to make our website the best place for buying seeds online. We're passionate about cannabis and providing the best shopping experience possible.
Herbies makes sure to provide a wide variety of weed seeds for sale, so each grower could find a quality product well-suited for their budget. So, where to buy cheap weed seeds? Of course, at Herbies! The process is extremely simple:
Use the intuitive system of collections, search tab, and filters to find a perfect strain among thousands of high-quality seeds.
Learn more about the seed from its page with all the relevant information, specs, detailed description, and user reviews.
Add the desired quantity of seeds to your cart and proceed to choosing the delivery and payment methods. Herbies provides worldwide stealth shipping and accepts both bank transfers and payments by card.
Your experience with Herbies goes far beyond simply buying cannabis seeds online. Our Support Team is always there for you to chat and address any questions related to cannabis or your purchase. And don't forget about our blog! It's an extensive collection of articles about everything you might want to know about cannabis, how to grow it, or use it either recreationally or medicinally.
5 Best Cheap seeds
Royal Queen Diamond
Maybe we'll never be royals, but we can get to feeling pretty aristocratic with a very special kind of buzz from the feminized Royal Queen Diamond. For under four bucks per seed, you get a king-worthy strain that yields resin-packed buds perfect for extraction. Sweet and fruity, Royal Queen Diamond guarantees a euphoric head-high gradually transforming into mellow stone.
THC Bomb Regular
Hardy, compact, and ready to explode at any minute - this is how we're going to describe THC Bomb regular. For under three dollars per seed, you get an astronomical THC content, 25%, tightly packed in an easy-to-grow 90cm (2'11") tall plant, perfect for space-conscious growers. Besides the potency, THC Bomb regular shines in the smooth terpene profile and narcotic high.
Afghan Kush Regular
Coming to you straight from the Hindu mountains, Afghan Kush regular is a 90% Indica experience for less than two dollars per seed! Highly medicinal, this strain has earned recognition as a potent relaxant and pain reliever. Afghan Kush regular is a joy to your sensesas well, with a sophisticated palette of wood, pine, and earth.
Amnesia Autoflower
It's a rare occasion when you can get a top-shelf autoflower for cheap, and in case with Amnesia Autoflower from Seed Stockers the price starts at a little over two bucks per item. This strain is 23% THC and exactly what you need to look inward, reflect on yourself, and the world within. In social settings though, this spicy smoke is a great ice-breaker and conversation-starter.
Stardawg
With a price of $3,5 per seed when purchasing a pack of 3, the feminized Stardawg is one of the best deals out there. This 24% THC cultivar ticks all the boxes from a beautiful hybrid appearance, to the tempting pine and diesel aroma, and mood-enhancing effects. Stardawg is worth growing for all those nights you want to throw a party for your closest circle.
Why choose us?
Cheap Cannabis Seeds: FAQ
What is the difference between cheap weed seeds and expensive ones?
There are too many factors playing the role in cannabis seeds price formation. Everything depends on each seed bank's price policies, the year when the strain first emerged on the market, the size of the production, and so on. The only thing you can be certain about is that there are as many great varieties among cheap seeds as among more expensive ones. Especially here, at Herbie, where we select only top-notch products from trusted seed banks.
What strain is the cheapest?
Our assortment changes all the time, but it's quite easy to learn what strain is the cheapest at any given moment. All you need to do is go to our Cheap Seeds collection (you're already here), and sort the seeds by price. Voila - the first seed in the list is currently the cheapest. Why not try it?
Can I buy seeds of cheap cannabis strains at Herbies?
There are plenty of cheap pot seeds at Herbies, and the variety is always changing to suit the growers' needs. Whether you're looking for regular, autoflowering, or feminized cannabis seeds, you can find representatives of each seed type in our Cheap Seeds collection. Best prices on the market, without sacrificing any of the quality.