CBD Lemon Auto Feminized Seeds from Herbies Seeds
Description
Perfect For: Wellness, Balance, and Great Mood
Equal (and high) amounts of CBD and THC
A great happy buzz without any edge to it
Outstanding healing action on body and mind
CBD Lemon Auto Smoke Review
A CBD-rich smoke shouldn't be boring, and this is the case with CBD Lemon Auto, where two main cannabinoids balance each other out perfectly. Together, they provide an astoundingly powerful effect.
CBD Lemon Auto Effect
While working on these genetics, the breeders had two types of users in mind: those who need to alleviate serious physical and mental symptoms and those who want to have a good time without a single anxious thought or, God forbid, paranoia. The first objective is taken care of by the 17% CBD, and the second one, by the 17% THC. The result is a feeling of floating on a cloud of relaxation and happiness.
CBD Lemon Auto Flavor
Cured buds exude a strong aroma of lemon with occasional notes of other fruit. It's all felt in the smoke as well, along with some spiciness. On the exhale, the smoke caresses your palate with the fragrance of earth.
CBD Lemon Auto Grow Info: Appearance and Grow Tips
This autoflower is a perfectly balanced Indica/Sativa cultivar with all the vigor you'd expect from a hybrid. CBD Lemon Auto is resistant to elements outdoors, minding neither rain nor heat and scorching sun.
The same would be useful indoors if you grow in summer and run into problems with temperature or tend to overwater your plants due to the lack of experience. However, in optimal conditions, CBD Lemon Auto will grow into a tall but sturdy lady, reaching a height of about 3 feet (80-100cm) and producing 500-600g/m² (1.6-2 oz/ft²) – an abundant harvest by any metric!
She's a true auto, so 18/6 or 20/4 from seed to harvest works fine.
Since she's a rather hungry strain, give her up to 1.2 EC in veg and 1.6 in flower.
Don't let the trichomes turn amber or else the CBD will start to degrade.
With CBD Lemon Auto, you get a chance to buy feminized autoflowering seeds to produce CBD-rich medicine without any hassle. Besides being offered for sale, these seeds are available as freebies from Herbies with every online order.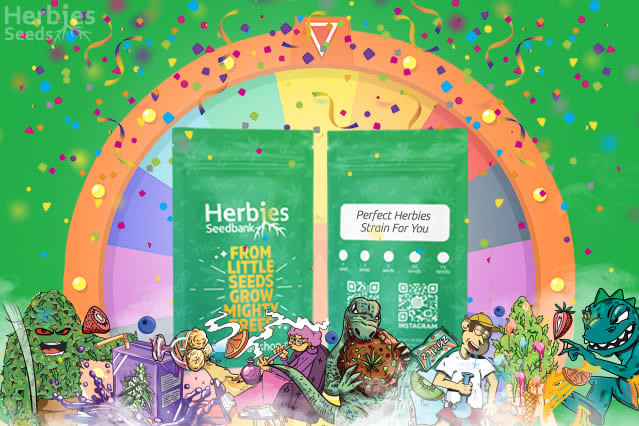 What Herbies Seed Is Right For You?
Characteristics
*Herbies sells cannabis seeds exclusively as souvenirs that aren't meant for cultivation or germination. Customers should be aware that the germination of cannabis seeds is illegal in most countries. Herbies sells cannabis seeds exclusively for collecting and preservation for future generations. We advise customers to check with their local laws before germination, as Herbies does not accept responsibility for the illegal use of our products.
No reviews on this product yet.
Be the first one to share your opinion - it may help someone to make their choice!
Add review