---
It All Started Before Many Of Us Were Born
The story of Barney's Farm goes back to the late 1980s when the future founder of the seed bank, named Derry, worked with his friends in a rural mountain region in India where they cross-bred weed strains collected all over Asia and Middle East. In 1992 he decided to test his luck in the Netherlands, where he opened coffee shops and started selling feminised seeds, and quickly established himself as one of the leaders of the nascent industry. Thus, Barney's Farm was among those businesses that shaped the cannabis scene as we know it today, and the brand became practically synonymous with those outsized rewards that you can reap cultivating marijuana.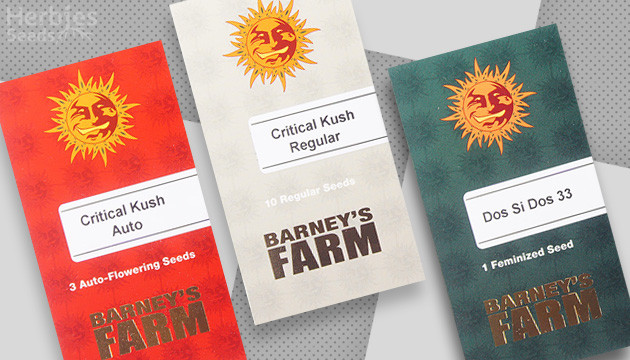 Barney's Farm's Fame And Success
First, it was the tourists who tested Barney's product in Amsterdam coffeeshops and made their friends green with envy by telling the legends about the incredibly potent and tasty Holland weed. Then, thanks to their seeds being shipped internationally, people all over the globe got the chance to recreate this jaw-dropping experience in their own homes and backyards. And this is what Barney's Farm does - it brings the world's best genetics right to your doorstep.
Barney's Farm have never shied away from the spotlight. They shoot videos and give interviews. They put their cool and instantly recognizable logo on a whole range of apparel and merchandise. Barney's booth is prominent at every international event. And they have every right to take center stage - because of the unparalleled quality of their product.
A Company That Is All About Innovation
At Barney's Farm, something's always cooking. They have long turned into a very sophisticated business that relies heavily on science, with their state-of-the-art labs and highly qualified technicians. However, the original joy of the their younger days is still there. These guys love marijuana, and when they manage to create new flavors (like in Peyote Cookies), or new interesting effects, or take the yields to unprecedented levels (as is the case with Critical Kush), their excitement is simply contagious. No wonder people love buying and growing their strains, and judge them so highly at Cannabis Cups, turning Barney's Farm into an award-grabbing machine. At one time, this seed bank all but dominated events in Amsterdam, destroying the morale of the competition whenever they introduced their strains. The days of HTTC in Amsterdam are over, but Barney's are more than alive, and keep introducing their new larger-than-life creations.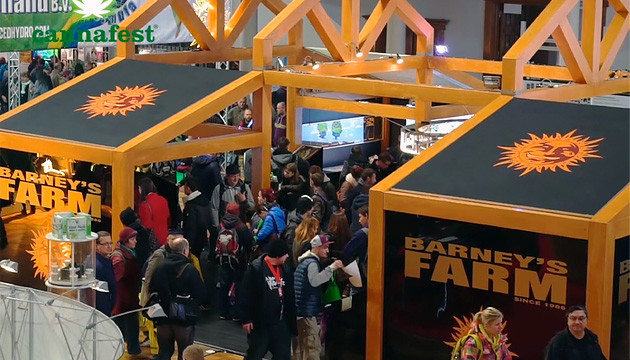 Buy Barney's Farm Seeds, Meet The Legends
In the Barney's catalog, there are so many titles that are on the bucket list of any cannabis enthusiast. Who wouldn't want to smoke the awe-inspiring Dr. Grinspoon, Derry's favorite strain, that offers that unsurpassed 100% pure sativa euphoria? And who would say 'no' to growing more tame, but also more forgiving hybrids like Liberty Haze, G13 Haze, or Laughing Buddha? And what about LSD that is exactly what its name promises - a body-melting and mind-bending miracle? Besides these, there are also many celebrated Cannabis Cup champions that everyone would want to experience firsthand: Amnesia Haze, Night Shade, Morning Glory, Tangerine Dream, Crimea Blue… The list goes on and on.
And these are only the legends, and, frankly, they are not the ones that dominate the company's best-selling lists right now. There, you're more likely to see more fashionable Cookies and Glookies, OGs, Gelatos, and Sherbets, and, of course, the breeders tirelessly work on the development and betterment of their autoflowers (as can be seen in their Coming Soon section where autos rule supreme). So, whether you're a collector of classics or a hunter for novelties, Barneys Farm should probably be your first choice.
Does Barney's Farm ship to the USA?
Unfortunately, Barney's Farm does not ship its cannabis seeds to any state in the United States. Although the company ships worldwide, it is (at least currently) unable to deliver seeds to anywhere within the U.S., Australia, Canada, and Asia, including China and Malaysia.
According to the breeder's website, these countries are excluded from shipping because they have specific marijuana-related laws. Tighter cannabis legislation may lead to difficulties with shipping cannabis seeds. However, as we see a spate of marijuana decriminalization laws in many U.S. states, with other countries following suit, here's hoping that this policy will soon change.
Meanwhile, in countries to which Barney's Farm does not ship, there's still a chance to buy them from a company that resells or distributes them. Here at Herbies, we offer a wide selection of Barney's Farm cannabis seeds that will meet any taste.
Where to buy Barney's Farm seeds in the USA
Although Barney's Farm doesn't ship to the USA, that doesn't mean you won't be able to grow their top-quality seeds if you're in America. If you want to buy Barney's Farm seeds in the USA or safely ship them from overseas, you can reach out to a seed reseller or distributor. These companies sell seeds at a price that's not too different from the breeder's.
Herbies is one of the safest, most reliable, and most consumer-friendly places for Americans to order Barney's Farm cannabis seeds online – our store offers over 80 strains from the famous breeder that suit any level of skill. You'll also get to benefit from stealth shipping, a germination guarantee, a generous freebie policy, and stellar customer support. We're very passionate about all things cannabis-related and would be happy to accompany you throughout your shopping and growing journey.
Official website: Barney's Farm