Mimosa x Orange Punch Feminized Seeds (Barneys Farm)
Description
Mimosa X Orange Punch Strain Info
The Mimosa X Orange Punch strain was born when its breeder skillfully backcrossed two elusive strains in their catalog. The results of this backcrossing were stupendous, creating a delicious and aesthetically pleasing Indica-dominant strain that offers 65% Indica with a still-generous 35% Sativa influence.
Genetics
To further enhance the phenotype of the strain, Mimosa X Orange Punch was created by backcrossing the highly popular Orange Punch weed strain and the cherished Mimosa Evo. This cross also improved the growth pattern and yields in comparison to its lineage.
Flowering Time
The flowering time of Mimosa X Orange Punch is an impressive and highly convenient 55-60 days!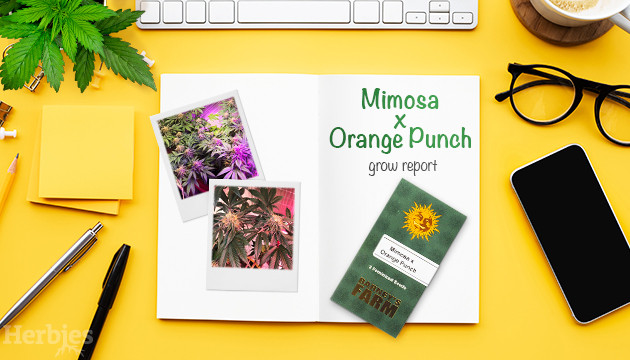 Mimosa x Orange Punch Grow Report
Yields
Even with its short flowering time and improved indoor height, this strain builds up impressive yields of heavy, resinous buds, with outdoor plants reaching up to 1.5kg (3.3lbs) per plant and indoor plants offering up to 700g/m² (2.3oz/ft²).
Effects
The high THC levels of this strain, paired with its comfortable Indica to Sativa ratio, delivers wonderfully uplifting euphoric effects with a long-lasting happy feel.
THC And CBD Levels
This marijuana strain's high THC levels, which test at 30%, are responsible for its potency, paired with a CBD level below medicinal classification.
Smell And Taste
It's all in the name! Without a doubt, Mimosa X Orange Punch is noted for its thirst-quenching citrus flavors with hints of sweetness and mandarin, all thanks to a mimosa-rich terpene profile of beta-caryophyllene, linalool, and limonene.
Grow Tips
Growing this strain doesn't take too much know-how, making it suitable for a first-time grow experience. The height of this plant is also advantageous, with outdoor heights of 150-180cm (59"-71") and indoor heights of just 70-80cm (27.5"-31.5").
With a strain like Mimosa X Orange Punch that produces fairly dense buds, be sure to allow for thorough curing time to elevate its hidden flavors and aromas!
This strain can be grown both indoors and outdoors; however, it's ideal for an effortless indoor grow.
Mimosa X Orange Punch Seeds
You can buy Mimosa X Orange Punch seeds online now with discreet shipping straight to your door. Each seed is feminized and will successfully flourish every time into a beautiful female plant with delicious smokable buds.
Characteristics
*Herbies sells cannabis seeds exclusively as souvenirs that aren't meant for cultivation or germination. Customers should be aware that the germination of cannabis seeds is illegal in most countries. Herbies sells cannabis seeds exclusively for collecting and preservation for future generations. We advise customers to check with their local laws before germination, as Herbies does not accept responsibility for the illegal use of our products.