Humboldt County: Where Legends Are Made
Rich in every natural resource imaginable, this rugged and wild piece of the West Coast saw a gold rush, a timber rush, and is now experiencing the 'green' rush – the large-scale cultivation of cannabis. Thousands of outdoor gardens of Humboldt County produce it by metric tons, and to ensure the top quality of the product, local growers breed, store and share only the best genetics. From Bubba Kush and OG Kush to Sour Diesel – for any grower on the planet, these names mean the sickest dank America has to offer. Unsurprisingly, they also get the highest reviews online.
A Piece Of California In Every Home
Instead of hoarding their treasures, Humboldt growers decided to share their amazing collection and offer their seeds for sale. Their seed bank operates from Spain and supplies growers worldwide. Thanks to their efforts, everyone has a chance to grow award-winning American legends in their pure form, including Blue Dream, which won the 1st Place Overall Strain in 2016.
A Company That Promotes Eco-Consciousness
At Humboldt Seeds, they know what it means to appreciate nature. Their home was ravaged for more than a century by those digging for gold and cutting down redwood until close to nothing was left. No wonder the local cannabis professionals and activists call for sustainable farming, so that the industry not only supplies clean and healthy products to patients but also enriches and preserves soil, water and other resources for future generations. Humboldt Seeds also encourages their buyers to grow organically.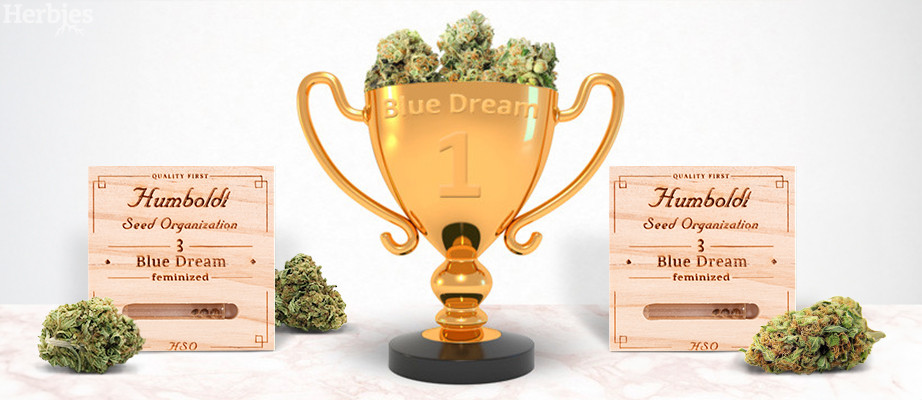 Humboldt Seeds: Buy Strains To Suit Any Needs
If your climate is anything like California, lucky you! You can grow any HSO strains right in your garden and make them huge. If not, these top-notch feminized hybrids are vigorous, hardy and resilient, and will do wonders indoors as well. For outdoor gardeners, Humboldt Seeds offers the so-called fast versions that you can bring to full maturity even in places like Canada or Northern Europe. Another great option is autoflowering strains, all of which allow you to enjoy the famous West Coast genetics after just a couple of months from seed. Medical patients can now also grow varieties with up to 12% CBD.
Official site: Humboldt Seeds