Amherst Sour Diesel feminized seeds
Unfortunately, this strain is not available. But we have something even better
Description
Amherst Sour Diesel: Outdoor Giant And Massive Yielder
The Amherst Sour Diesel cannabis strain is a Sativa-dominant multi-hybrid. The more you learn about this feminized plant, the more you want to get her. The origin of this elite strain is shrouded in mystery. All we know about her is the 80:20 ratio of Sativa/Indica. She also has a high level of THC 27%, which will bring an incredible long lasting feeling of euphoria. Outdoors this plant can turn into a real three-meter giant and bring an incredible amount of harvest.
Indoors, this strain is a medium-sized plant with a huge number of large, dense buds and side branches, yielding 400-600g/m2 in 65-70 days. If you grow it outdoors and give it a lot of space, you will be amazed by the size of the plant! Not to mention the amount of harvest that this strain will bring with 2000-3000g/plant yields by late October. Amherst Sour Diesel requires a temperate, warm, dry and Mediterranean climate or greenhouse.
Suggested nutrients: Advanced Nutrients
Recommended techniques: Low stress training (LST), main-lining and defoliation
Indoor lighting: We can suggest HID 1000W lights used during vegetation and HID 600W during flowering may produce around 400g/m2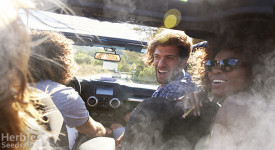 Amherst Sour Diesel Trip Report
King Of The Party
The manufacturers of this multi-hybrid have created something outstanding with sustained effects. Amherst Sour Diesel has the controversial aromas of ripe fruit and oil. Everybody will like its taste of tropical fruits, oil and exotic trees. However, it has an undoubtedly incredible impact with her powerful and long lasting euphoric and uplifting effects.
Characteristics
*Herbies sells cannabis seeds exclusively as souvenirs that aren't meant for cultivation or germination. Customers should be aware that the germination of cannabis seeds is illegal in most countries. Herbies sells cannabis seeds exclusively for collecting and preservation for future generations. We advise customers to check with their local laws before germination, as Herbies does not accept responsibility for the illegal use of our products.
This strain is out of production
Unfortunately, it has been discontinued, but we've picked some very similar seeds for you – take a look.