Original Sensible Seeds Review: Pioneers Of British Breeding
The UK isn't exactly a country that's known for its marijuana-friendly policy, and yet it became home to Original Sensible Seeds, one of the most well-known and respected seed banks in the world, with a history stretching back more than a quarter of a century.
In 1992, a group of cannabis growers from Newport, South Wales decided they wanted to recreate the bustling scene of marijuana breeding and cultivation that they had witnessed in the Netherlands in their own hometown. They founded a company that would design, produce and sell state-of-the-art growing equipment, including automated hydroponic systems, and also breed marijuana seeds. At the time, all this was exclusive to Amsterdam.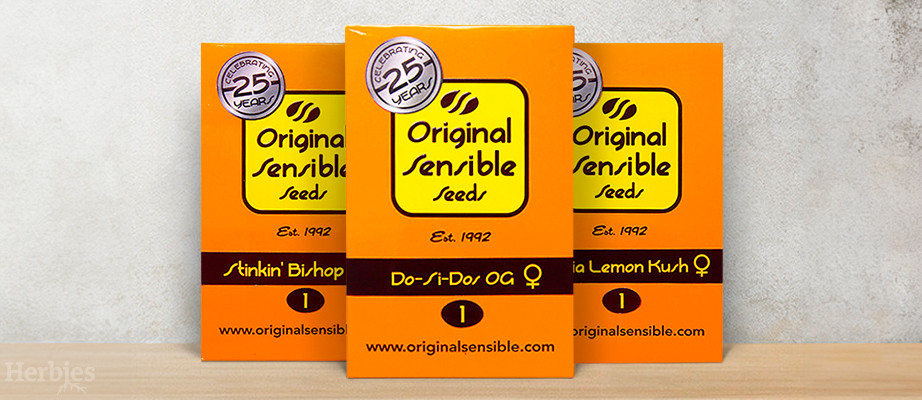 Breeders Of Skunk And Other Classics
Original Sensible Seeds were the guys who helped perfect and refine the genetic line of Skunk that would become the golden standard of indoor cannabis, and a common codename for potent weed in the country. If you remember the sickest Skunk from those days, odds are it was grown from Sensible seeds. Some may also remember other terrifyingly potent genetics with (now ancient-sounding) names like Bigger Pine and PR #1. Those early masterpieces were also created by OSS.
Forced To Close Shop, But Returning With A Vengeance
After several years, the roaring success of Original Sensible Seeds came to an abrupt end. The company was closed by authorities, never to be opened on British soil again. Never really taking a break from breeding, the team put its business on hold, but after more than a decade moved to Spain – a country that was becoming the new safe haven for cannabis enthusiasts.
At the same time, the company was given a rejuvenating injection of a huge dose of truly revolutionary genetics from the US West Coast. This invasion of American strains extended the classic range of Original Sensible Seeds with such items as Gorilla Glue, Bruce Banner, Wedding Cake, Gelato, and countless versions of OG Kush.
Where to Buy Original Sensible Seeds in UK
Buying Original Sensible Seeds in the UK can be done in person at head shops around the country or over the internet. However, buying online through reputable suppliers like Herbies Seeds is the simplest and most convenient option since your seeds can be delivered to your own front door.
Original Sensible Seeds Best Strains: Filled To The Brim With THC
Now that the industry's standards are as high as never before, the seed bank works hard to keep up with the demands of even the most discerning customers. You might say that Original Sensible Seeds caters to gourmet connoisseurs and seasoned smokers. As for beginners, they're advised to stay away from at least the most potent of OSS flagship strains – otherwise, they'll be lured by those complex terpene profiles and exquisite flavors and then brutally slain by the off-the-chart THC levels. This also happens to be the case for the company's autoflowers, which are bred to be extremely potent. And when Original Sensible Seeds takes it upon themselves to breed a medicinal strain, you can be sure that its CBD levels will be through the roof.
Official website: Original Sensible Seeds