Wedding Cake feminized seeds (Original Sensible Seeds)
Spain
Wedding Cake is a feminized cannabis strain that connoisseurs with a soft spot for decadent desserts will fall in love with. The sweet cherry flavor and the aroma of sugary treats that emanate from this incredible offering are unforgettable, while her very strong effects will have you whisked away into a state of deep relaxation. When you're done dancing the night away at a wedding party, she's a great choice for completely zoning out.
Read more
All characteristics
Wedding Cake Seeds Info
With their delicious flavors and sweet aromas, it's not hard to fall in love with these Indica-dominant seeds. Just beware: this girl packs a massive punch.
Genetics
Wedding Cake feminized seeds were bred by crossing the infamous Girl Scout Cookies with Cherry Pie. Those two strains, as their names suggest, pack a lot of sweet flavors and have passed these onto Wedding Cake in full. Cherry Pie has given Wedding Cake a hint of fresh cherries, while the cookie dough comes straight from the classic lineage of GSC.
Effects
Wedding Cake is an 80% Indica that will have you in a daze, with both mind and body in total sedation. Laughter, relaxation, euphoria, and a sense of motivation encapsulate the effects of Wedding Cake. For those who love a heavy-hitting strain, Wedding Cake is one to say "I do" to forever.
THC Levels
With THC levels typically rated at 25%, Wedding Cake seeds guarantee even daily smokers long-lasting, heavy sedation, while novices will completely space out after a toke or two.
Smell And Taste
Wedding Cake's terpene profile is all about deliciousness – there's a reason she's called Wedding Cake, after all. Everything about her is sweet and sugary, owing to her genetics that boast maximum flavor. If the sound of fresh cherries and warm cookie dough gets your mouth watering, this strain is definitely for you.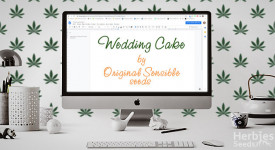 Yields
A medium to high-yielding plant, Wedding Cake will reward you with a harvest of over 500g/m² (1.64oz/ft2) indoors, or 800g (28.2oz) per plant outdoors.
Flowering Time
The flowering period of just 56-63 days is comfortably short for both cash-crop growers and impatient amateurs. In warm temperate climates, buds will reach their peak maturity and weight sometime in October.
Grow Tips
When growing Wedding Cake feminized seeds, you should prepare your setup for medium-sized plants. If you have limited space, a 2-week vegetative time is the most you should allow. Keep in mind that she prefers organic nutrients if grown in soil, but take care not to overfeed her, as Wedding Cake is not a heavy eater.
This plant needs a bit of L&C to realize her full potential.
It can reach up to 2-3m (6-10ft) in height outdoors.
It also exudes a heavy aroma, so use a carbon filter.
Wedding Cake Seeds
Among the top-shelf feminized seeds available for sale today, Wedding Cake is offered at a very attractive price.
Characteristics
Brand

Original Sensible Seeds

Sex

Feminized

Flowering type

Photoperiod

Suitable for

Outdoor

Suitable for

Indoor

Effect

Relaxed with an air of euphoria

Genetics

Girl Scout Cookies x Cherry Pie

Height

90 - 140 cm indoors 120 - 180 cm outdoors

Yield

600 g/m² indoors
800 g/plant outdoors

Flowering indoors

56 - 63 days

Outdoor finish

October

Genotype

20% Sativa / 80% Indica

THC

25 %
How To Post Your Review?
Thank you for sharing your opinion about our website!
Your feedback will be posted shortly after our moderator has reviewed it.
Please note that we do not publish reviews if they:
Written in all CAPS
Contain aggressive or offensive language
Have a promotional content (contact details or links to other websites)