Based On Dr. Krippling Seeds Reviews: The Effects Really Are Crippling
Modern discourse of cannabis revolves mostly around its healing properties, but while talking about the medical and other health benefits of this wonderful plant, we often forget the simple pleasure of being stoned out of our minds. Not so with Doctor Krippling Seeds, whose mission is to scour the world in search of the most mind-blowing marijuana varieties. According to reviews made by growers and smokers alike, Dr. Krippling strains really are that potent. When thinking of them, always think in superlatives: they are incredibly fast-acting, insanely hard-hitting, and ridiculously psychoactive.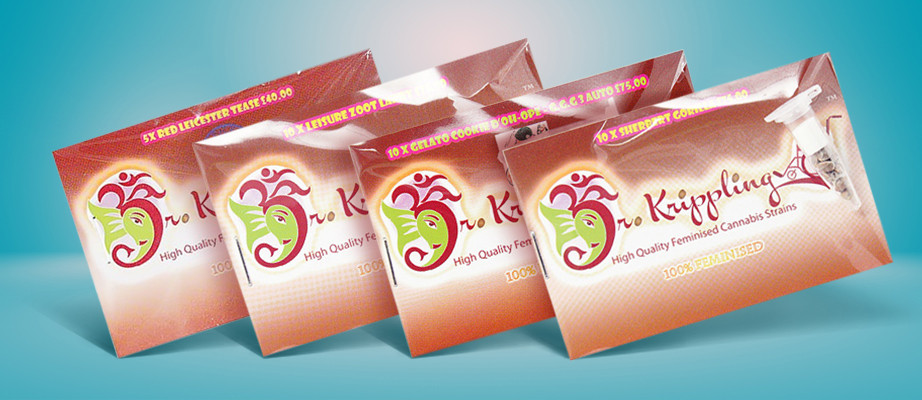 Doctor Krippling Has Done All The Legwork For You
With over half a hundred elite strains in their current catalog, you may wonder how this company could possibly have amassed such an impressive collection. The answer is that they employ breeders who buy seeds from every seed bank out there and pop them every week by hundreds. Their quest is for the best phenotypes: the most vigorous, fast-flowering, high-yielding and hard-hitting. Of course, the aromas and tastes aren't forgotten either – just look at the names of Dr. Krippling strains and you'll find all the mouthwatering classics and novelties of the modern market, from Blueberry to Sherbet to Gelato.
Dr. Krippling Seed Bank: Based In The UK but Operating Internationally
The company's headquarters is located where all the demand is: they cater to thousands of UK growers. However, current laws forbid the breeding of cannabis and even the germination of seeds in Britain, so Dr. Krippling has a whole network of breeding/proofing sites all throughout Europe. Every member of the team employs the growing techniques they know best, from good old bags of dirt to CO2-assisted hydroponics. However, all seeds marketed by the company are guaranteed to have been grown without the use of harmful chemicals. These are all organic seeds, just as this wonder of nature deserves.
Where to Buy Dr. Krippling Seeds in UK
The UK is home to a number of head shops where Dr. Krippling Seeds can be purchased over the counter. However, if you live in a more remote location or if you're just looking for greater convenience, it's best to get them delivered right to your door by Herbies Seeds.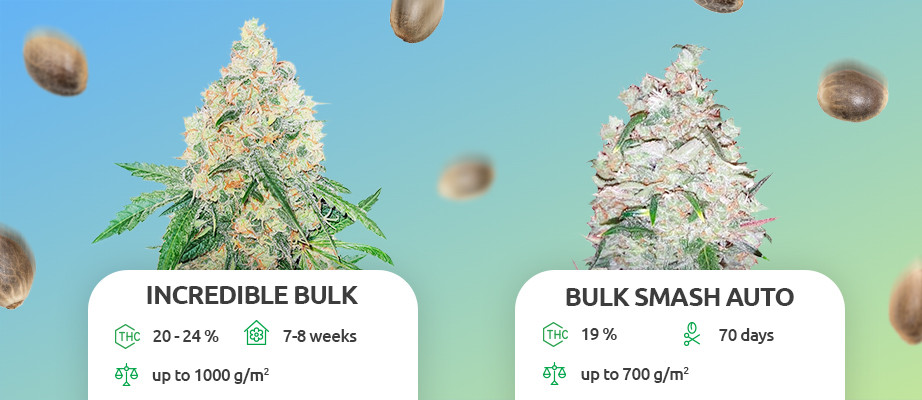 Raising Champions Has Never Been Easier
At Dr. Krippling Seeds, they know what's required of a strain that every grower wants: the highest quality of the finished product, the plant's ability to produce lots of it, and consistent results every time, even in the hands of the most inexperienced grower. The company strives to achieve these goals with all of their strains.
Among their best sellers is the photoperiod-dependent Incredible Bulk, which delivers truly astonishing yields of up to 1000g/m2 (3.3 oz/ft2) in just 7-8 weeks after the 12/12 flip. She's hungry for plant food, and whatever you throw at her, she'll convert into massive colas filled to the brim with 20-24% THC. Meanwhile, if you want an autoflowering champion, look no further than Bulk Smash Auto. With up to 700g/m2 (2.3 oz/ft2), this strain is a miracle of bud production. She's also easy to grow and very heat-resistant, which will be appreciated by those of you who have trouble controlling temperature in the grow room or who live in a hot climate.
These are just two of Dr. Krippling's more popular strains, but we recommend checking out all the others – you'll be in for a highly rewarding experience!
Official website: Dr. Krippling Seeds