Purple Punch Cookies feminized seeds
Spain
Purple Punch Cookies is a strain for those who are looking to take their cannabis experience to the next level. Her tastes and aromas combine the berries and grapefruit of one parent, Granddaddy Purple, with the world-famous sweetness of a second parent, Girl Scout Cookies. As if that wasn't enticing enough, her THC content of 25% is truly mind-blowing, with extremely strong cerebral effects followed by a couch-locking body high.
Read more
All characteristics
Purple Punch Cookies Strain Info
Coming from a family tree with three impressive strains, Purple Punch Cookies is a perfect blend of sweet candy-like and fruity smells, incredible potency, and medicinal effects.
Genetics
The amazing trichome-laden Purple Punch Cookies was born from breeding Gelato and Grandaddy Purple with Girl Scout Cookies – three absolute legends giving life to a new one.
Effects
Purple Strain offers more than just a delightful flavor. The strain can quickly induce a cerebral high before allowing the body to go into a deeply relaxing state. Its high THC of 25% is best suited for seasoned smokers, as first-timers may be unprepared for its quick and potent effects. It's also a great choice for those battling stress, anxiety, and depression.
Smell And Taste
Purple Punch Cookies offers a sweet fruity taste and aroma thanks to one of its ancestors, Granddaddy Purple, which is popular for its berry and grapelike flavors and scents. Adding a layer to Purple Punch Cookies' terpene profile is the contrast of the incense and hash notes that perfectly balance out the sweetness.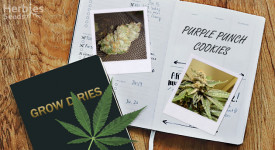 Purple Punch Cookies Grow Report
Grow Tips
Purple Punch Cookies is a visual treat resembling a snow-flaked plant. True to its name, dark purple shades spruce up its appearance, while its fiery hairs provide a pretty contrast.
Thanks to its ancestor, the strain is a "white" one due to the trichomes surrounding the bulky buds.
It's a high yielder that can provide 700g (24.7oz) per plant if grown outdoors, and 600g/m2 (1.97oz/ft2) if grown indoors.
Harvest time comes after 65-70 days of flowering.
Purple Punch Cookies Seeds
These wonderful seeds deserve a spot even in the gardens of the most seasoned connoisseurs. Luckily, Purple Punch Cookies seeds are now available for purchase at Herbies.
Characteristics
Brand

Original Sensible Seeds

Sex

Feminized

Flowering type

Photoperiod

Suitable for

Outdoor

Suitable for

Indoor

Effect

Stoned giant

Genetics

Gelato x Grandaddy Purple x Girl Scout Cookies

Height

90 - 140 cm indoors 120 - 180 cm outdoors

Yield

600 g/m² indoors
700 g/plant outdoors

Flowering indoors

65 - 70 days

Outdoor finish

October

Genotype

50% Sativa / 50% Indica

THC

25 %
How To Post Your Review?
Thank you for sharing your opinion about our website!
Your feedback will be posted shortly after our moderator has reviewed it.
Please note that we do not publish reviews if they:
Written in all CAPS
Contain aggressive or offensive language
Have a promotional content (contact details or links to other websites)